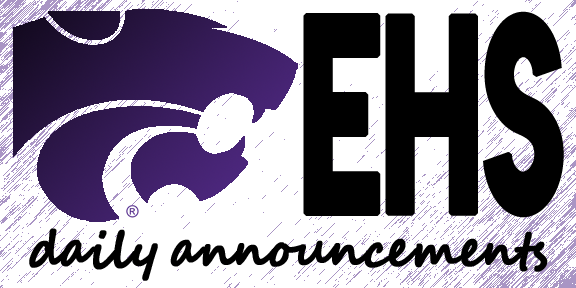 Daily Announcements for 1/25/18
Taylon Steele
Thursday, January 25, 2018
DAILY ANNOUNCEMENTS FOR THURSDAY, JANUARY 25, 2018
YEARBOOK: The senior signature board will be in the cafeteria during each lunch shift through Friday beginning today. Any signatures not on the board by Friday will be left off.
FRESHMEN AND VARSITY GIRLS TRACK: There will be an interest meeting for girls track after school this Friday from 3:25 to 3:40 in the AC room. You must bring your report card to this meeting. If you have been in AC 5 or more times or have been suspended for a serious offense, do not bother attending.
FBLA: All FBLA MEMBERS who did not attend the meeting last week need to come by Mrs. Martindale's room 1512 and pick up your permission slip and sign the agreement form. All permission slips are due now. I need the following students to turn in their FBLA PERMISSION slips: Olivia Baker, Keirra Bowens, Haily Brady, Garrett JeanGrace Morgan, Venalee Sloan, Zoreaire Thomas. The following students need to sign the agreement form Zander Jones, Grace Morgan, and Thomas Zoreaire.
PROM:

Seniors of EHS 2018, if your date for the prom is not an EHS Senior , you must get it approved. Forms are located in Mrs. Thigpen's Office. Deadline to turn in forms is March 29.
Come by Mrs. Thigpen's office to receive a copy of prom attire guidelines. IF you have any questions, please come by and see Mrs. Newton. If dresses do not meet guidelines, you will not be admitted into prom...this includes ANY date brought outside of EHS. You will not be refunded on your ticket.

GUIDANCE OFFICE:

Seniors, please take the yellow scholarship information packet that you got from your senior English teachers home to your parents.
Also, Ms. McClellan is offering ACT test prep tutoring on Tuesdays & Thursdays in room 1415 after school.
The Governor's Distinguished Scholars deadline is February 1. Any senior with a 32 or higher ACT score should apply.

KEY CLUB: Key Club will meet Friday in Mr. B's room at 7:30. Be there or be square!
VARSITY FOOTBALL: Varsity Football try-outs will be Tuesday, the 30th after school. You must have a 2.0 GPA to try-out. Bring your own shoes and workout clothes. Try-outs will be from 3:30-4:30
EAST: EAST has partnered with UCAPS to collect shoes for their Shoes for Shelter project, which benefits others and helps raise funds for UCAPS. Students are asked to donate gently used shoes. Our goal is 100 pairs of shoes. All sizes and kinds are welcome. Donation boxes can be found in front of the main office and library. The deadline to donate is Friday, February 2nd.
SENIOR CLASS: Attention all seniors. Reminder: The parent meeting about the All Night Graduation Party is tonight at 6:30 in the EHS Commons. Please spread the word.
THESPIAN TROUPE 42: Thespian Troupe 42 will have a brief meeting on Friday, January 26 at 7:30 am.
VARSITY GIRLS' BASKETBALL: Congrats to LCB for beating Magnolia 58-27. Kie'arra Boone led the way with 15 points 7 rebounds, Tasia Richardson had 13 points 6 assists, Adrianne Larry had 13 points, and Diamond Hawthorne had 7 points 10 rebounds. It was a complete team effort and a great win.