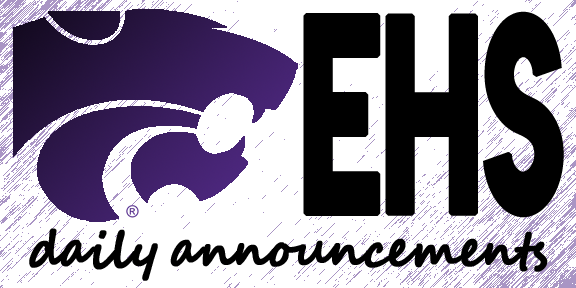 Daily Announcements for 2/8/18
Taylon Steele
Thursday, February 08, 2018
DAILY ANNOUNCEMENTS FOR THURSDAY, FEBRUARY 8, 2018
DOGGIE DASH: This is the last week to register for the Doggie Dash 5k Run and Walk on March 10th and still get a T-shirt. Signup on runsignup.com or come to Ms. Fussell, and she will show you how!
CHEER: To those that signed up for varsity/JV cheer tryouts, please check the eligibility list posted on the cheer room door. If you made this list, you and your parent must be at the Mandatory Parent meeting on Friday, February 10th at 5:15pm in the Commons in order to remain eligible to tryout for next season's teams!
PROM:

Seniors of EHS 2018, if your date for the prom is not an EHS Senior , you must get it approved. Forms are located in Mrs. Thigpen's Office. Deadline to turn in forms is March 29.
Come by Mrs. Thigpen's office to receive a copy of prom attire guidelines. IF you have any questions, please come by and see Mrs. Newton. If dresses do not meet guidelines, you will not be admitted into prom...this includes ANY date brought outside of EHS. You will not be refunded on your ticket.

GUIDANCE OFFICE:

Also, Ms. McClellan is offering ACT test prep tutoring on Tuesdays & Thursdays in room 1415 after school.

The Arkansas Community Foundation Scholarship portal will open today. Several scholarship options are on this site all seniors are encouraged to apply. Visit www.arcf.org

The Brookshire's Because History Matters Scholarship information is available in the Guidance Office. The deadline is 2/23/18 The Arkansas Community Foundation Scholarships are open. Several scholarship options are on this site all seniors are encouraged to apply. visit www.arcf.org
Students that are scheduled to take the ACT on Saturday need to make sure you have printed your testing ticket, you have proper photo identification, you know your testing site and don't forget your calculator. Good luck!Stop by the Guidance Office if you have questions.

INDEPENDENT READING: Are you reading your A.R. book? If you have finished, have you tested with your English teacher? The classroom testing deadline is February 8th for Freshman and Junior classes and February 9th for Sophomore and Senior classes. Wildcats succeed because they read!
9th grade boys track will have their first practice this coming Monday the 12th. Meet in the 9th grade boys dressing room at 3:20. Practice will be from 3:30 - to 4:45 at the High School.