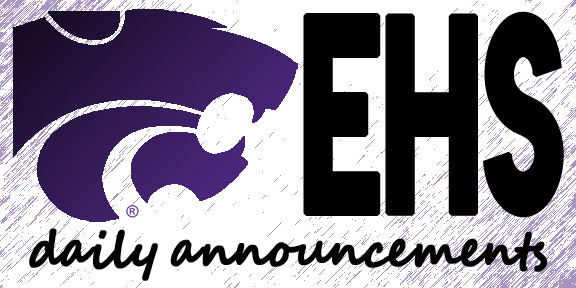 Daily Announcements for 2/14/18
Taylon Steele
Wednesday, February 14, 2018
DAILY ANNOUNCEMENTS FOR WEDNESDAY, FEBRUARY 14, 2018
PROM:

Seniors of EHS 2018, if your date for the prom is not an EHS Senior , you must get it approved. Forms are located in Mrs. Thigpen's Office. Deadline to turn in forms is March 29.
Come by Mrs. Thigpen's office to receive a copy of prom attire guidelines. IF you have any questions, please come by and see Mrs. Newton. If dresses do not meet guidelines, you will not be admitted into prom...this includes ANY date brought outside of EHS. You will not be refunded on your ticket.
GUIDANCE OFFICE:

The Arkansas Community Foundation Scholarship portal will open today. Several scholarship options are on this site all seniors are encouraged to apply. Visit www.arcf.org

The Brookshire's Because History Matters Scholarship information is available in the Guidance Office. The deadline is 2/23/18 The Arkansas Community Foundation Scholarships are open. Several scholarship options are on this site all seniors are encouraged to apply. visit www.arcf.org
HIGH SCHOOL MUSICAL: Auditions for EHS' production of High School Musical will be held Tuesday February 20th and Thursday February 22nd at 7 p.m. Those interested in auditioning are asked to prepare a 30 second portion of either "Breaking Free" or "Bop to the Top". For more information, please visit Troupe42.com.
ASLI: Do you like leadership? Snacks? How about service hours? Join ASLI Thursday, February 22, in room 2412 for a Q&A with young leaders from our state. Then get one-on-one mentoring time in workshops afterwards. Earn 2 service hours and learn how to make change in your community. See any ASLI member for details.
VARSITY GIRLS' BASKETBALL: Congrats to LCB for beating Hope 49-23. Kie'arra Boone led the way with 21 points and 6 rebounds, Diamond Hawthorne had 9 points and 12 rebounds, Grace Murry and Tasia Richardson both had 6 points. Great job ladies.
VARSITY BOYS' BASKETBALL: Congrats to the varsity boys basketball team for defeating the Hope Bobcats last night by a score of 52-47. Joe Ramey led the way with 17, B.J Johnson and Brendan Simmons has 13 each. Come out and support us on Thursday as we take on Magnolia for Senior Night.
WILDCAT CAFE: The cafe will be closed this afternoon after school. .
FCA: FCA meets during all three lunch shifts on Thursday.