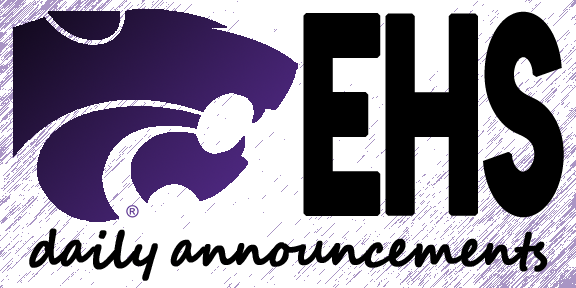 Daily Announcements for 3/6/18
EHS
Tuesday, March 06, 2018
DAILY ANNOUNCEMENTS FOR TUESDAY, MARCH 6, 2018
PROM:

Seniors of EHS 2018, if your date for the prom is not an EHS Senior , you must get it approved. Forms are located in Mrs. Thigpen's Office. Deadline to turn in forms is March 29.
Come by Mrs. Thigpen's office to receive a copy of prom attire guidelines. IF you have any questions, please come by and see Mrs. Newton. If dresses do not meet guidelines, you will not be admitted into prom...this includes ANY date brought outside of EHS. You will not be refunded on your ticket.
GUIDANCE OFFICE:

The Arkansas Community Foundation Scholarship portal is open. Several scholarship options are on this site all seniors are encouraged to apply. Visit www.arcf.org.
Several scholarship applications are avaliable in the guidance office. The Union County Community Scholarships can be found at www.uccfar.org
BETA: The 3rd nine weeks Beta club meeting will be held this week in room 1537. Members must attend one meeting. The options are Thursday 3:45-4:15 or Friday 7:20-7:50. Freshmen who were invited to join Beta must pay their dues by Friday to join this year. Also, Freshmen should attend one of the meetings. See Mrs. Steele if you have any questions. .
Volunteer at the Doggie Dash: Need service hours? Love puppies? Come to room 2429 and ask Ms. Fussell how you can get up to 4 service hours by volunteering at the Doggie Dash on Saturday, March 10th. The only catch is that it's in the morning, otherwise it's all puppies and joy!
DECA: Congratulations to state DECA winners: Shayla Smith, Automotive Service 1st place, Mariah Thomas, 5th place Restaurant and Food Service, and Jacob Phillips and Addison Martin, Start-up Business Plan.
TRACK: Track practice will be at the stadium today.
FRESHMEN TRACK: 9th grade boys and girls track team need to eat during first lunch and report to dressing room during second lunch.
ALGEBRA II: Congratulations to Scott Ratchford on winning the Algebra 2 Math Competition. He placed 1st out of 30 students. He will compete next in the State Math Competition. .
YEARBOOK: Do you have what it takes to be on the EHS Yearbook or Newspaper staff? Can you write? Draw? Take pictures? Maybe you're just a social butterfly who loves to talk to everyone you meet. Come see Mrs. Cross for an application!
HIGH SCHOOL MUSICAL: High School Musical Cast: We will rehearse from 7 to 9 p.m. in the auditorium today! If you have not joined our Remind, please do so as soon as possible!
DECA: Senior Signature shirts are on sale now. Come see me in room 1518. Sign your signature all lunch shifts next week Mon-Wed 3/12-3/14.
FBLA: FBLA Fundraiser is in. World's Finest Almonds. All state competitors must sell a box. See Mrs. Owen or Mrs. Phillips. Any member can also participate.