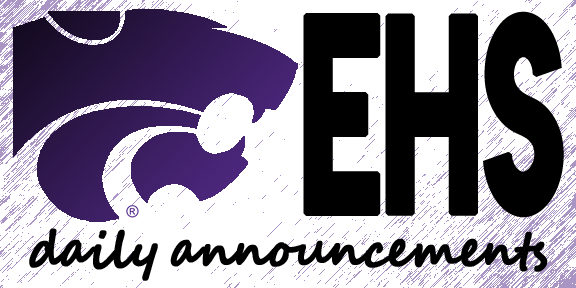 Daily Announcements for 4/17/18
EHS
Tuesday, April 17, 2018
DAILY ANNOUNCEMENTS FOR TUESDAY, APRIL 17, 2018
SENIORS:

Seniors MUST buy a shirt to attend the graduation all night party. Order yours at lunch. The cost is $20.
Senior Data Sheets are available in the Guidance Office. ALL SENIORS NEED TO COMPLETE AND RETURN THEM TO THE GUIDANCE OFFICE. This information will be announced at Graduation and Posted In The NEWSPAPER.
ALL LIBRARY BOOKS ARE DUE APRIL 23. PLEASE TURN IN YOUR BOOKS.
Seniors who wish to be part of the senior picnic at the amphitheater, need to pay $2 this week during your lunch.
Academic Signing Day is Wednesday, April 18th. ALL seniors will eat 1st lunch shift, then report to the auditorium with the purple graduation gown. Seniors will line up in the auditorium.
GUIDANCE OFFICE:

The Arkansas Community Foundation Scholarship portal is open. Several scholarship options are on this site all seniors are encouraged to apply. Visit www.arcf.org.
Several scholarship applications are available in the guidance office. The Union County Community Scholarships can be found at www.uccfar.org
BETA CLUB:

Attention Beta Club Members: Slice the Price forms and money are due Wednesday by 3:30pm. Seniors who still need to purchase a cord need to see Mrs. Steele this week. Cords cost $10. Officer applications for 2018-2019 will be accepted thru Tuesday of this week. See Mrs. Steele if you have any questions.
ACADEMIC SIGNING:

Academic Signing is Wednesday April 18th. ALL seniors will eat 1st lunch shift then report to auditorium with the purple graduation gown. Senior will be lining up in auditorium.
AR DEADLINES:

4th quarter deadlines are fast approaching. Are you reading your book? Have tested with a passing score? Finish strong!
KEY CLUB:

Key Club will meet this Friday at 7:30 in Mr. B's room. We will discuss service hours and officers for the next school year. Please plan to attend.

TENNIS:

Tryouts for the 2018-2019 Tennis team will be held May 7- May 9 starting at 4:00 at the RPG Clubhouse. You must sign up in order to tryout. Sign up sheet is on Coach Thomas' door 1537 or sign up by sending an email to sthomas@esd-15.org.
TRACK:

Boys will practice at the high school; girls will practice at the stadium today.
ASLI:

If you signed up for ASLI's ElDo Serves event THIS Saturday, you MUST attend a 10 minute meeting Ms. McKibben's room, 2412 to get your site assignment. Come any morning this week at 7:40am. Bring your t-shirt money!
GIRLS STEM LEADERSHIP SUMMIT:

Attention 9th and 10th grade girls: If you are interested in attending the Girls STEM Leadership Summit at the University of Arkansas at Monticello, see your math or science teacher or Mrs. Owen in 1507. Information and permission forms are due by Friday, April 20.
CLASS OF 2019

There will be a 2019 Steering Committee Meeting Thursday morning in room 2523 to discuss t-shirts.