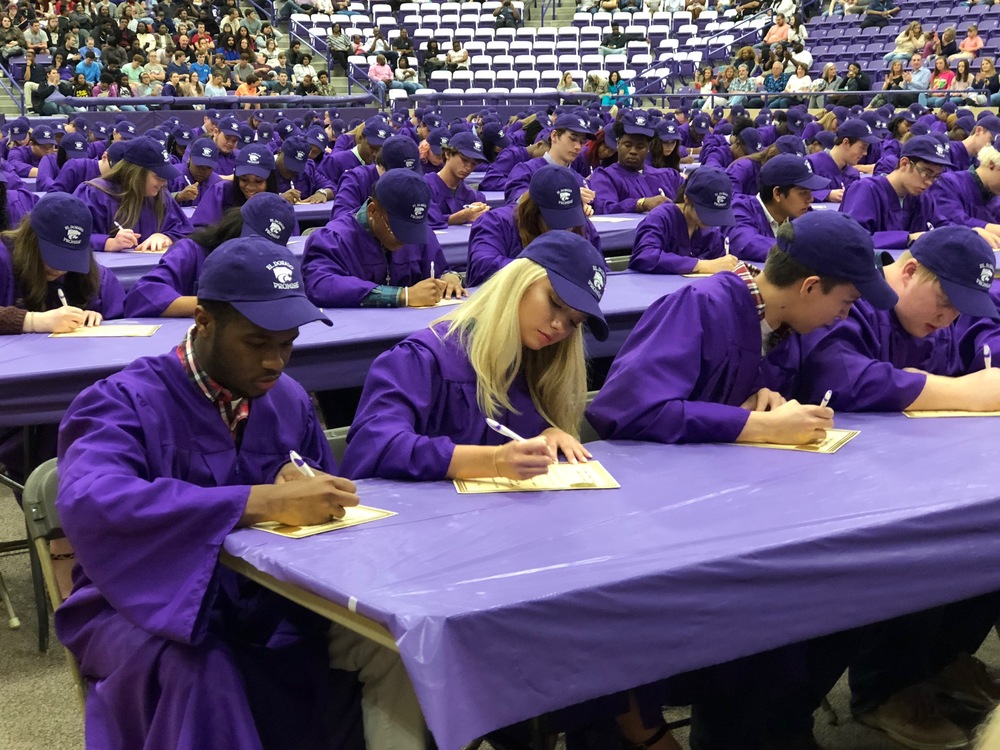 330 EHS Seniors Sign Academic Letters of Intent
El Dorado News Times/Kaitlyn Rigdon
Thursday, April 19, 2018
A sea of purple filled Wildcat Arena on Wednesday for the 12th annual Academic Signing Day.
This year's El Dorado High School seniors were in first grade when the Murphy Oil Corp. announced the El Dorado Promise.
El Dorado School District Superintendent Jim Tucker introduced Sidney Moncrief as the event's keynote speaker.
His introduction was filled with music and dancing to the song, "All I Do is Win" by DJ Khaled. Moncrief is a former Arkansas Razorback All-American, five-time NBA All Star and two-time NBA Defensive Player of the Year.
Moncrief gave an encouraging and uplifting speech to the El Dorado High School Class of 2018. The annual Academic Signing Day celebrated approximately 330 graduating seniors who received El Dorado Promise scholarships.
The El Dorado Promise was established in January 2007 to give students in the El Dorado School District the opportunity to pursue a college degree, free of financial burden. Over 2,200 El Dorado High School students have gone to college with the Promise. Graduates from El Dorado have attended 131 different universities in 31 states.
President and CEO of Murphy Oil Corp., Roger Jenkins, said the company has funded almost $28 million for El Dorado graduates to attend college with the Promise.
Moncrief referred to the Promise as a "game changer." He asked the seniors what they would do if someone placed $50,000 in their hands and said they didn't have to pay it back. "That's what is happening," he said.
$50,000 is the average amount a student pays for a college education. "(The community) is making this investment in you because they believe in you and they believe education is a game changer," Moncrief said.
He explained why he was so excited to come talk to the seniors of El Dorado, stating that they have the opportunity to start their lives with zero debt from a college education and "that's very valuable."
Moncrief discussed three components that "El Dorado has rooted in their DNA." The first was core values.
"Without core values, you have no gauge of where you're going in life, especially when you go to college," he said. "It's very important that you have core values that will help guide you and navigate your way through difficult situations, because you're going to have some."
The second aspect he discussed was the importance of achievement. He stated that his junior year of high school, the assistant coach of his basketball team approached him and said he had a lot of colleges looking at him, but had a 1.85 GPA. His whole senior year he concentrated on school and studied every day and graduated with a 3.85 GPA on the honor roll.
"It was all because I made a choice that achievement was important to me outside of the basketball court," he said.
Moncrief graduated from the University of Arkansas in four years and went on to play in the NBA.
He said the third component is "integrity." He stated that having integrity doesn't make you perfect and people without integrity will never be totally successful.
"I'm really excited to get to say that great things await you in life," he said. "Don't forget who you are. Don't forget the DNA of your community. Every decision you make is a reflection of this community and your family."
The El Dorado High School Class of 2018 signed letters of intent for 38 different colleges across America at the Academic Signing Day.
Director of the El Dorado Promise, Sylvia Thompson, spoke on all of the accomplishments the class of 2018 has achieved. She listed the colleges that the students will be attending and recognized the academic and athletic awards the students have received.
Thompson said The Washington Post named El Dorado High School number 12 on the list of "most challenging schools in Arkansas."
Mayor Frank Hash gave a proclamation honoring the students for receiving the El Dorado Promise and the boy's basketball head coach, Gary Simmons, presented Moncrief with an El Dorado Promise purple hat.
The Promise pays up to 100 percent of college tuition for all graduates who have been in the school district since at least ninth grade.