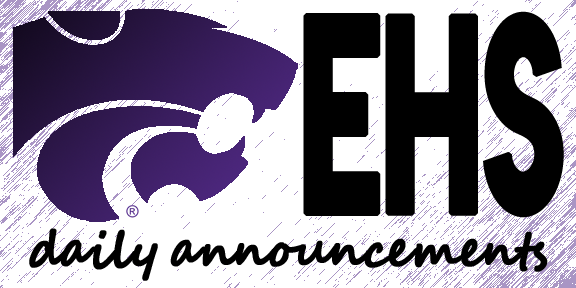 Daily Announcements for 10/17/18
EHS
Wednesday, October 17, 2018
Daily Announcements for October 17, 2018
Looking to get someone special a Halloween treat? We've got a scary good deal for you! Buy a "Bag for your Boo" full of goodies to be delivered to them on Halloween. Sizes and prices range from $3-$10. And, here's a spooky good idea, you can always buy one for yourself! Order Tuesday through Friday of next week!


If you did not pick up your portrait and photograph from Mrs. Howard's Visual Art class last year, please stop by Mrs. Harwell's room (Rm 1648) and pick them up. These portraits and photographs were displayed at the South Arkansas Arts Center last year.
Teenage Republicans will meet again Friday, Oct.26 @ 7:30am in 2412


SOCKtober is here! Beta Club is collecting socks--any size, any style--for local non-profits. Last year, we collected 459 pairs of socks. Our goal this year is 500 pairs. Help us reach that goal! You can bring your socks to your homeroom teacher. The students from the winning class will receive a free slush AND a cookie from the Wildcat Cafe! The socks will be divided and delivered to local organizations such as The Call, Turning Point Shelter, and nursing homes. Help us make a difference this SOCKtober!
The bus is leaving on Thursday at 6:00 a.m. from the arena parking lot. Be here ready to travel. Wear a school t-shirt and jeans. Come by my room today and sign the bus list.

The Wildcat Cafe will be closed on Tuesday afternoon and all day on Thursday this week!

Take on the challenge donate. Please support the JROTC Blood Drive on Monday November 12th from 7:30 am to 3:00 pm.
Sign up will begin Tuesday October 16th on all lunch shifts. Parental permission is required for all 16 year old to donate blood,
consent forms will be provided at the time of sign up.

"Wow! Operation Christmas Child had over 1700 donations! If you have any last minute items please bring them to
Ms. Antoon. Winners will be announced next week. Teachers if you want to contribute as well our biggest needs
are individual toothbrushes and wash cloths"

Do you love acting? What about being in charge? How about building things? Thespians might be the group for you! Dues are $25 and the deadline is extended through this Thursday! If you have any questions, please ask Mrs. Freeman in room 1808 or email her at jfreeman@esd-15.org

Did you miss the first photography club meeting? No worries! We will meet before school on Tuesday, October 23rd at 7:30am in 1524. Come by and see what photography club is all about! The deadline to pay dues has been extended til November 16th.