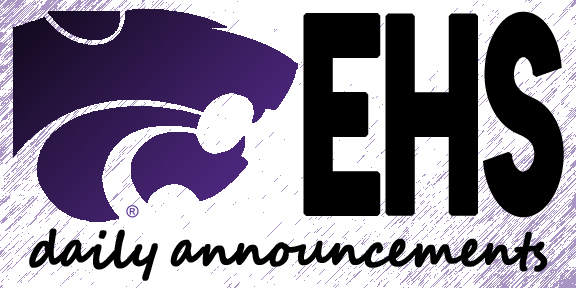 Daily Announcements for 12/11/18
EHS
Tuesday, December 11, 2018
Daily Announcements for Tuesday, December 11, 2018
Seniors - FAFSA- Financial Aid workshop Thursday,December 13 4-7 pm in EHS Library. Bring parent and 2017 tax documents
Any Jrs interested in being considered to represent EHS this summer at Arkansas Governor's School need to sign up in the Guidance Office no later than December 13

Did you forget to buy your Santa stocking?! Don't fret! You can still purchase a stocking until TODAY! Stop by the Beta table during lunch and order yours today! They will be delivered this Thursday during 6th period!

Congratulations to the freshmen girls for going on the road and picking up another big win against Monticello by a score of 46-26. The leading scorer for the lady cats was Carshaila Rozier with 14, followed by Kalese Moseby with 10, Destiny Davis with 9, and Braylee Johnson with 8. This brings the girls record to 7-0. They will play pine bluff this Thursday at wildcat arena.

All members of the sweetheart court need to report to room 1524 on the CTE hallway immediately following announcements.

Congratulations to the Freshmen boys basketball team for their 62-32 win over Monticello last night. The cats were led by David Aryee with 21 points, Jordan Miller with 11 points, and Knolej white with 6 points. This win brings our record to 6-1, and our next game is Thursday at the Wildcat Arena Versus Pine Bluff.