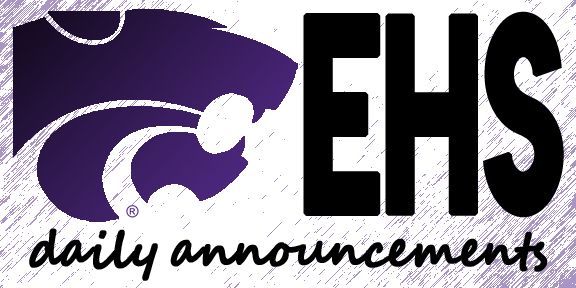 Daily Announcements for 1/10/19
EHS
Thursday, January 10, 2019
Daily Announcements for Thursday, January 10, 2019
ASLI will meet Monday the 14th after school in Ms. Antoon's room to start planning spring service events. Want to join our club? Start 2019 serving your community! No membership fee, no GPA requirement! All grades and students welcome.

There will be a meeting for those interested in trying out for the Varsity Boys Track Team this Friday after school at 3:30. The meeting will take place in room 2304 which is the girls AC room. This is for sophomore and junior boys. You must have a minimum 2.0 GPA and not have discipline issues to try out.

ALL FBLA COMPETITORS Please come to room 1510 Mrs. Martindale for your permission slip, study materials, and to sign the agreement form on Wednesday Jan. 16 at 7:30 am.

FCCLA Members: Stop by room 1526 to ensure you provided tshirt size on your application. Club shirts will be ordered next week!