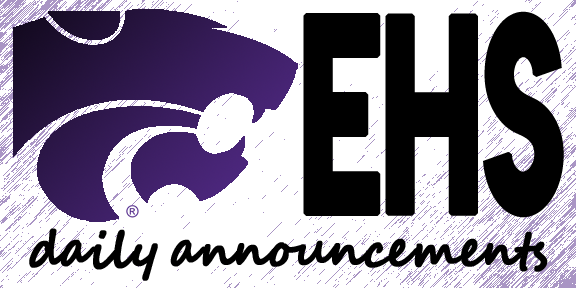 Daily Announcements for 2/4/19
EHS
Monday, February 04, 2019
Daily Announcements for Monday, February 4, 2019
Senior quote forms will be sent out 5th period to your student emails. You have one chance to fill this form out. Choose your quote wisely. If it's inappropriate, it will be pulled and you won't have a senior quote.

EHS Swim team would like to thank our students, teachers, and administration for coming out this past Friday! We loved having everyone come out and support the swimmer! Go Cats!

Are you a fan of Super Smash Brothers and/or pizza? Well, we have the event for you! Teenage Republicans is hosting a Super Smash Brothers tournament on Friday, Feb. 8th at 3:30pm in Mrs. McDuffie's room, 2412. Sign up at her window as soon as possible!

Girls track tryouts will be held after school on Wednesday February the 6th. We will meet at the top of the arena.

"South Arkansas Community College is hosting its first annual Show and Tech Competition, Saturday, March 9th on the SouthArk campus. The competition is open to all South Arkansas students currently in 5th – 12th grades. This year's competition will be a challenge to create a mobile app program. Students may register as individuals or teams of up to three (3) members. The registration deadline is February 28th. More information can be found, online at southark.edu/showandtech or by contacting Cathy Harrell at SouthArk. You can pick up a registration packet from Mrs. Virden in Room 2203 or Room 1514"
Boys interested in 9th grade track need to meet Coach Wren during your lunches in the Wildcat Cafe on Tuesday and Wednesday Feb. 5th & 6th to sign up for track. Practices will begin Monday the 11th.

Congratulations to DECA members who qualified for Nationals- Shayla Smith Automotive Service Series 1st place and 3rd place to Addison Martin, Hailey Brady, and Jacob Phillips 3rd place in Start-Up Business Plan

The second annual doggie dash has a date, and the planning has started! Come to our meeting this Friday morning in room 2429 and help us make this dash even better than last year's!

Congratulations to the Wildcat Basketball Team for winning its fourth conference game in a row by defeating Little Rock Fair 62-54 in Overtime Friday night. BJ Johnson had 21 points and Jarmel Love had 14 points. Thank you to the Cheer team, teachers and the 6th man for all the support.

Congratulations to Emma Burson for earning a position in the ASBOA All-State Band. She is 1st chair symphonic band and will represent EHS at the Arkansas State Music Conference in Hot Springs February 14-16.