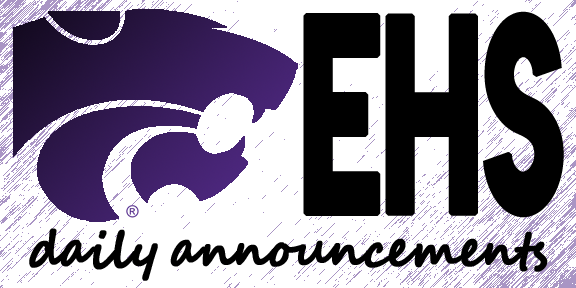 Daily Announcements for 3/13/19
EHS
Wednesday, March 13, 2019
Daily Announcements for Wednesday, March 13, 2019
Senior ads are due March 15. If you or your family paid a $50 deposit in December, the remaining amount is due on March 15. Talk to Mrs. Cross in 2205 if you have questions.

Tickets for the 2019 El Dorado Military Ball are now on sale. Everyone is welcome to attend, tickets will be on sale during all lunch shift. Tickets are $15 for a single, and $25 for a couple. The Ball will be on April 20th.

Prom dress guidelines and guest forms can be picked up at Mrs. Thigpen's desk. Forms are due back no later than March 29th. Any student who does not meet dress guidelines will not be admitted into prom and no refund will be given. If you have any questions about a dress, please see Mrs. Newton.

The Wildcats and Lady Cats will be having Varsity/JV basketball tryouts Wednesday March 13th from 3:30-5pm. If you have reserve seating in AC or have multiple suspensions do not waste your time coming to tryouts. See Coach Simmons and Coach Rogers for sign up sheets

The Arkansas Community Foundation Online Portal has opened. Seniors the application deadline is April 1, 2019. Stop by the Guidance Office for instructions on how to apply for these scholarships.

Attention runners, walkers, and dog lovers! Want to sign up for the Doggie Dash 5k fun run and walk? Want an awesome t-shirt, to hang out with adorable dogs, and to know that all profits are going to UCAPS? Then bring $15 to your lunch shift this week and sign up to race on Saturday, April 13th!

The NAACP scholarships are due by the end of school Friday, March 15, 2019.

Congratulation to the Lady Cats soccer on there victory over Lakeside last night
JV won 2-0 and Varsity won 5-0. Job well done ladies.

9-11th students, make sure all of your teachers to write on you course recommendation sheet and place it in your CATS folder. Seniors, plan now to do something fun on April 2 while we plan for next year.

Students, make sure you set a CATS Conference time with your 4th period teacher. This 30 minute appointment needs to include you and your parent to plan for next year.

Congratulations to the EHS Band last night on their performance at the ASBOA Region 3 concert assessment. Where they earned Superior ratings on stage and in Sight-reading. We are very proud of your accomplishments this year!!!

MASH Applications are available in the Guidance Office for current 10th -11th grade students that are interested in learning more about medical careers this summer.

The MAX MOODY Scholarship applications are available in the Guidance Office, this $1,500 scholarship is for graduating seniors attending University of Arkansas at Fayetteville. Deadline, Friday, March 29.