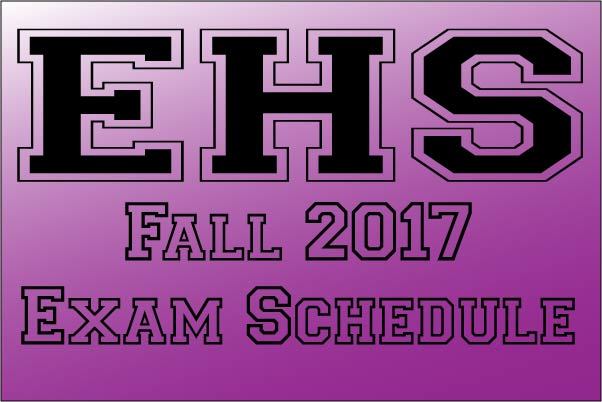 EHS Fall 2017 Exam Information
Taylon Steele
Wednesday, December 06, 2017
CALLING ALL PARENTS, GUARDIANS, AND STUDENTS!
Semester exams start in ONE WEEK. EHS has an OPEN CAMPUS policy during exams; students only come for their exam time by following the designated exam schedule. Buses run early, and students have more time to study before their exams the next day. Here's some important information for those who are new to EHS or can't remember what the exam schedule is.

INFORMATION REGARDING EXAMS CONCERNING STUDENTS
Students are not allowed on any other school campus in El Dorado or the county during exams.
Regular school dress code applies during semester exams. No pajama bottoms or house slippers!
No class will be interrupted to check a student out during exam week.
All students must remain in the classroom the entire testing time.
No lunches will be provided for students Wednesday through Friday nor Monday and Tuesday of exam week.
Regular bus routes will run at 11:30 on Wednesday, Thursday, Friday, and 9:30 on Monday. Car riders MUST BE picked up at these times.
Students who miss an exam must bring a note from a doctor turned in to the attendance secretary to arrange for a make-up exam.
Students that arrive to school late will not be allowed in to any class and will have to schedule a make-up exam. Students must be present and on time to take an exam for that day!
Make-up exams must be scheduled with the teacher after approval by the Principal.
If students have no make-up exams, they will not report to school on the 19th.