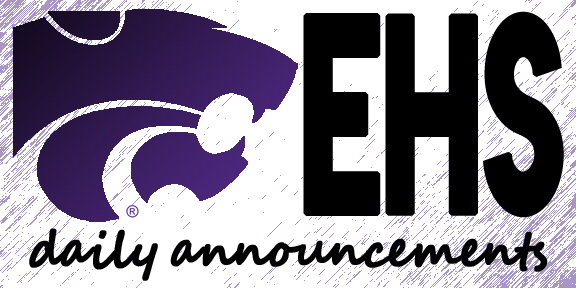 Daily Announcements for 1/26/18
Taylon Steele
Friday, January 26, 2018
DAILY ANNOUNCEMENTS FOR FRIDAY, JANUARY 26, 2018
YEARBOOK: The senior signature board will be in the cafeteria during each lunch shift through Friday beginning today. Any signatures not on the board by Friday will be left off.
FRESHMEN AND VARSITY GIRLS TRACK: There will be an interest meeting for girls track after school this Friday from 3:25 to 3:40 in the AC room. You must bring your report card to this meeting. If you have been in AC 5 or more times or have been suspended for a serious offense, do not bother attending.
FBLA: All FBLA MEMBERS who did not attend the meeting last week need to come by Mrs. Martindale's room 1512 and pick up your permission slip and sign the agreement form. All permission slips are due now. I need the following students to turn in their FBLA PERMISSION slips: Olivia Baker, Keirra Bowens, Haily Brady, Garrett JeanGrace Morgan, Venalee Sloan, Zoreaire Thomas. The following students need to sign the agreement form Zander Jones, Grace Morgan, and Thomas Zoreaire.
PROM:

Seniors of EHS 2018, if your date for the prom is not an EHS Senior , you must get it approved. Forms are located in Mrs. Thigpen's Office. Deadline to turn in forms is March 29.
Come by Mrs. Thigpen's office to receive a copy of prom attire guidelines. IF you have any questions, please come by and see Mrs. Newton. If dresses do not meet guidelines, you will not be admitted into prom...this includes ANY date brought outside of EHS. You will not be refunded on your ticket.

GUIDANCE OFFICE:

Seniors, please take the yellow scholarship information packet that you got from your senior English teachers home to your parents.
Also, Ms. McClellan is offering ACT test prep tutoring on Tuesdays & Thursdays in room 1415 after school.
The Governor's Distinguished Scholars deadline is February 1. Any senior with a 32 or higher ACT score should apply.

VARSITY FOOTBALL: Varsity Football try-outs will be Tuesday, the 30th after school. You must have a 2.0 GPA to try-out. Bring your own shoes and workout clothes. Try-outs will be from 3:30-4:30
EAST: EAST has partnered with UCAPS to collect shoes for their Shoes for Shelter project, which benefits others and helps raise funds for UCAPS. Students are asked to donate gently used shoes. Our goal is 100 pairs of shoes. All sizes and kinds are welcome. Donation boxes can be found in front of the main office and library. The deadline to donate is Friday, February 2nd.
FACULTY AND STAFF: Mr. Jimmie Hilburn with Valic will be at EHS on Monday January 29th from 8 -2 to assist any employees with securing their retirement through the 403b savings plan. Mrs. Evins has sent an email with an attached brochure that can explain this to you. Please email Mrs. Evins if you would like to speak with him on Monday during your planning period.
Are you reading your A.R. book? If you have finished, have you tested with your English teacher? The classroom testing deadline is February 8th for Freshman and Junior classes and February 9th for Sophomore and Senior classes. Wildcats succeed because they read!
FCCLA: CCLA will be selling candy apple grams for Valentine's Day! Presales will start Monday! Hard candy apples are $2 and caramel apples are $3. Send your sweetie, friends, or yourself a yummy candy apple for Valentine's Day. The recipient will receive a gift tag and an apple. You can place your orders with any FACS teacher, FCCLA member, or during your lunch shift. We will take orders until February 7th and apples will be delivered on Valentine's Day. Stay sweet =)
MISS-ter EHS: Tickets for Miss-ter EHS will go on sale Monday 1/29 during all three lunch shifts.
SWEETHEART: Attention all sweetheart court, the picture for the paper will be taken today at 11am. Listen for the announcement to be dismissed when the photographer arrives.
SOPHOMORES: Sophomore pink shirts on sale in Ms. Lowe's room for $10. Get them now! Limited supply!!!
Quest Guild: Today the Quest Guild will be playing Magic the Gathering! If you want to learn how to play a fun card game and hang out with us, we will be in room 1407 after school.