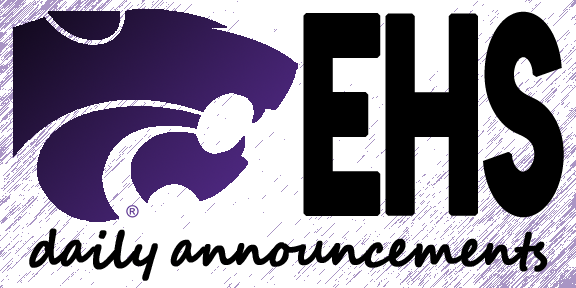 Daily Announcements for 2/1/18
Taylon Steele
Thursday, February 01, 2018
DAILY ANNOUNCEMENTS FOR THURSDAY, FEBRUARY 1, 2018
CHEER: Varsity and Junior Varsity Cheer tryouts will be March 10th. If you want to try out or are considering it, you must sign up by this Friday! Sign-ups are located on the cheer room doors.
JUNIOR CLASS: Junior class rings will be delivered on Tuesday, February 6th in the library from 11:30-1:30. Please come by during your lunch shift to pick up your ring.
PROM:

Seniors of EHS 2018, if your date for the prom is not an EHS Senior , you must get it approved. Forms are located in Mrs. Thigpen's Office. Deadline to turn in forms is March 29.
Come by Mrs. Thigpen's office to receive a copy of prom attire guidelines. IF you have any questions, please come by and see Mrs. Newton. If dresses do not meet guidelines, you will not be admitted into prom...this includes ANY date brought outside of EHS. You will not be refunded on your ticket.

GUIDANCE OFFICE:

Also, Ms. McClellan is offering ACT test prep tutoring on Tuesdays & Thursdays in room 1415 after school.

The Governor's Distinguished Scholars deadline is February 1. Any senior with a 32 or higher ACT score should apply.
An admissions counselor from the University of Central Arkanas in Conway will be here today during all 3 lunch shifts. The Arkansas Community Foundation Scholarship portal will open today. Several scholarship options are on this site all seniors are encouraged to apply. visit www.arcf.org

EAST: EAST has partnered with UCAPS to collect shoes for their Shoes for Shelter project, which benefits others and helps raise funds for UCAPS. Students are asked to donate gently used shoes. Our goal is 100 pairs of shoes. All sizes and kinds are welcome. Donation boxes can be found in front of the main office and library. The deadline to donate is Friday, February 2nd.
INDEPENDENT READING: Are you reading your A.R. book? If you have finished, have you tested with your English teacher? The classroom testing deadline is February 8th for Freshman and Junior classes and February 9th for Sophomore and Senior classes. Wildcats succeed because they read!
FCCLA: FCCLA will be selling candy apple grams for Valentine's Day! Presales will start Monday! Hard candy apples are $2 and caramel apples are $3. Send your sweetie, friends, or yourself a yummy candy apple for Valentine's Day. The recipient will receive a gift tag and an apple. You can place your orders with any FACS teacher, FCCLA member, or during your lunch shift. We will take orders until February 7th and apples will be delivered on Valentine's Day. Stay sweet =)
MISS-ter EHS: Miss-ter EHS will be this Saturday, February 3rd in the EHS auditorium. Tickets for Miss-ter EHS will be sold during all three lunch shifts. Proceeds benefit Arkansas Children's Hospital.
SOPHOMORES: Sophomore pink shirts on sale in Ms. Lowe's room for $10. Get them now! Limited supply!!!
DECA: DECA State Conference Fees are due this Friday Feb 2nd. See Mrs. Phillips or Mrs. Kathy Owen if you have any questions.
GIRLS' TRACK: There will be no track tryouts on Friday the second. The next tryout date will be Monday the 5th.
FBLA: All of the FBLA advisors would like to congratulate the following FBLA competitors on their accomplishments: Keirra Bowens & Garrett Jeans 2nd place in Global Business, Skylar Drummond & Trinity Herring Fourth place in Marketing, Jourdyn Smith & Christin English Third place in Hospitality Management, Eric Gonzalez Second place in Accounting II, Scout Jerry third place in Economics, Zander Jones second place in Computer Applications, Cameron Kuhlmann fifth place in Introduction to Financial Math, Addison Martin and Jacob Phillips, third place in Business Ethics, Ahjaley Miller fifth place in Securities and Investments, Alaina Nolden second place in Introduction to Business Procedures, Kaliyah Rivera and Venalee Sloan third place in Sports and Entertainment and Zoreaire Thomas fifth place in Personal Finance. Connie Barrett in Introduction to Parliamentary Procedure. All of these FBLA members are eligible to compete at the State Conference in Little Rock in April.
QUEST GUILD: The Quest Guild will be playing Magic the Gathering this Friday after the pep rally. Anyone is welcome to learn how to play in room 1407. Start your weekend off in a great geeky way!