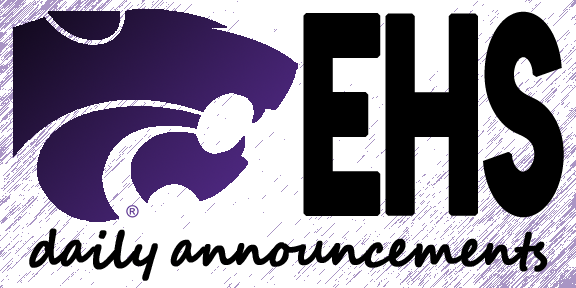 Daily Announcements for 2/16/18
Taylon Steele
Friday, February 16, 2018
DAILY ANNOUNCEMENTS FOR FRIDAY, FEBRUARY 16, 2018
PROM:

Seniors of EHS 2018, if your date for the prom is not an EHS Senior , you must get it approved. Forms are located in Mrs. Thigpen's Office. Deadline to turn in forms is March 29.
Come by Mrs. Thigpen's office to receive a copy of prom attire guidelines. IF you have any questions, please come by and see Mrs. Newton. If dresses do not meet guidelines, you will not be admitted into prom...this includes ANY date brought outside of EHS. You will not be refunded on your ticket.
GUIDANCE OFFICE:

The Arkansas Community Foundation Scholarship portal is open. Several scholarship options are on this site all seniors are encouraged to apply. Visit www.arcf.org.

The Brookshire's Because History Matters Scholarship information is available in the Guidance Office. The deadline is 2/23/18 The Arkansas Community Foundation Scholarships are open. Several scholarship options are on this site all seniors are encouraged to apply. Visit www.arcf.org.
HIGH SCHOOL MUSICAL: Auditions for EHS' production of High School Musical will be held Tuesday February 20th and Thursday February 22nd at 7 p.m. Those interested in auditioning are asked to prepare a 30 second portion of either "Breaking Free" or "Bop to the Top". For more information, please visit Troupe42.com.
ASLI: Do you like leadership? Snacks? How about service hours? Join ASLI Thursday, February 22, in room 2412 for a Q&A with young leaders from our state. Then get one-on-one mentoring time in workshops afterwards. Earn 2 service hours and learn how to make change in your community. See any ASLI member for details.
ACT CALCULATORS: If you borrowed a calculator for last Saturday's ACT, return it to Mrs. Greer today. Students who do not return a calculator will be assessed a $100 fine.
VARSITY GIRLS' BASKETBALL: Congrats to LCB for getting the Senior night win against Magnolia 48-19. Kie'arra Boone led the way with 17 points 6 rebounds, Grace Murry had 7 points 4 assists, Diamond Hawthorne had 5 points 8 rebounds and Martie Wade had 5 points 3 steals. Thank you to the seniors Ash, Ju, Martie, Adrianne, and KB for all the hard work they have put into the program.
FBLA: There will be a FBLA meeting on Wednesday, February 22, at 7:30 in Mrs. Owen's room, Room 1508, for all of those who qualified to compete at the state conference in April. Please make every effort to attend. Topics of discussion will be fundraising, housing, permission forms, and much more.