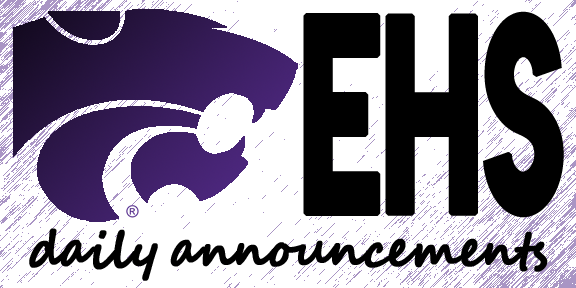 Daily Announcements for 8/17/18
EHS
Friday, August 17, 2018
DAILY ANNOUNCEMENTS FOR FRIDAY, AUGUST 17, 2018
COLLEGE TOUR OF BOSTON: Do you feel lost trying to choose a college? You know there's a lot out there but...a lot of what? Come learn about an opportunity to tour and learn from 10 different colleges in Boston this spring break. Experience the city of Boston while exploring big schools, small schools, public schools, private schools, and more! Think you could never afford it? Guess again! We have payment plans and applications for full scholarships, so what do you have to lose? Swing by room 2429 or 2620 to pick up an application or learn more! All grades welcome!
YOUNG DEMOCRATS: Do you like politics or are curious about them? Are you interested in making a difference in the community? Come join Young Democrats to learn more! Our first meeting will be Tuesday, August 21st at 7:30 am in Mrs. Campbell's Room #2427. Have questions? Contact Ms. Fox or Mrs. Campbell for more information!
STUDENT COUNCIL: If you have an ad or picture to turn in for the football program please turn it in by Friday Aug. 17th at the latest. We will have a meeting @ 7:30 in the Art Project room 1652 on Thurs. Aug. 16th
FBLA AND DECA: FBLA and DECA will have a beginning of the year meeting this Friday at 7:30-7:55 in room 1510. This will be a come and go meeting to pick up beginning of the year information on Membership Dues, Conferences, and Fundraising Opportunities.
NATIONAL HONOR SOCIETY: Any senior member of NHS wishing to be an officer for the 18-19 school year needs to come see Mrs. Mobbs for a petition. The offices are for president, vice president, secretary, and treasurer. Petitions need to be filled out and turned back in to Mrs. Mobbs by 3:15 on August 23rd. The first NHS meeting of the year will be Thursday, August 30th at 7:30 in room 1407. Between now and that meeting, come by and pay your $15 dues for the 18-19 school year and pick up service hours sheets if you need any. Dues need to be paid by the day of the meeting.
CLASS OF 2019: If you would like to order our gray class shirt, we are doing a second order. Please order yours by Monday in room 2523. Senior class steering committee will meet Friday morning.
BETA: Current Beta club members, if you haven't stopped by to get information from Mrs. Steele, please do so asap.
GLOBAL CLASSROOM: Aloha! Come see the memorials of Pear Harbor and hang 10 at Wakiki Beach! We are going to Hawaii. We will have another interest meeting at the end of the month for anyone and everyone who is interested in exploring the great state of Hawaii this summer. If you would like more information, let your science teacher know today!
SAVE THE ANIMALS: Attention all animal and nature lovers! There is a club for you! It is called Save the Animals and we do amazing things like organize fundraisers for UCAPS, play with puppies, go on group hikes, and save the world! Come to our interest meeting Friday morning at 7:20 in room 2429 to join us!
ASLI: Former ASLI members and leaders, want to help plan the future of ASLI? Come Monday after school to Ms. Antoon's room 2416 for a meeting to plan for this year!