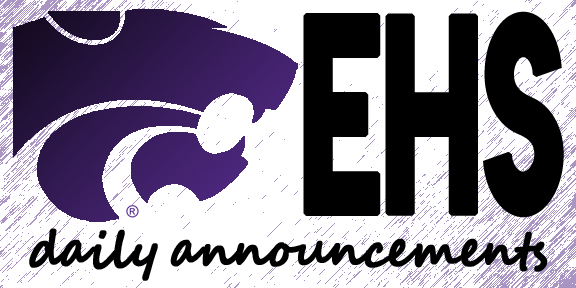 Daily Announcements for 11/13/18
EHS
Tuesday, November 13, 2018
Daily Announcements for Tuesday, November 13, 2018
From Winning Streak Photography: ATTENTION - The schedule for picture retakes has changed. Underclassmen will be able to do picture retakes during lunch on Thursday, Nov. 15. Seniors will be able to do retakes Wednesday, Nov. 14, BUT MUST SCHEDULE AN APPOINTMENT with Winning Streak Photography. See Mrs. Cross in 2205 if you have any questions.

Do you get frustrated having to read all of these plays in English class by that old guy, William Shakespeare? Have trouble understanding? Do you ever wish someone could explain him a little bit better? Here's your chance! Thespian Troupe 42 and Mrs. Freeman's Production class presents I Hate Shakespeare! by Steph DeFerie Novmeber 15 & 16 at 7 p.m. Tickets for this comedy are only $5 and on sale during all three lunch shifts! Your ticket is an automatic entry into a $100 Walmart Gift Card giveaway for EACH NIGHT. Must be present to win! Extra giveaway entries are $2 each! Join us for some fun & learning!

Seniors, you last opportunity to order graduation items from Jostens will be Tuesday, November 13th during all 3 lunch shifts in the library. You may also order any items online through Jostens.com.

Senior fine letters will be going out soon. If you have any books, uniforms, sports equipment, or school items that are on your fine list, please return to main office. Fines will need to be taken care of before December 14th.

With Thanksgiving fast approaching, its time for the annual canned food drive to take place. Once again, this year's winners will recieve spudnuts for their class, so start collecting for your first period, and good luck!

There will be no drivers test given this week : Monday, Nov.12- Friday, Nov.16

ALL FBLA MEMBERS! This is the last call to sign up for FBLA DISTRICT COMPETITION. Friday is the absolute last day. Please come to Room 1510, Mrs. Martindale's room to sign up.

Baseball tryouts for 10th-12th graders will be Tuesday Nov. 13 from 5:00-6:30 in the dome.Bring glove and tennis shoes.

Congratulations to the freshmen girls basketball team for a huge 37-13 victory over Camden Fairview last night. The girls were lead by Kalese Moseby with 9 points, Braylee Johnson with 7, Kyra Harris with 7, and Carshaila Rozier with 6. This brings the girls record to 4-0 and they will face Pine Bluff this Thursday. Great job, ladies!

Congratulations to the freshmen boys basketball team for their blow out win over Camden Fairview last night. The boys were led by Daivd Aryee with 12, Daylon Wilbourn with 11, and Jordan Miller and Sharmon Rester with 8. This win brings us to 4-0 and will face Pine Bluff Thursday.

Soccer tryouts Today at 4:30-6:30 and Thursday at 5:00-7:00 all tryouts will be at the Stadium.