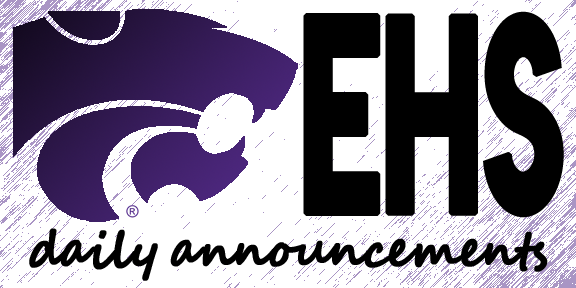 Daily Announcements for 12/5/18
EHS
Wednesday, December 05, 2018
Daily Announcements for Wednesday, December 5, 2018
The senior signature board will be out on all three lunch shifts today and Wednesday. Sign small, sign ONCE, and even if you signed the first time, we need you to sign again.
Seniors - FAFSA- Financial Aid workshop Thursday,December 13 4-7 pm in EHS Library. Bring parent and 2017 tax documents
Any Jrs interested in being considered to represent EHS this summer at Arkansas Governor's School need to sign up in the Guidance Office no later than December 13
FBLA and DECA: It's time to sign up for DECA State Competition Events. Come find me to sign up in my room or the Cafe. Deadline is December 7. Holiday Fun and Games Monday December 10th 3:45-5:00 sign up using Remind
The 2nd nine weeks Beta meeting will be this Friday at 7:15am in room 1524. This is required for members to stay active, so make sure you attend.
Tryouts for the 2019 Varsity Wildcat Football Team will be held after school at 3:30pm on Thursday, Dec. 6th. We will meet in front of the Football Weight room. Student athletes should bring clothes to workout in such as shorts, tshirt, shoes and/or cleats. Tryouts will last till about 4:30pm.
Any sophomore interested in representing EHS at this summer at the Hugh O' Brian Youth Leadership conference, come see Mrs. Miller TODAY during your lunch.
The Cafe will close a little early after school on Thursday at 3:30