WHAT ARE WASHINGTON MIDDLE SCHOOL'S BIG EVENTS?
Each school year Washington Middle School hosts two BIG EVENTS, one in the fall and one in the spring. These events incorporate interdisciplinary units studied in every class, culminating in a STEAM day! Students stay with their homeroom teacher for an entire day working on building projects related to each BIG EVENT theme. Each project is entered into a school wide competition. These studies and STEAM days are always tons of fun for both students and teachers. We couldn't get it done without the help of our AMAZING community here in El Dorado and the surrounding areas.
Check out our slide shows and descriptions of some of the events we've had so far!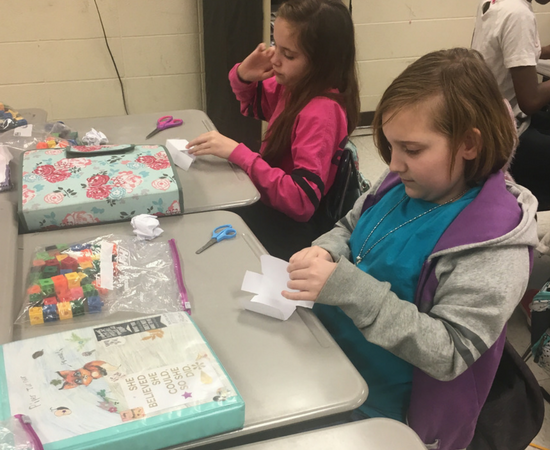 Our spring event for 2018 was CityScapes. This was an interdisciplinary unit where our entire school studied the physical and political geographical boundaries of the continental United States. We also focused on measuring things in Google Earth, as well as, around our school. Students then drew buildings or objects to scale. This later came in handy when each homeroom was assigned a United States landmark. They worked in groups to research their landmark extensively then on STEAM day created their landmarks to scale using recycled materials. Check out our slideshow and YouTube video of this super fun BIG EVENT!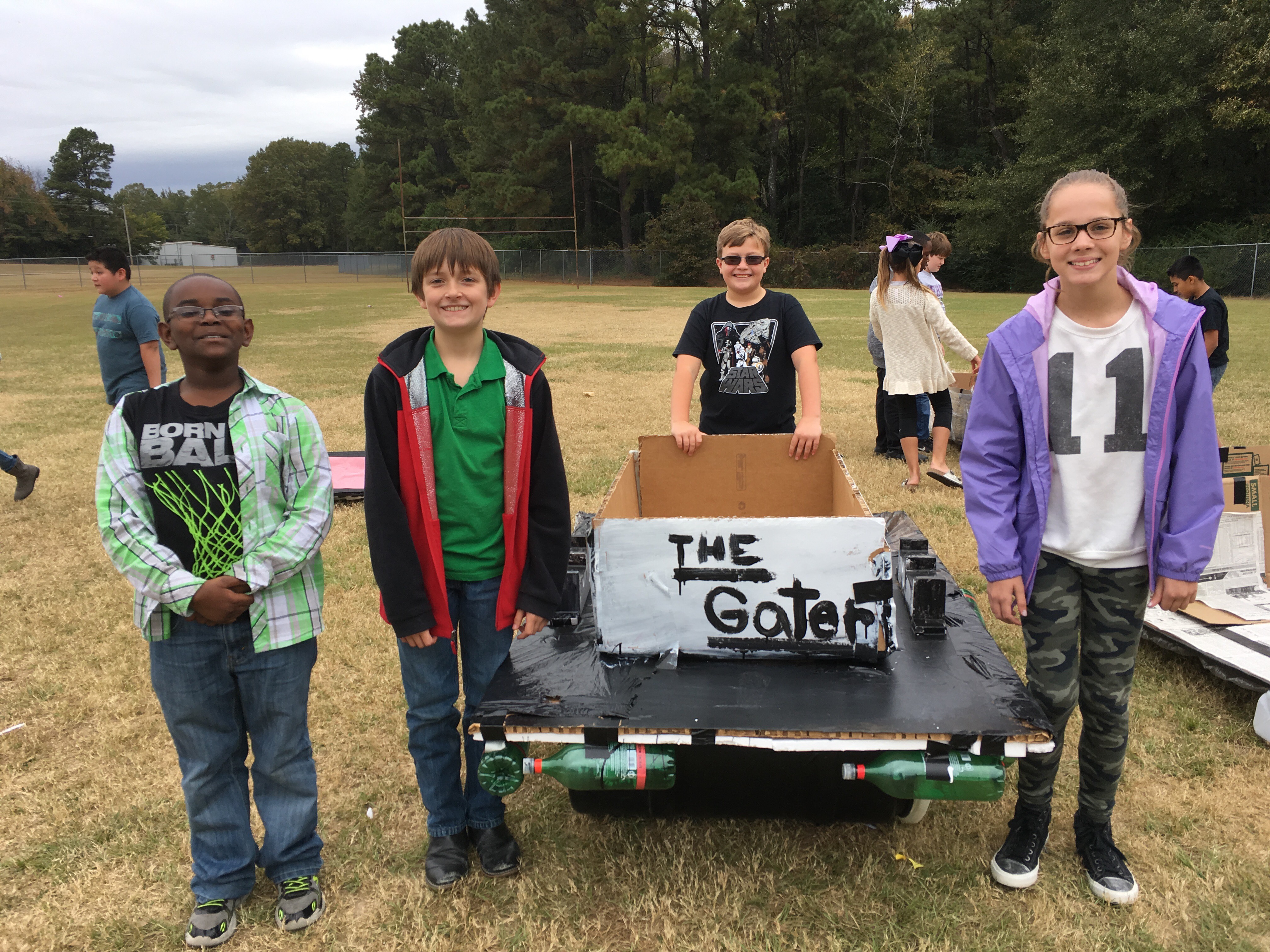 Each subject area studied fairy tales and fables with our Fairy Tale Fever BIG EVENT. In our literacy classes students wrote narrative essays and stories. In our social studies classes students learned about fables throughout history and even created their own! In our math classes students found area and perimeter for fairy tale castles, while our science classes did labs testing the temperature of Goldilocks's porridge.
For our STEAM day, students created pig houses that would withstand 30 mph winds, built a boat that would carry their teacher across the gingerbread river, and created a device to get jack down the beanstalk safely (egg drop).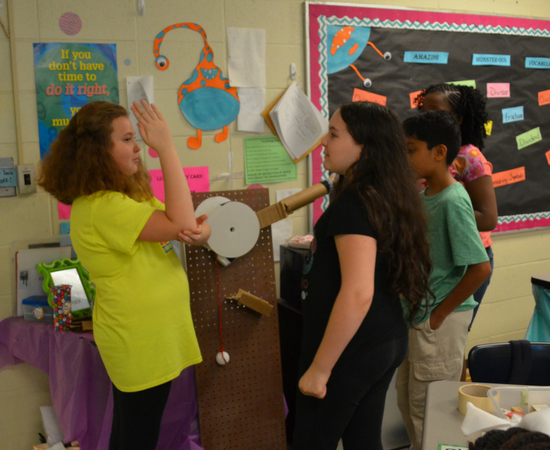 For our Kinetic Konundrum big event, students studied kinetic energy through all of their classes. In literacy classes students read, The Invention of Hugo Cabret. Our science classes build simple machines using Rokenbok, while our math classes solved equations using the formula for load and effort. The social studies classes discussed ways simple machines have been used throughout history. Students learned so much!
For our STEAM day students built a Rube Goldberg type of machine that was designed to drop an egg on their teacher's head. Students also had an auction to buy old "junk" and re purpose it into a new item with a new purpose. There was also a teaching station, where students taught various local elementary students about pulleys and levers, complete with educational games and quizzes. Lastly, students built marble roller coasters using only paper.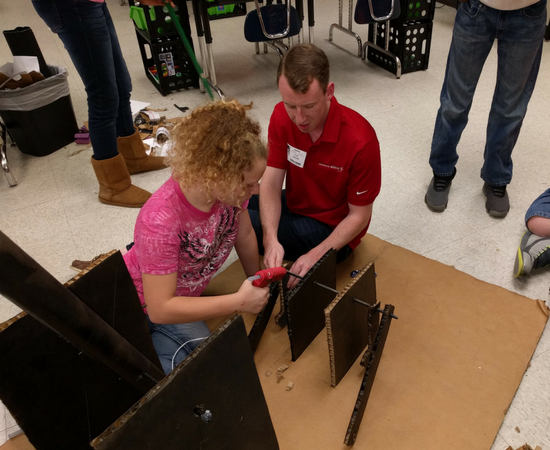 Students learned all about the oil boom in our area in the 1920's during this BIG EVENT. In literacy classes students read oral histories from locals during the oil boom. In math classes students solved problems relating to ratios of oil produced in barrels. In social studies classes we learned all about the 1920's including local history, as well as, national heroes and events of the time. Finally in students' science classes they studied how oil is refined and the geology of oil.
For our STEAM day students built giant oil derricks or pumping units with moving parts labeled correctly, scripted and performed their own radio show, and created paper towns of what El Dorado looked like in the 1920's. Each student also created a board game with trivia about the 1920's and the oil boom in El Dorado.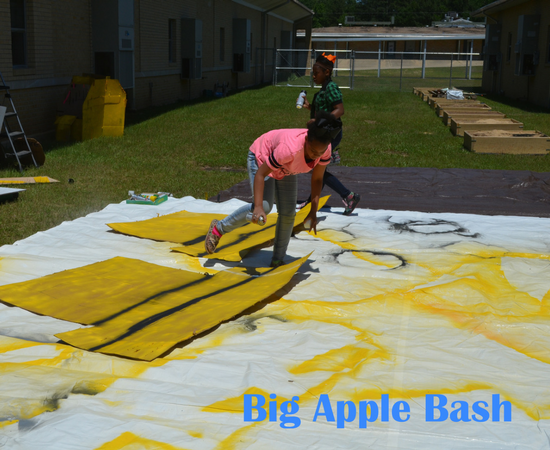 Students learned all about the Big Apple with this BIG EVENT! Students read, From the Mixed-up Files of Mrs. Basil E. Frankweiler by El Konigsburg in their literacy classes, while students in math classes planned a trip to New York City and budgeted for every detail. Students in social studies classes learned all about transportation, and how that impacts the citizens of New York.
For our STEAM day students built amazing projects. These included a taxi cab that had to fit their teacher and four classmates, a ferry to carry their teacher through the "Hudson River", and a New York themed trivia board game. Students in STEAM classes made carnival games to be played by students when we turned our gym into "Coney Island".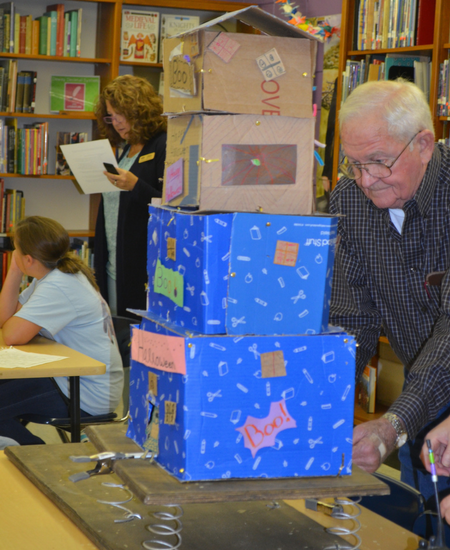 This study of plate tectonics was so fun! Classes immersed themselves in the study of geography, volcanoes, earth quakes, deep sea trenches, and Tsunamis. Each student was also able to ride on a simulator to go through the inside of a volcano! On STEAM day students made movies about Mariana's trench, teaching videos explaining what Pangaea was and why our world looks how it does now due to plate tectonics. Students also created GIANT volcanoes that erupted on our playground and earthquake proof structures that would withstand a 7 second earthquake using only certain materials, to be purchased from our school store with their budget.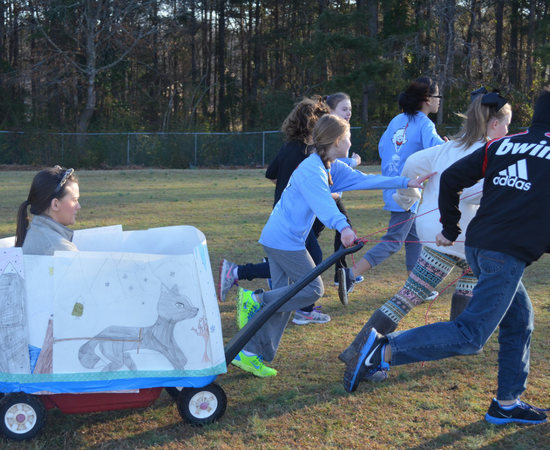 Polar Poolza was an interdisciplinary unit where students studied all things polar related in each of their classes. We had several school guests, one was a local artist that helped our students illustrate polar poems they created. Students in each homeroom could pick their competition, either a commercial promoting our BIG EVENT, building a snowman, or creating a sled to pull your teacher in an Iditarod race. The WMS gym was turned into a winter wonderland with an ice skating rink, and even snow!