WHY ENROLL MY CHILD IN THE EL DORADO SCHOOL DISTRICT?
El Dorado Schools have something to offer every child. Our elementary schools offer open enrollment, allowing parents the opportunity to express their preference for the school that best fits their child - Hugh Goodwin Academy of the Arts, Northwest Environmental Academy, and Yocum Math & Science Academy. Washington Middle School, for grades 5 and 6, gives students the chance to broaden their skills with Pre-AP courses in core areas and elective courses that include arts, musical/theater performance, orchestra, STEM Maker Labs, and competition teams. Barton Junior High, for 7th and 8th-grade students, provides more opportunities for students to learn and grow with culinary arts, robotics, arts, band, and athletic programs. These courses are in addition to a rigorous curriculum that awarded Barton Junior High top honors in English, Science, and Math. El Dorado High School expands horizons even further with challenging coursework for students choosing any route of study - technical, traditional, or Advanced Placement. EHS Athletics is top in the state and offers a variety of options from football, baseball, and basketball to swimming, soccer, and track. On top of the challenging curriculum and exciting extracurricular activities, students who graduate from EHS have the opportunity to receive the El Dorado Promise. These are just a few of the reasons you should enroll your child in El Dorado Public Schools. Set up a tour of our schools by calling our Central Administration Office at (870) 864-5006 and see for yourself why you should make The Promising Choice for your child today!
El Dorado Schools are fortunate to have the support of our community with partnerships that provide resources of time, talent, and funding. Murphy Oil Corporation funds the El Dorado Promise, which ensures that every EHS graduate has the opportunity to go to college. The El Dorado Education Foundation provides grants and awards for our teachers to take learning to the next level and provides a portion of the funding for our Endowed Chairs in Math, Science, and Literacy. Local companies like Chemtura, El Dorado Chemical, Nexans Amercable, First Financial Bank, and Simmons First Bank provide additional support with volunteers and donations to special projects and events.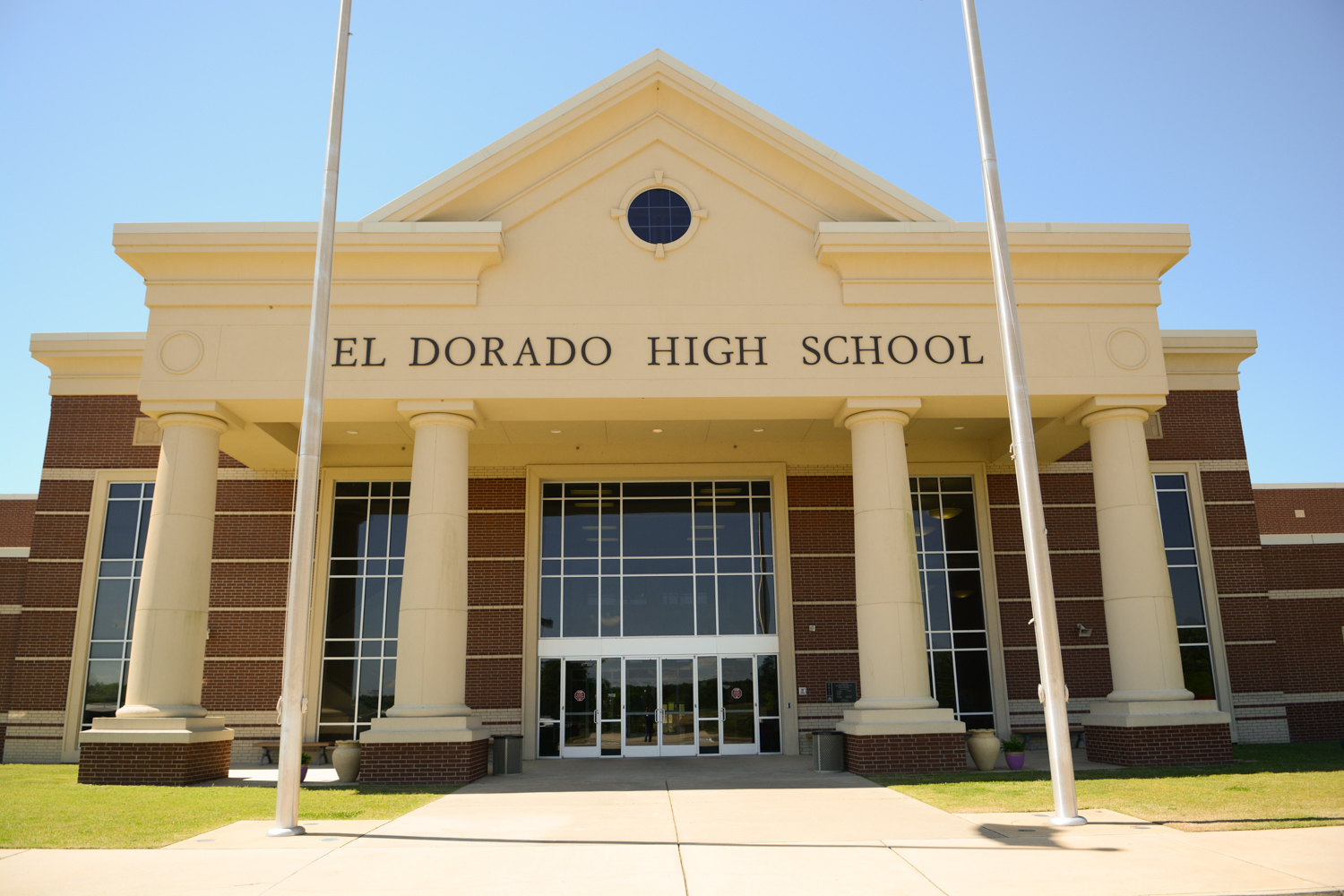 El Dorado School District in El Dorado, Arkansas consists of eight (8) campuses including:
3 ELEMENTARY SCHOOLS (GRADES K-4)
Hugh Goodwin Academy for the Arts

Northwest Environmental Academy

Yocum Math & Science Academy
Washington Middle School (Grades 5-6)
Barton Junior High (Grades 7-8)
El Dorado High School (Grades 9-12)
Retta Brown Gifted & Talented Center
Murmil Alternative Learning Environment
Funding for our public schools comes from local, state, and federal sources.
29 % locally funded

8% federally funded

63% state-funded