For the first time, an El Dorado Promise graduate has been honored as one of the three winners of the El Dorado Education Foundation (EDEF) 22nd Teacher Excellence Awards, which is sponsored by Murphy USA.
Clair Antoon of El Dorado High School (EHS), an El Dorado Promise graduate who has returned to El Dorado to teach, received the high school level Outstanding Educator award. She was one of three Outstanding Educator winners, including Leah Barbarotto of Hugh Goodwin for the elementary level, and Calandra Brown of Barton Junior High, for middle/junior high. The ceremony was held at the EHS Wildcat Arena, 10:30 AM, on Thursday, June 3.
"Murphy USA is grateful to have the opportunity to sponsor the EDEF Teacher Excellence Awards again this year to highlight the wonderful teachers of the El Dorado School District and show appreciation for the time, energy and care they pour into our students," stated Courtney Crotty, Director of Philanthropy and Community Relations, Murphy USA. "We remain committed to supporting and empowering our teachers as they continue to provide an excellent education experience for all children, even in the midst of a pandemic," she added. "This school year has been like none other, and it has presented unprecedented challenges which these teachers have met and overcome. Congratulations to all of our teachers, our semi-finalists and finalists, and to our winners. Murphy USA is proud to stand with each of you!"
According to the judges, Ms. Antoon, an EHS AP Literature and English I teacher, stands out as an example of what can be accomplished when an educator sets high standards of performance and accepts nothing less. This year, she set a personal goal to increase the diversity of students in AP (Advanced Placement) courses. Furthermore; she redesigned the AP curriculum to better meet the needs of students in this type of coursework. In her own words, she said, "You can't have rigor without support."
This teacher's love for the subject taught is inspiring. One student wrote, "Her ability to keep the attention of students is astronomical. She has inspired me towards a newfound love of literature." Ms. Antoon also is a compassionate peer and a mentor to new faculty. A colleague shared that she is "outstanding, very enthusiastic, and engaging. Students want to be in her class. She brings a wave of good feeling and fun to English courses."
At the middle/junior high level, Mrs. Brown, 7th Grade Science at Barton, is an imaginative, encouraging, and motivational educator with over 15 years of teaching experience. This teacher understands that the most successful learning strategies are ones that involve each student personally. As she put it, in addition to being a teacher, "Some days, students may need a parental figure, a cheerleader, a mediator, a referee, an advocate, or just a listening ear."
Mrs. Brown reported that the successful incorporation of technology into teaching strategies has been a major growth area for her this year. In addition, she stated, "One of my greatest accomplishments is the connections made with parents and students", even through a lack of in-person proximity due to the pandemic. A colleague wrote that she has a gift for developing learning relationships. She added, "Her students recognize that she cares, and they look forward to being with her. She brings fun to science classes."
For the elementary level, Mrs. Barbarotto, the General Music teacher for Hugh Goodwin, has a very busy schedule, seeing every student in the school each week. A colleague commented, "She has high expectations and does not take anything less. She has a fun and motivating manner. Students do not want to let her down and find a love of learning in her class." A parent stated, "My daughter looks forward to this teacher. I love when she comes home telling me what an amazing day she had. She is learning in fun ways."
Mrs. Barbarotto said, "My first year, I began teaching a before-school choir. We would perform at Christmas at the courthouse and our local nursing homes," She also has taught a separate honors choir group. Beyond serving students through music performance, she works in intervention for kindergarteners after school and meets with a Sunday reading group. Just this year, she added piano and guitar lessons, striving to share a love of music with every student.
The EDEF Teacher Excellence Awards program recognizes excellence in the El Dorado School District. It accepted nominees for outstanding teaching from parents, grandparents, guardians, students, former students, the public, and other teachers. At each school, certified staff voted for 15 semifinalists - one from each elementary school, three each from the middle school and junior high, and six from EHS. Semifinalists proceeded to written applications, critiqued by a judging panel from Southern Arkansas University (SAU), narrowing the field to nine finalists. Finalists were interviewed via Zoom by the judging committee. Three winners – Outstanding Elementary, Outstanding Middle/Junior High School, and Outstanding High School Teacher – were chosen by the panel. All semifinalists, finalists, and winners received recognition, plus monetary awards.
The 15 semifinalists were – Elementary - Hugh Goodwin: Leah Barbarotto, Northwest: Madelyn Freer, and Yocum: Leanne Barnett. Middle/Junior High - Washington: Ashley Johnson, Melissa Upchurch, and Deborah Guevara. Barton: Lisa Hooks, Calandra Brown, and Mary Hodnett. High School Level: Natalye Leake. Pate Bauldree. LaPorsha Carter, Clair Antoon, Aprile Richardson, and Molly Rottman.
The nine finalists were – Elementary - Leah Barbarotto of Hugh Goodwin, Madelyn Freer of Northwest, and Leanne Barnett of Yocum. Middle/Junior High - Melissa Upchurch of Washington, Deborah Guevara of Washington, and Calandra Brown of Barton. High School - Pate Bauldree, Clair Antoon, and Molly Rottman.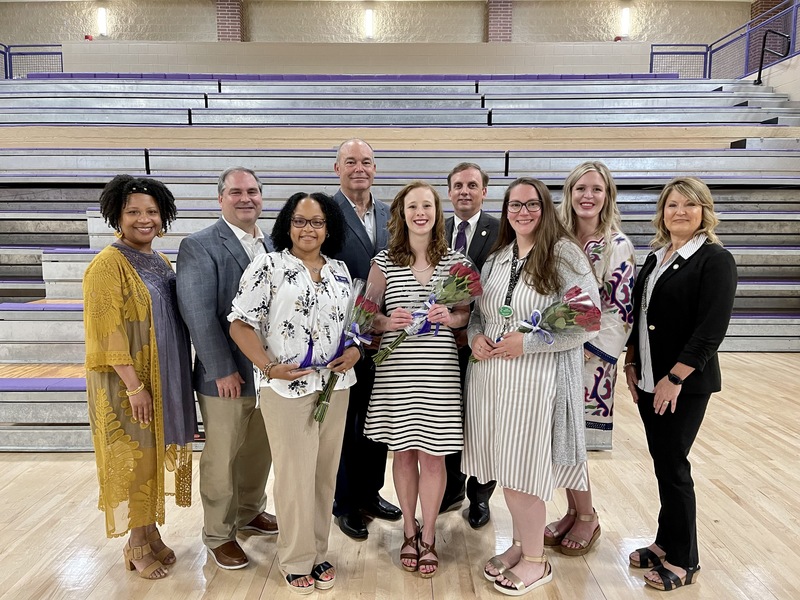 Left to Right: El Dorado Mayor, Veronica Smith-Creer, Roger Landes of Murphy Oil, Outstanding Middle/Junior High School Winner Calandra Brown, Don Miller of MurphyUSA, Outstanding High School Winner Clair Antoon, Representative Matthew Shepherd, Outstanding Elementary Winner Leah Barbarotto, Courtney Crotty of Murphy USA, and Representative Sonia Barker.