If you have already started your enrollment on PowerSchool and need to return to it in order to complete your submission, click here.
Kindergarten Registration 2021
Do you have a child who will turn 5 on or before August 1, 2021?
In order to prepare for registration, you will need to prepare the following documents:
Birth Certificate

Social Security Card

Shot Record

Proof of Residency in the El Dorado School District

Kindergarten Physical
Kindergarten sibling registration begins April 5th.
Open registration begins on April 6th.
We have a new registration program that is completely online. You will need to have all documents scanned/submitted in order for your registration to be complete. School Preference will only be prioritized if all documents are uploaded and your online registration is complete.
Before you begin registration, you should have gathered all required documents. During the registration process, you will upload the documents to the website. If you do not complete registration, do not submit. Save your progress, and return to the website when you are ready to complete registration.
The link to register is in the left column and will be live when registration is open to the public at 10am.
The link to return to PowerSchool, the registration website, is in the left column. Select this link to submit incomplete registration.
Parents have the right to waive kindergarten for one year. If you would like to waive kindergarten, please complete this form and return it to Central Office no later than August 1, 2021. Kindergarten Waiver
Contact Jennifer Malin at 870-864-5006 ext: 1004 for questions about enrollment.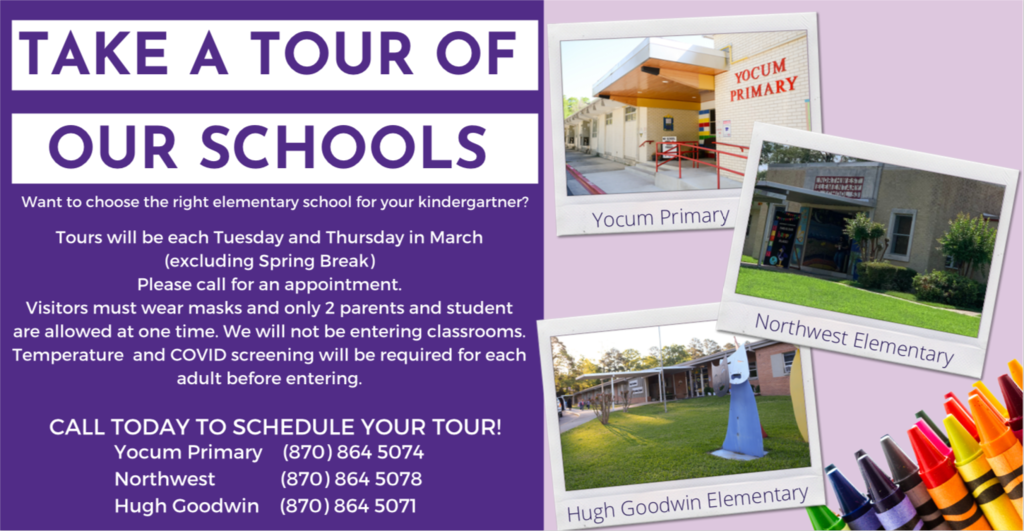 Visit each of our three elementary schools to find the right learning environment for your child. Tours are offered on Tuesdays and Thursdays in March (excluding Spring Break). Call to schedule your school tours today.