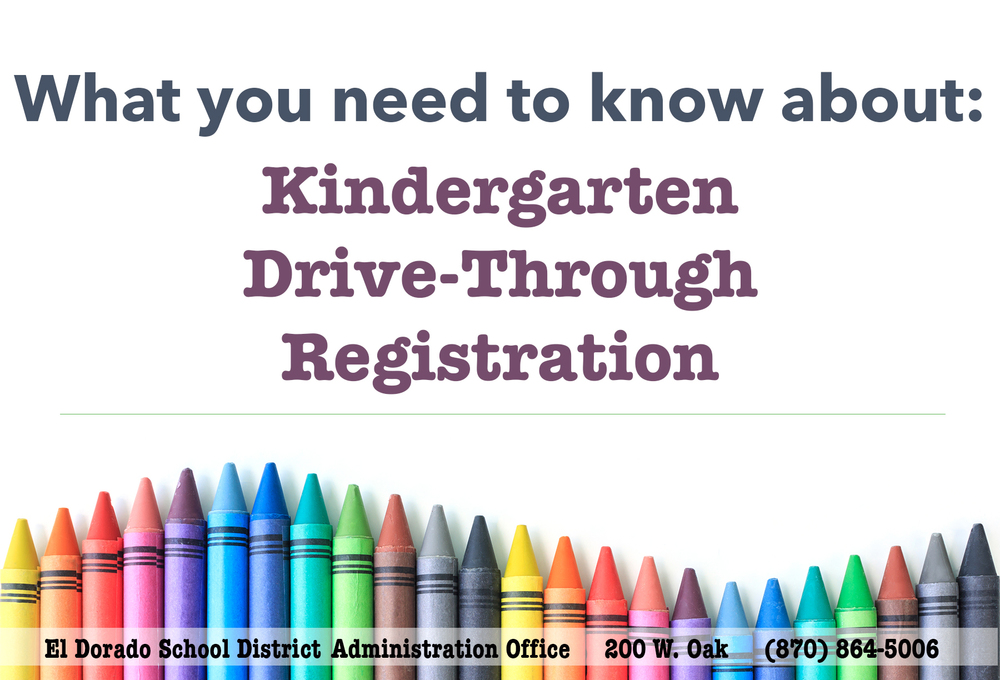 Kindergarten Drive-Through Registration Instructions
El Dorado School District
Monday, May 11, 2020
Here is all the information you need to know for our upcoming Kindergarten Registration. Due to the COVID-19 regulations, this registration will be conducted with a Drive-Through process at El Dorado High School from 7:00 am until 1:00 pm on Friday, May 15. Please read the information below before coming to the Registration line. If you have any questions, please contact our Administration Office at (870) 864-5006.
REGISTRATION PACKETS & INSTRUCTIONS
-Registration packets must be completed and ready to turn in when you arrive. If you need a packet, you can print one at https://www.eldoradopublicschools.org/o/district/page/enrollment--24 or pick one up at the Administration Office (200 W. Oak St.).
-Copies of all necessary documents should be included with your packet. No copies can be made during the drive-through drop-off process. The necessary documents are: Birth certificate/record, Social Security Card, Shot Record and Proof of Residence (a bill in the name of the child's parent/guardian dated within the last 30 days)
-Registrations for kindergarten will be processed in the order they are received. Placements for elementary schools will be based on availability and a first come, first served basis. Parents will be notified of their child's school placement by the first week of June.
-Please do not park and get out of your car. Stay in the line and a member of our staff will come to you.
PARKING/LINE-UP
-Because there is still traffic from students picking up and dropping off AMI assignments at EHS, and to ensure the safety of all ESD families and fairness of the registration process, no one will be allowed to park their vehicle on EHS property overnight prior to May 15. Any cars parked in the lot overnight prior to May 15 will be towed at the owner's expense.
-Wildcat Drive and Bob Watson Drive will be blocked off the evening of May 14. Wildcat Drive will re-open at 6:00 am on May 15 for the registration line to form. All cars should enter Wildcat Drive from Timberlane to get in the line. Bob Watson Drive will remain closed through May 15. Any registrants entering the EHS parking lot from any other direction than the Timberlane entrance will be directed to the end of the line.
-Once the registration line opens, cars will be directed up Wildcat Drive veering right at the fork to proceed toward the entrance to EHS. Please obey all traffic laws. Be courteous and patient. We will do our best to move the line quickly.