Congratulations to the El Dorado School District Honorees of the Month from Hugh Goodwin Elementary!

Hugh Goodwin Student of the Month: Amelia Felton.
Amelia is the daughter of John and Aime Felton. She is in Mrs. Lewis and Mrs. Curley's third-grade class.
Mrs. Clayton said, "Amelia is a young lady that is easy to brag on. She is always smiling and happy. She is a helper and a friend to all. She does things out of kindness and from her heart not for recognition. Those things all come easy to her. She is determined, works hard, and perseveres through struggles. She is a true picture of the GATOR WAY…She is a GO GETTER, she always has a great ATTITUDE she is a TEAM player, she is very much OPEN HEARTED, and SHE is Respectful!"
From Mrs. Lewis, "Amelia is a joy in the classroom. Her sweet personality and bright smile make my day. She is eager to learn and never backs down from any task no matter how challenging. She is always a bright spot in my day!"
From Mrs. Curley, "Amelia is very hard working. She always has a positive attitude toward learning. She encourages others also to do their best. She participates in class and is always ready to help the team do well. "
From Principal Jesica Collins, "Amelia is a model student who always follows the GATOR WAY. She strives to excel academically and socially. She starts each day with a genuine, sweet smile and a good attitude that she keeps all day long. She has a strong work ethic and aims to please her teachers. She is always willing and enthusiastic to do what is asked of her. She is a great role model for other students in her class and in the entire school. She is a true example of a Hugh Goodwin Gator!!! We are extremely proud of Amelia. She is our very own little fashionista and she will do great things as she continues to grow and learn in the coming years. "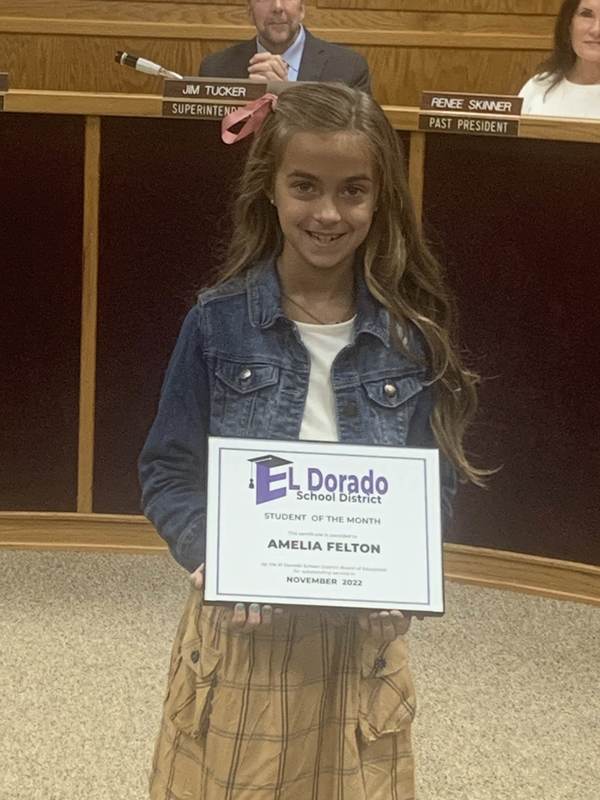 Hugh Goodwin Classified Employee of the Month: Patti Vansickle.
Patti Vansickle has been working in the El Dorado School District for 13 years and is currently a Special Education Paraprofessional for us at Hugh Goodwin. The teacher who nominated Patti said she is always helpful in the classroom when working with students including students not receiving services. She is an asset to my classroom.
Mrs. Collins, her principal, said that "Patti always provides her creativity and vision to make our theme come alive each year. She has a heart for our students and always puts their best interests and needs first. She works with ALL students and wants them to succeed. She is very punctual, a TEAM player, and always shows professionalism. We are very grateful to have her at HG."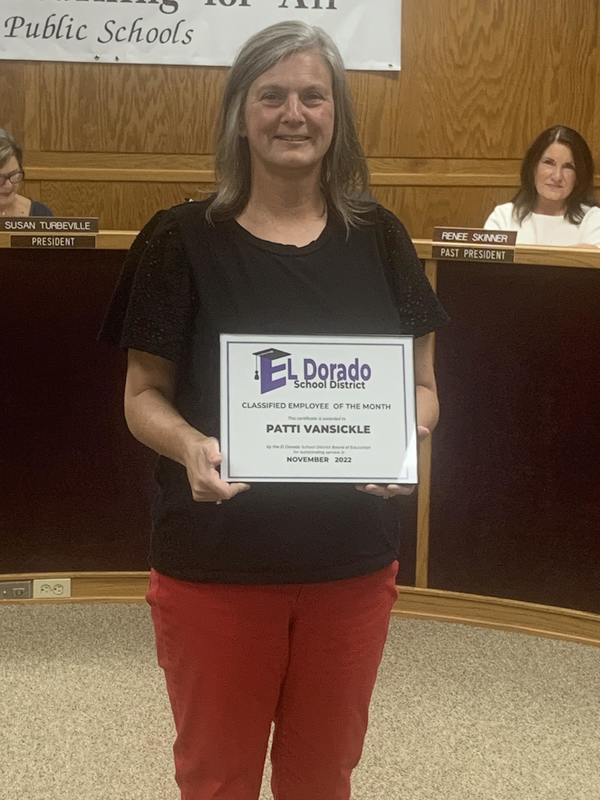 Hugh Goodwin Teacher of the Month: Amy Lester.
Amy Lester graduated from SAU Magnolia with her bachelor's degree. She has been teaching for the El Dorado School District for 6 years and has taught another four years outside of our district for a total of ten years of teaching. She is currently one of our Kindergarten Teachers at Hugh Goodwin. Those who nominated her stated that Mrs. Lester has a heart of gold. She will do anything for students to ensure they are learning. She is kind and dependable.
Her team said, "She leads us and guides our discussion, keeps us all on track, and carries extra duties due to the PLC process. Amy doesn't want recognition or praise and for that, she deserves it all the more. HG is a better place because of her."
Mrs. Collins, her principal, stated that "Mrs. Lester is a radiant ball of sunshine at HG. The quality of her teaching is exemplified by the success of her students. Her reputation shows that she teaches the "WHOLE" child and feels a deep responsibility to help each student succeed. She works to reach each student by setting high expectations for all students while making sure everyone feels successful. Her compassion and loyalty to student learning stand out. She is greatly respected by the Hugh Goodwin faculty, staff, and parents. She models leadership skills to her students by being an outstanding leader in our school, and we are so proud she is a GATOR! "