Don't forget Meet the Cats tonight at Memorial Stadium beginning at 7pm!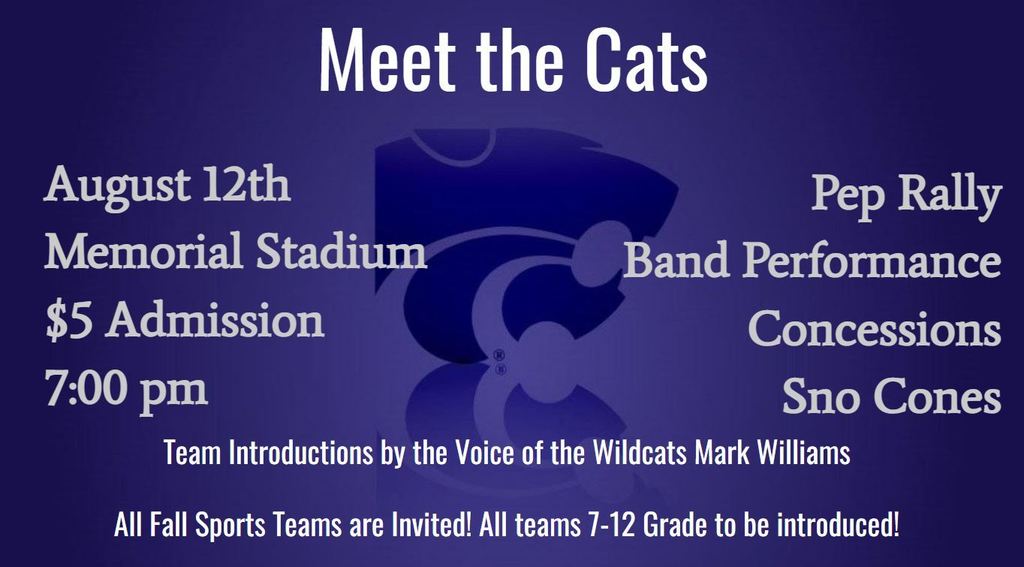 Join us for Volunteer Training to learn what it takes to be a successful volunteer! Three trainings will be offered this year: • Friday, August 26, 2022, 1pm - 2:30pm at Central Office • Tuesday, August 30, 2022, 6pm - 7:30pm at the TAC House • Friday, January 6, 2023, 1pm- 2:30pm at Central Office Make plans to attend one of these trainings! We look forward to having volunteers in our buildings all year long!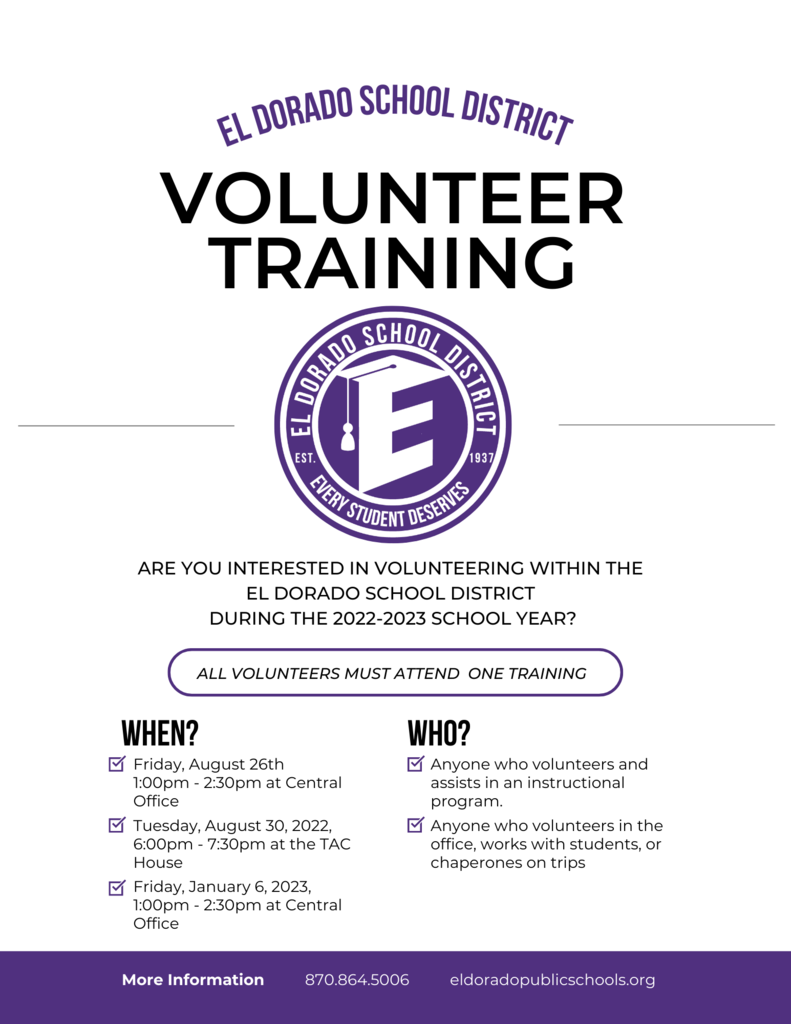 Due to our Community Eligibility Provision, all students Kindergarten - 12th grade within the El Dorado School District will have the opportunity to eat breakfast and lunch for free during the 2022-2023 school year. For more information, including access to cafeteria menus, visit
https://www.eldoradopublicschools.org/page/food-services
.

TAX FREE WEEKEND: A wide variety of items qualify as tax free (state and local tax) this weekend. A few examples include laptops, backpacks, printers, clothing, shoes, cell phones, diapers, wallets, notebooks and cosmetics. This includes online purchases (if shipped to an Arkansas address). For a complete list, check out the attached images.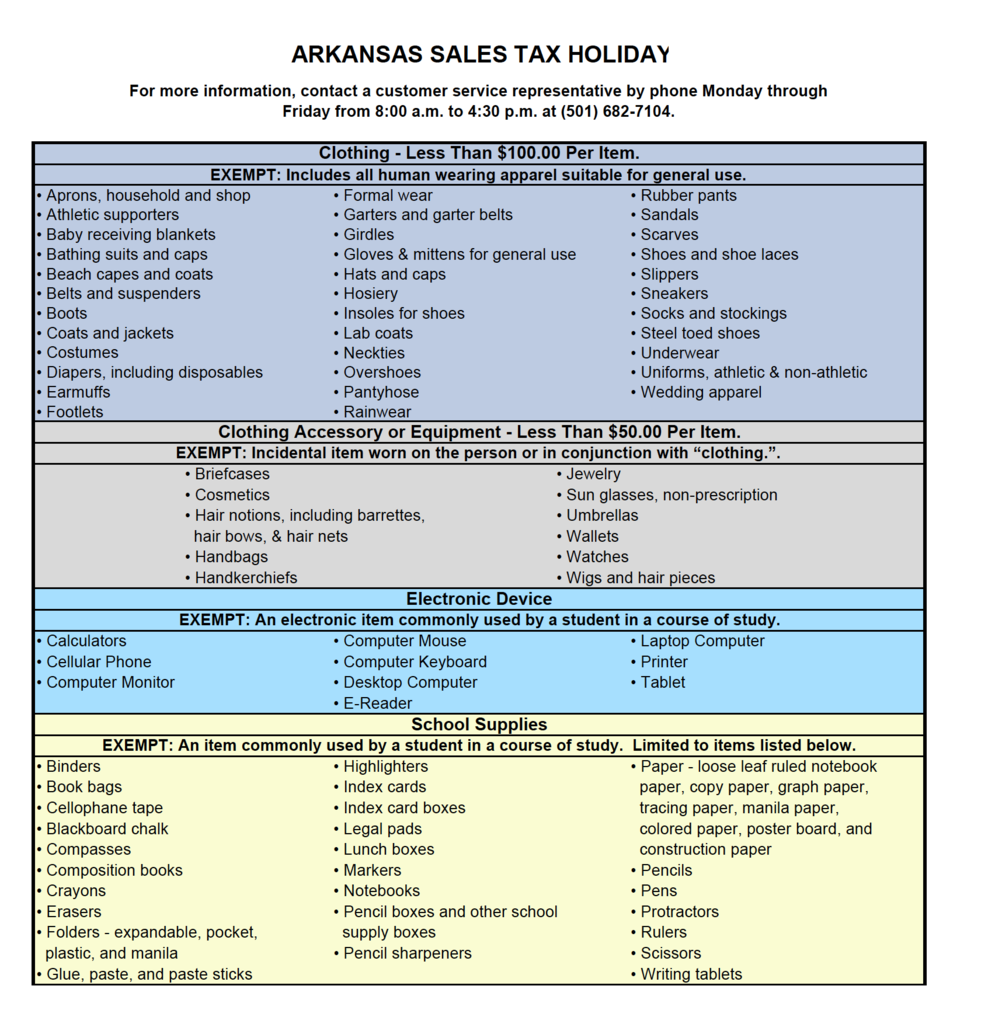 Fall sports are already underway! Congrats to the EHS Golf team who played in Bryant today. The girls placed 1st, and the boys came in 2nd. Check out the 2022 Fall Sports Schedules located on the ESD website at
https://www.eldoradopublicschools.org/page/athletics
! Go Cats!

Join the staff of the Wildcat Wellness Center for an open house on August 12th from 1:00 pm-3:00pm. Visitors can tour the clinic, learn about what services are offered, and meet the staff. The public is invited to attend!

Looking for a job that you can leave the work AT work? Look no further! We're hiring contracted and non-contracted bus drivers! You can drive a route each day or just fill in as needed! Plus, we offer benefits and CDL training! Visit
www.eldoradopublicschools.org
for more information.

All students must be up-to-date with their immunizations in order to start school on August, 22, 2022. If your child is exempt from immunizations, a completed Immunization Exempt Form is required every year from the Arkansas Medical Director. The school nurse must have an up-to-date immunization record or exempt form for every student. Please take the time to read this and follow the proper steps to making sure your child is able to attend school this fall.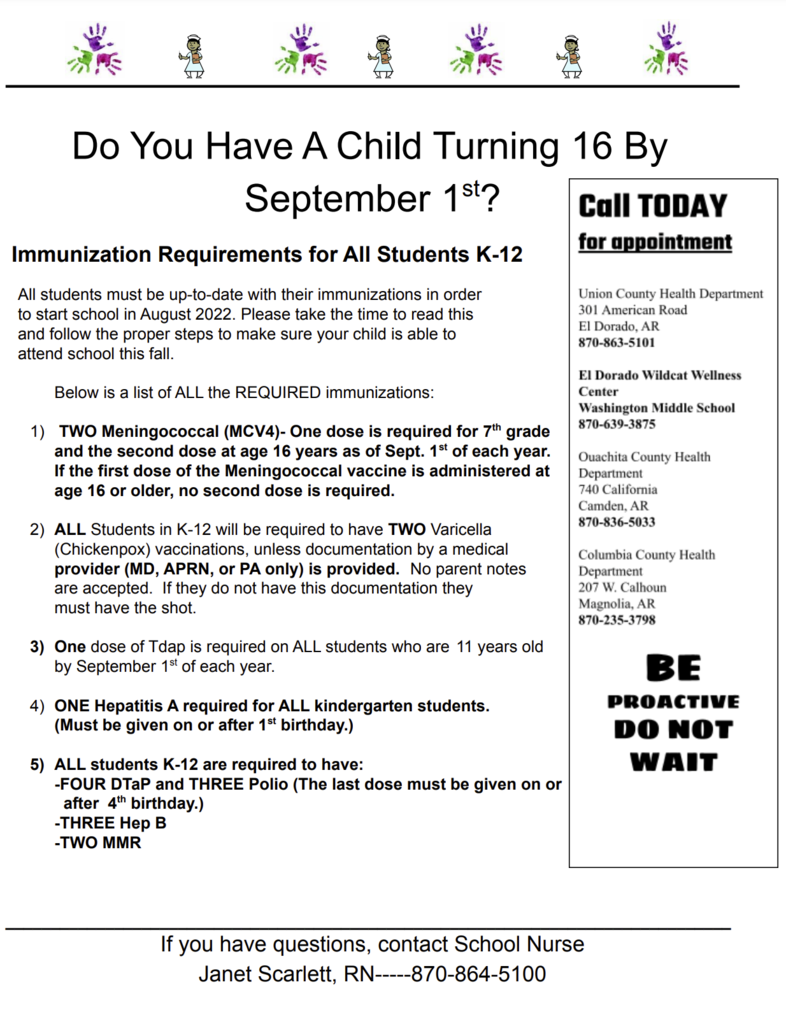 Football camp is live this week with Kix103! Tyson Ingram, Yocum 2nd grader, and Abel Blackmon, Hugh Goodwin 3rd grader, took a break from camp to be interviewed by Kix103's JJ Cook. Tune in to Kix103 at 2:30 to hear Coach Steven Jones!

It is no secret that the education world is a challenging place. Despite these challenges, ESD continues to strive to provide quality education to our students through various avenues. One of these avenues is Act 1240 which allows the district to hire teachers who have come into the classroom through non-traditional means. ESD is seeking feedback from our community on an Act 1240 waiver that would allow us to hire applicants in their internship semester as classroom teachers. These applicants would have passed licensure exams before entering the classroom, work under the supervision of a mentor teacher, and remain in the classroom once their internship is over.  The waiver must be approved by the state of Arkansas on a case-by-case basis. Each applicant must endure a thorough evaluation process by their university and our district in order to qualify.  ESD would appreciate community feedback as we review our decision going forward. Please complete this form if you would like to submit your feedback on the impact of the waiver in our district. Thank you. 
https://bit.ly/Act1240Feedback22

School begins ONE month from today! School starts on August 22nd, and students dismiss at 1:30pm on Wednesdays. Find the printable calendar here:
https://5il.co/1bxtb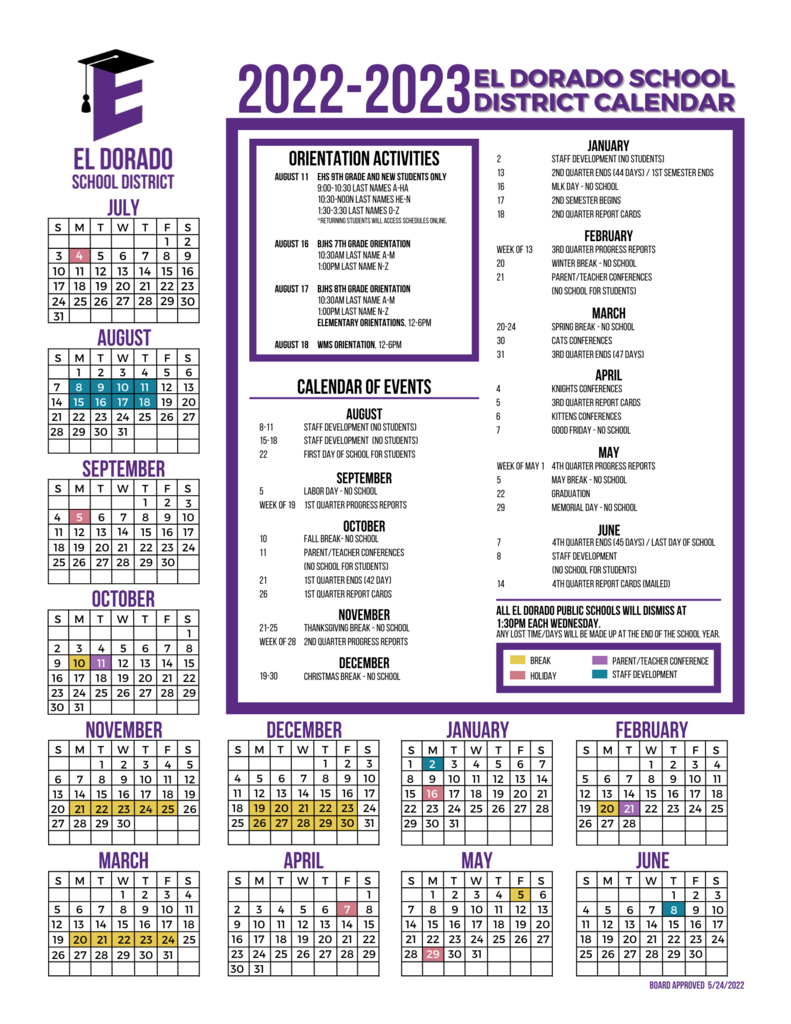 EHS Football is hosting a FREE Kids' Camp NEXT WEEK! The dates are July 26-27! To sign up, visit bit.ly/EHSFballCamp22.

School supplies will be provided free to students in grades K-4 again this school year. The supplies will be given to teachers to distribute to students as they are needed in the classroom. WMS and BJHS will provide school supplies for students, as well. Students need to bring a backpack, 4 boxes of Kleenex, and 4 bottles of hand sanitizer. EHS will provide students with a Chromebook, a three-ring binder, a spiral notebook, and pens. Teachers will pass out class materials lists during orientation or the first week of school. Supply lists are based on the needs of the individual class.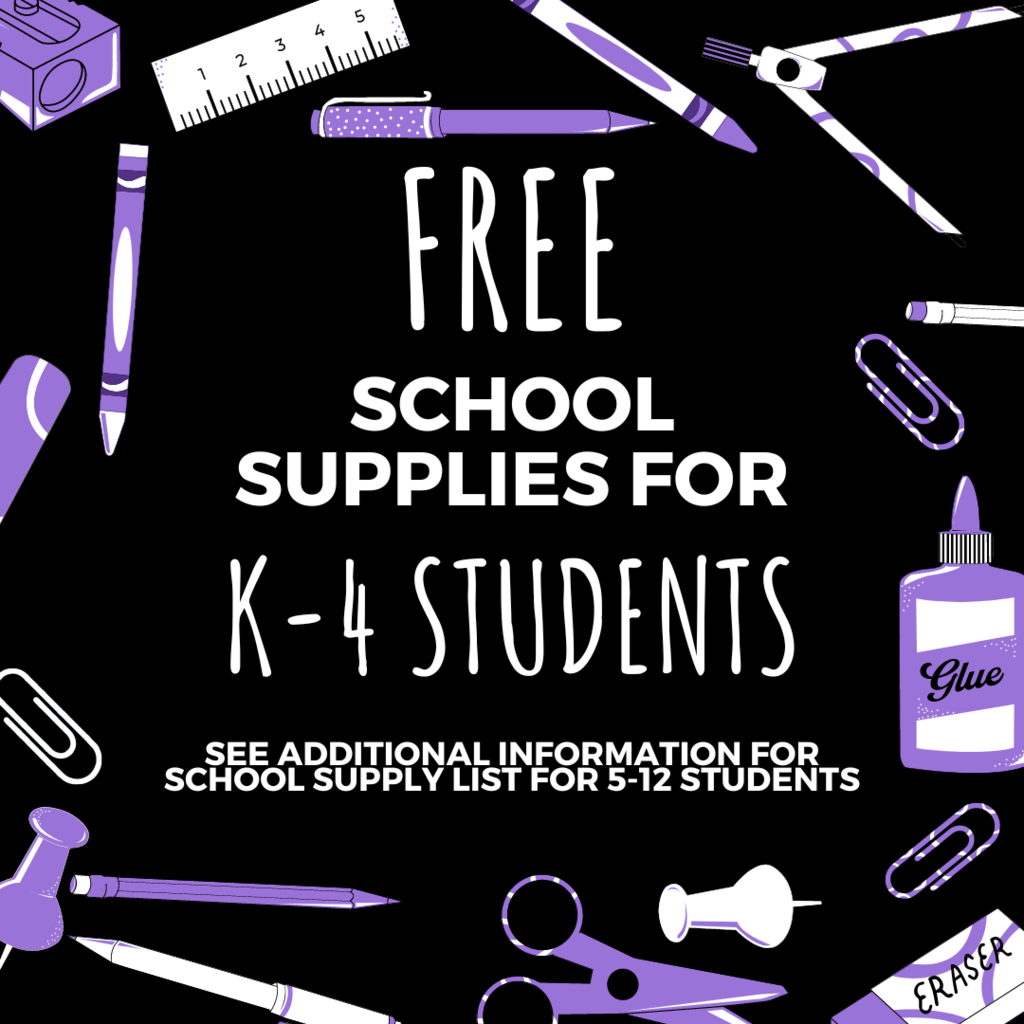 The EHS Summer Book Club has TWO meetings left this summer! The next meeting will be held next Thursday, July 21st at 6:30pm at MAD Amphitheater. For more information, contact Mrs. McDuffie at
brady.mcduffie@esd-15.org
.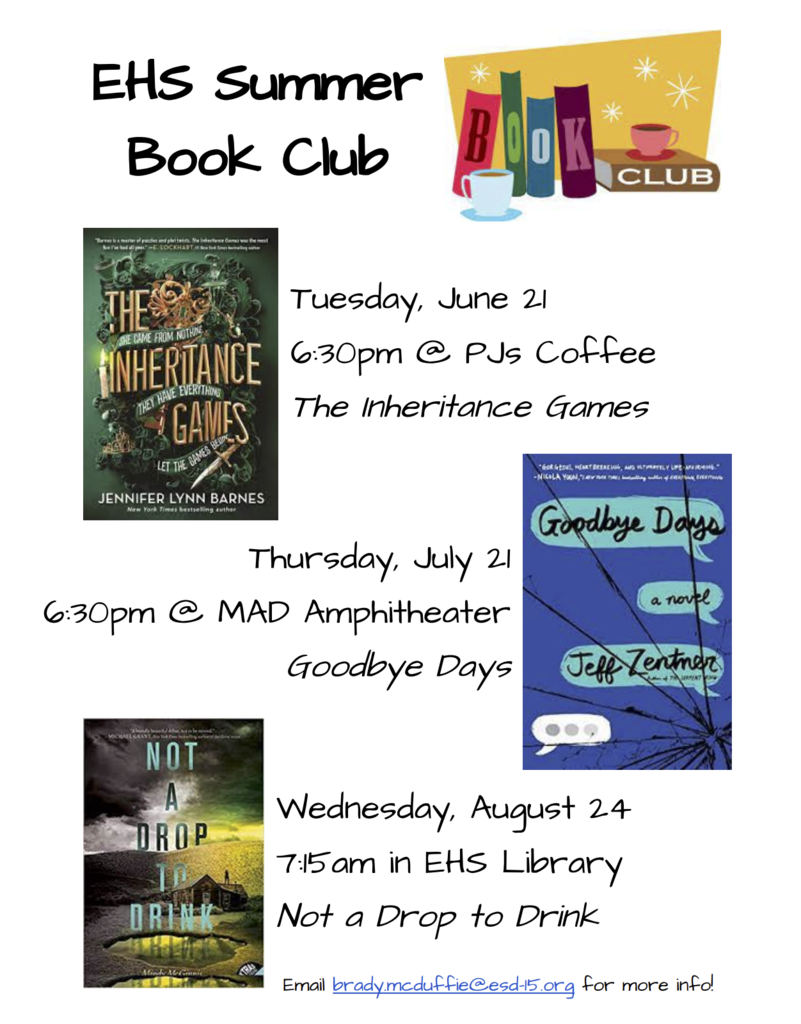 REMINDER: Substitute training will take place tomorrow in the Central Office Board Room from 9am-Noon. For more information, visit ess.com today!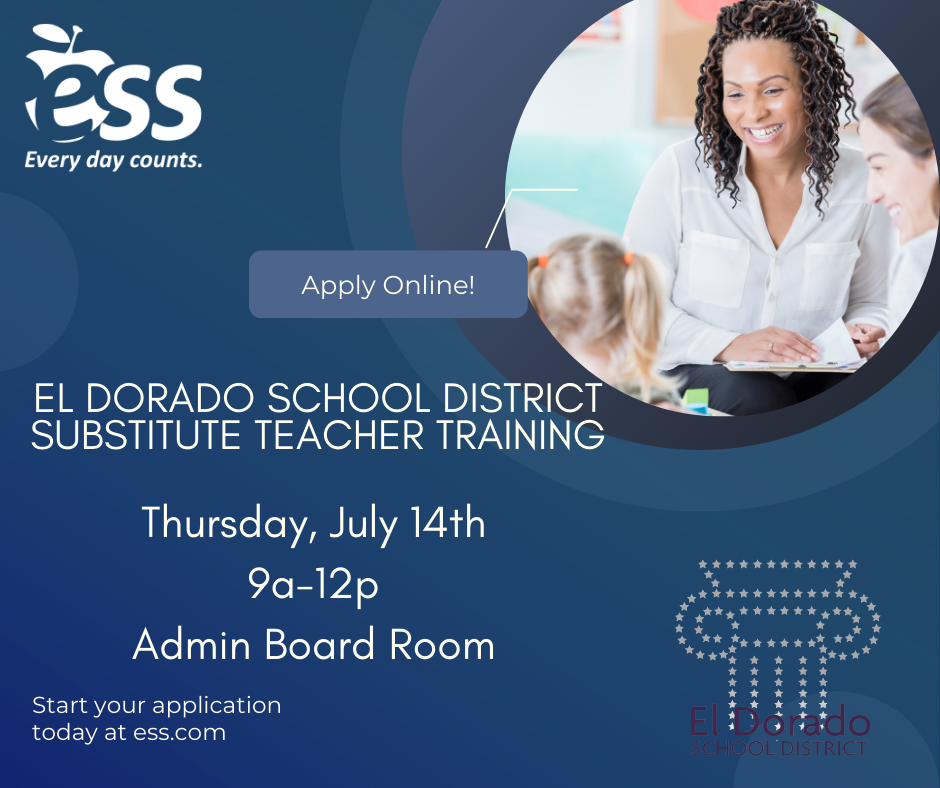 Did you know ESD offers voluntary accident insurance for students and athletes K-12? From the classroom to field trips to sporting events, your ESD student can have additional coverage. For more information, visit
https://www.eldoradopublicschools.org/page/athletics
.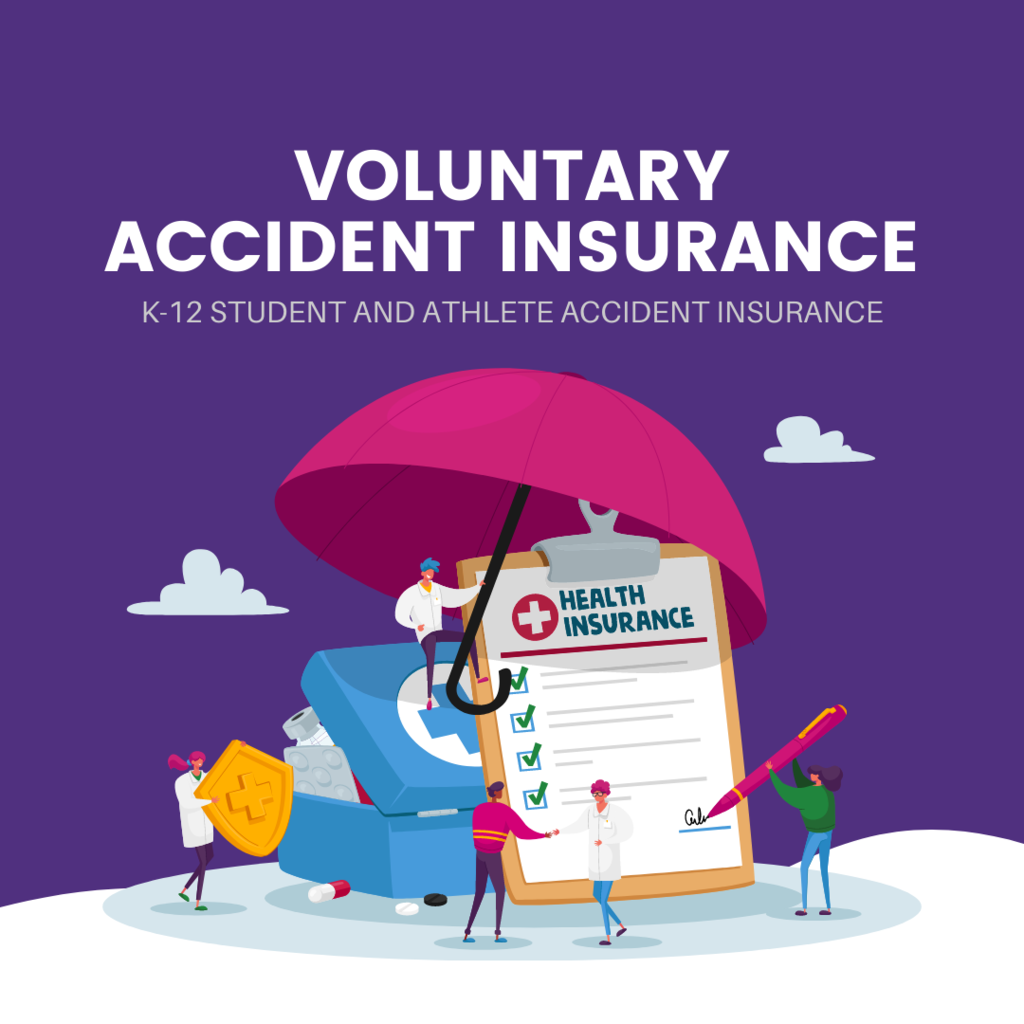 Are you looking for job that guarantees evenings and weekends?! We've got the job for you! We're hiring contracted and non-contracted bus drivers! You can drive a route each day or just fill in as needed! Plus, we offer benefits and CDL training! Visit
www.eldoradopublicschools.org
for more information.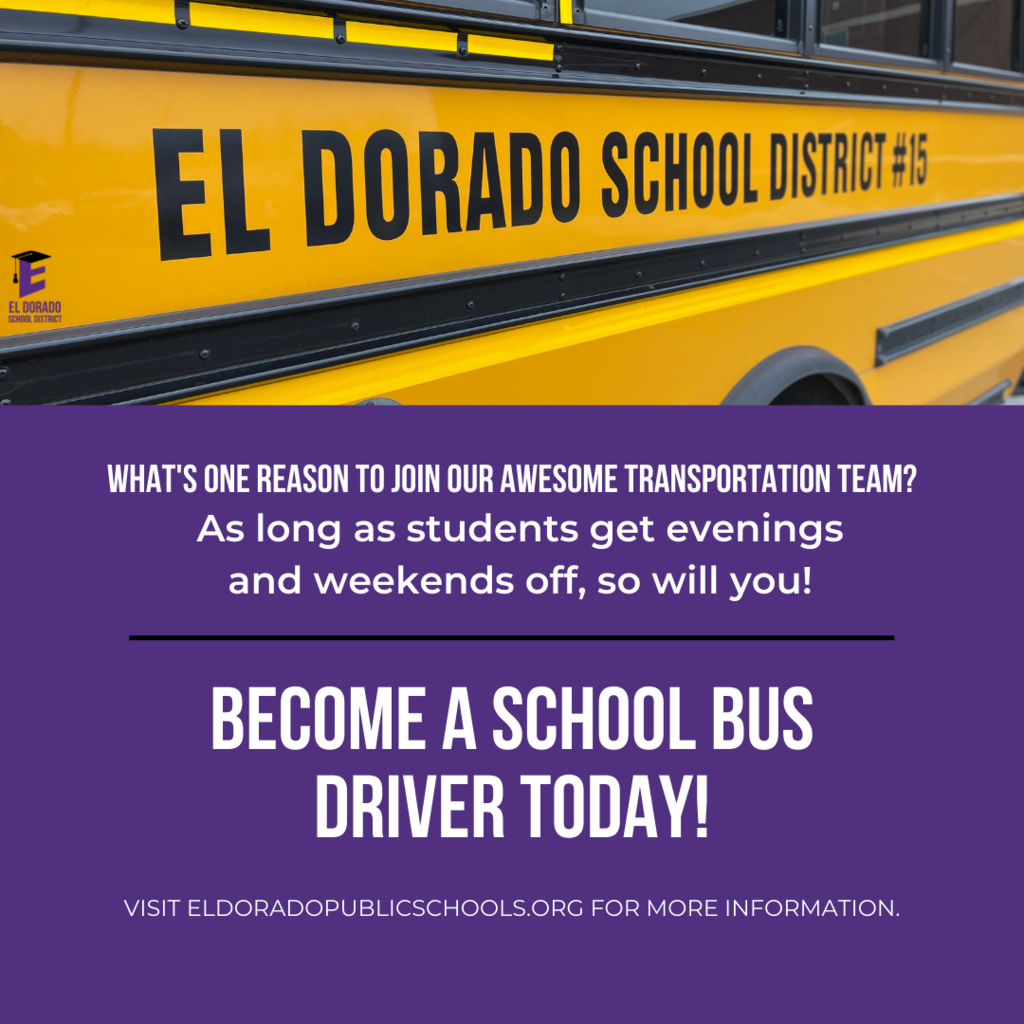 Pandemic-EBT (P-EBT) is a federal program. The Division of Elementary and Secondary Education (DESE), in collaboration with the Department of Human Services (DHS), received approval to operate this program in response to the COVID-19 related school closures. P-EBT provides food supports to help families with district students who were absent due to COVID-related incidents involving the student during the 2021-2022 school year. If you have a student who was absent or attended school virtually due to a COVID illness or quarantine fill out the form located on the ESD website or pick up a paper copy from Central Office. All applications will be submitted to the Child Nutrition Office. Questions need to be directed to Estelle Fox 870-864-5006 x1070. The deadline for filling out the online form or the paper form is July 29th at 11:59pm.
https://www.eldoradopublicschools.org/page/food-services

*SUMMER MEAL UPDATE* Moving forward, on-site meals will be served at the EHS cafeteria only. Grab and go meals may also be picked up at EHS on Mondays and Wednesdays. For an updated list of food truck locations, check out the image below or visit our website here:
https://www.eldoradopublicschools.org/page/summer-meal-program
.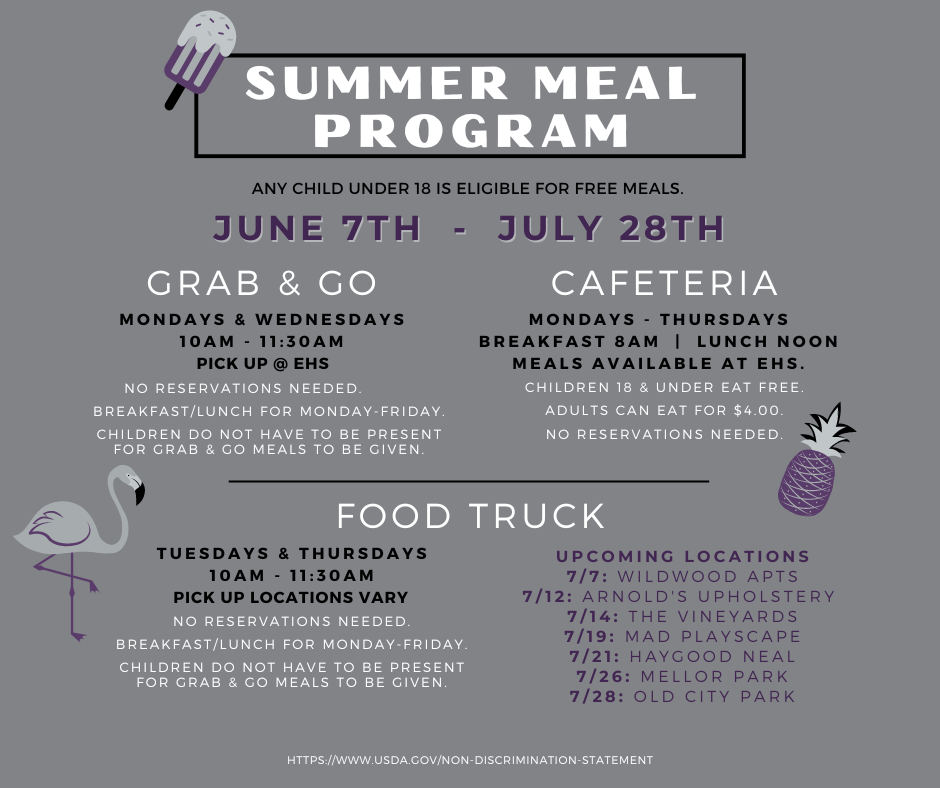 Have a happy and safe 4th of July!