The El Dorado School District will be celebrating Teacher Appreciation Week May 8-12. Be on the lookout in the next two weeks for ways that you can get involved and tell a teacher that you appreciate them!

Don't miss your chance to see the EHS Thespian Troupe 42's production of Bye Bye Birdie THIS WEEKEND! "Come see Bye Bye Birdie performed by the EHS Drama Department! This big, fun, colorful, and silly musical is sure to "Put on a Happy Face!" Showing April 27-29 at the EHS Auditorium. Tickets are $5 for students and $10 for adults. They are available on all lunch shifts at EHS and at the door. See you there..."If you're really sincere!" poster design by Lex Jones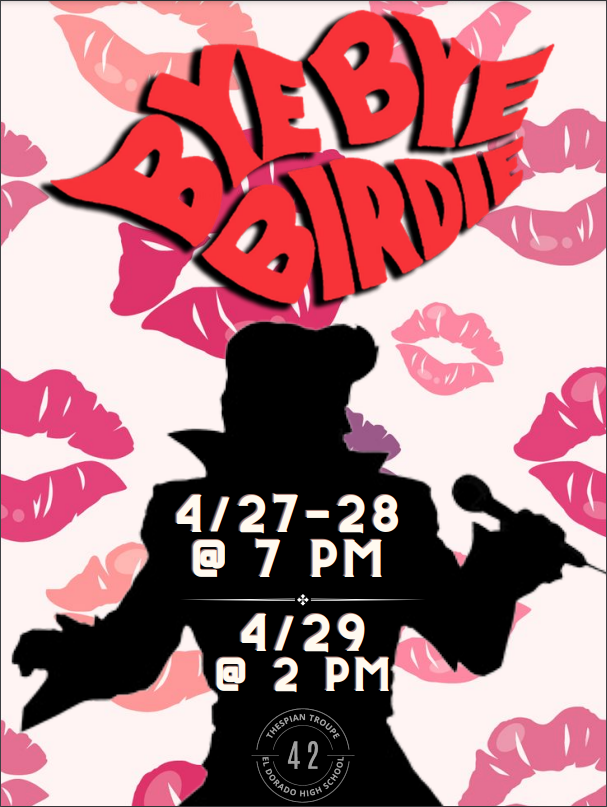 Happy Administrative Professionals' Day! We are so grateful for all our amazing administrative professionals and all the work they do each day to make our schools run as smoothly as they do! You are so valuable to us! #EveryStudentDeserves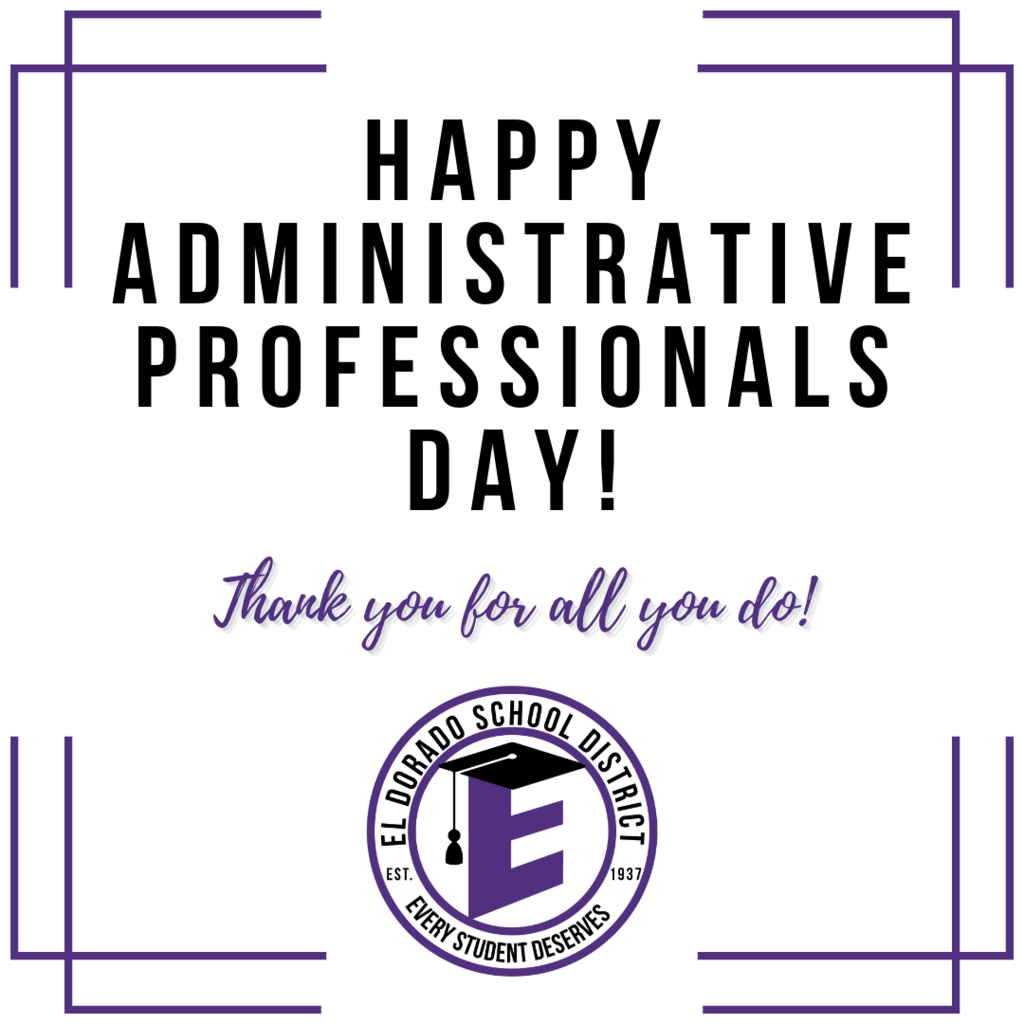 Calling all parents, guardians, friends, and family of the CLASS OF 2023! ONE WEEK FROM TODAY EHS students will celebrate the first of many graduation events! Academic Signing takes place in the Wildcat Arena on Tuesday, May 2nd. This year's speaker is Tim Horton, United States Air Force Academy Running Backs Coach and Special Teams Coordinator. There will be remarks by Claiborne P. Deming, Murphy Oil Corporation Chairman of the Board, as well as ESD Superintendent Jim Tucker and EHS Principal Sherry Hill. The program begins at 10am, and the public is invited to attend!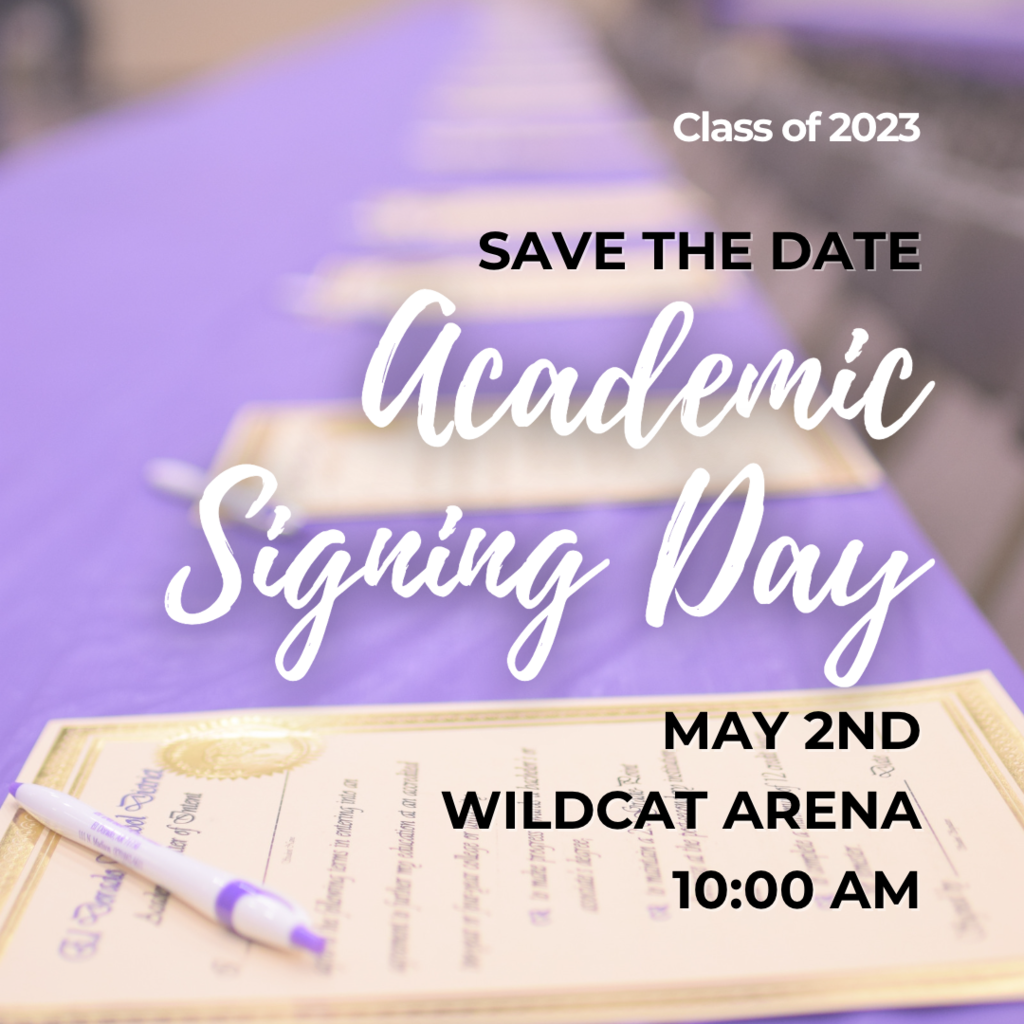 It's NATIONAL LIBRARY WEEK! Each ESD student has access to a library in their school building AND the Barton Library, located right behind Memorial Stadium. That means at every stage of development, from birth to grades K-12 to college and beyond, every person in El Dorado has the opportunity to get travel the world through books! We hope you spend a little time this week getting lost in a great book! #EveryStudentDeserves

Washington Middle School was placed under lockdown this morning for approximately 30 minutes as a precaution for activity in a nearby neighborhood. Students and staff were safe, and school continued as normal. We appreciate your patience and understanding!

Two El Dorado High School students were taken by ambulance to the hospital after becoming ill in class. They are currently receiving care at the local hospital. This appears to be an isolated incident. An investigation is underway at this time. There is no greater priority than our students' health, safety, and welfare. We appreciate the calm response of the faculty and administration at EHS, who continue to hold school as usual.

Starting to think about the 2023-2024 calendar. Take a look and start planning for next year!
https://5il.co/1qtkb

The Eagle Foundation is offering summer programs! Space is limited! For more information or to register your student, call Shannon Berry at 870.312.6174.

Kindergarten Registration is underway! If you have a child who will turn 5 on or before August 1st, it's time to get them registered! Visit our website to register today! eldoradopublicschools.org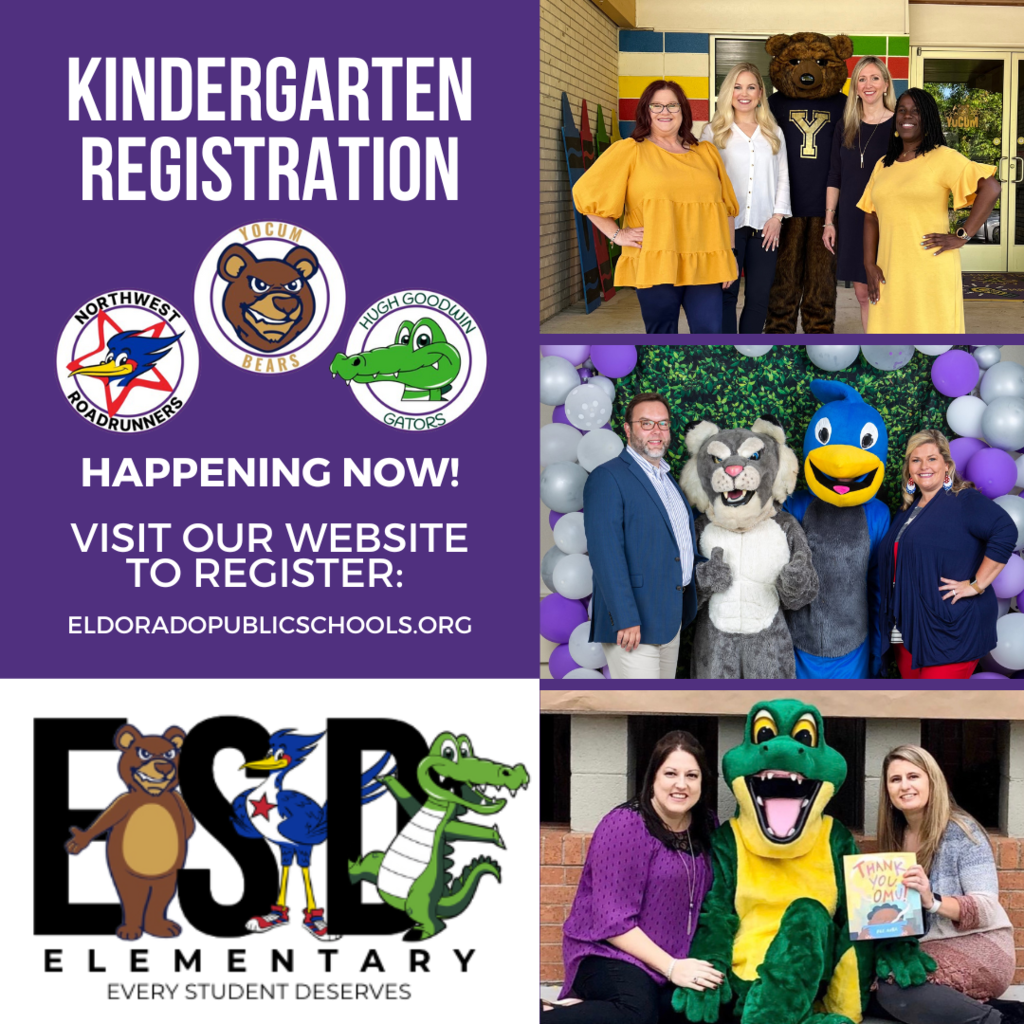 It's National Volunteer Week, and we couldn't pass up the opportunity to say THANK YOU to all the amazing volunteers who donate whatever they can to help our students thrive. Our community is the best!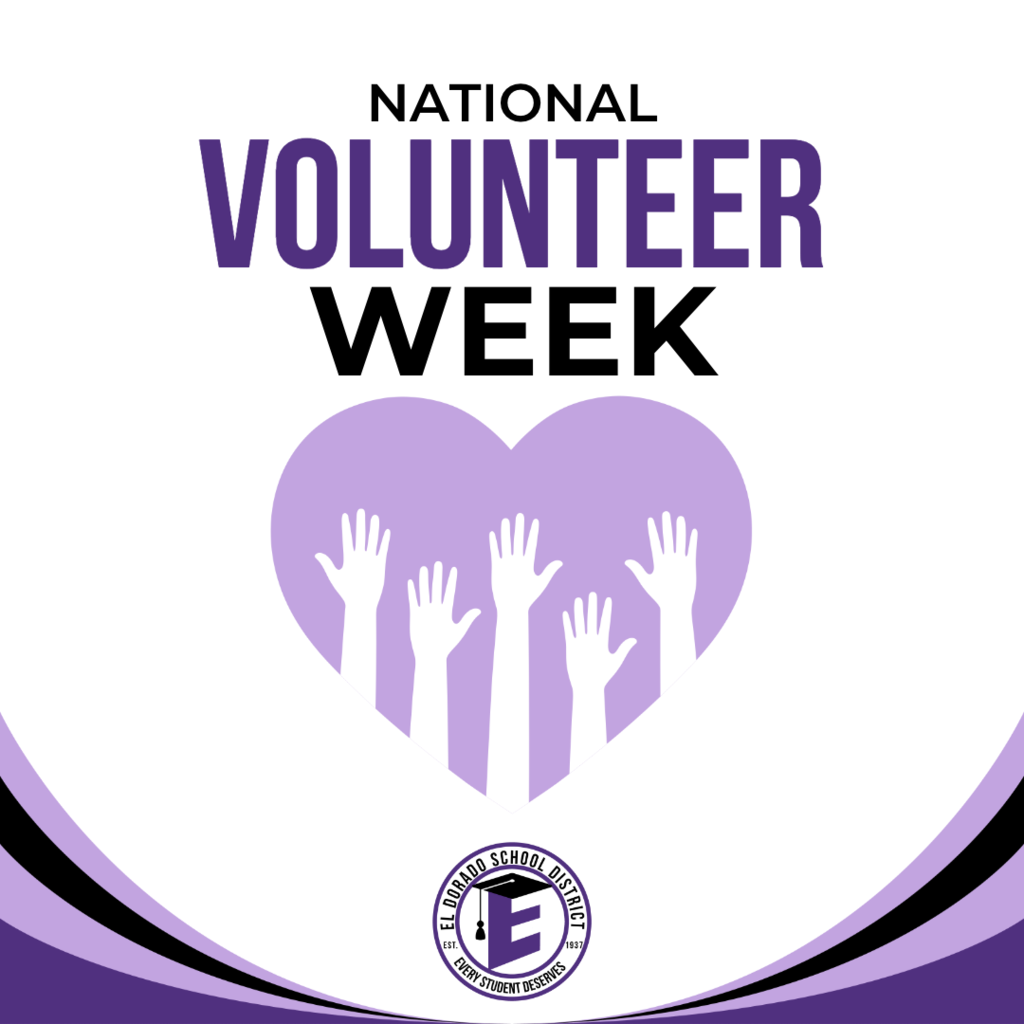 SouthArk is celebrating Arts in April this month, and there are a few free events open to students!! They do ask that anyone under 15 needs to be accompanied by an adult. * Saturday, April 15 -- Sketching in the Arboretum with Maria Villegas | 10 – 11:30 AM * Tuesday, April 18 – Silver Screen Movie Night @ SouthArk Library | 6:30 PM * Saturday, April 22 – Photography Workshop in the Arboretum with Lisa Tarver | 10 – 11:30 AM For more information, visit
https://www.southark.edu/arts
.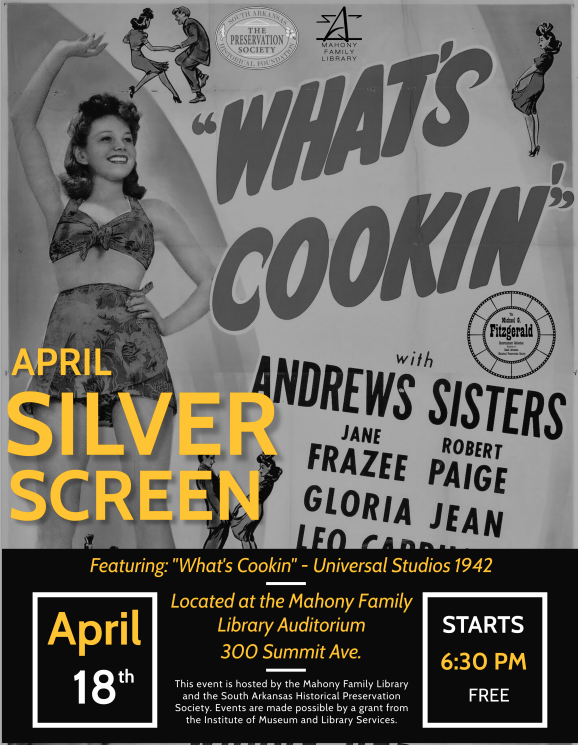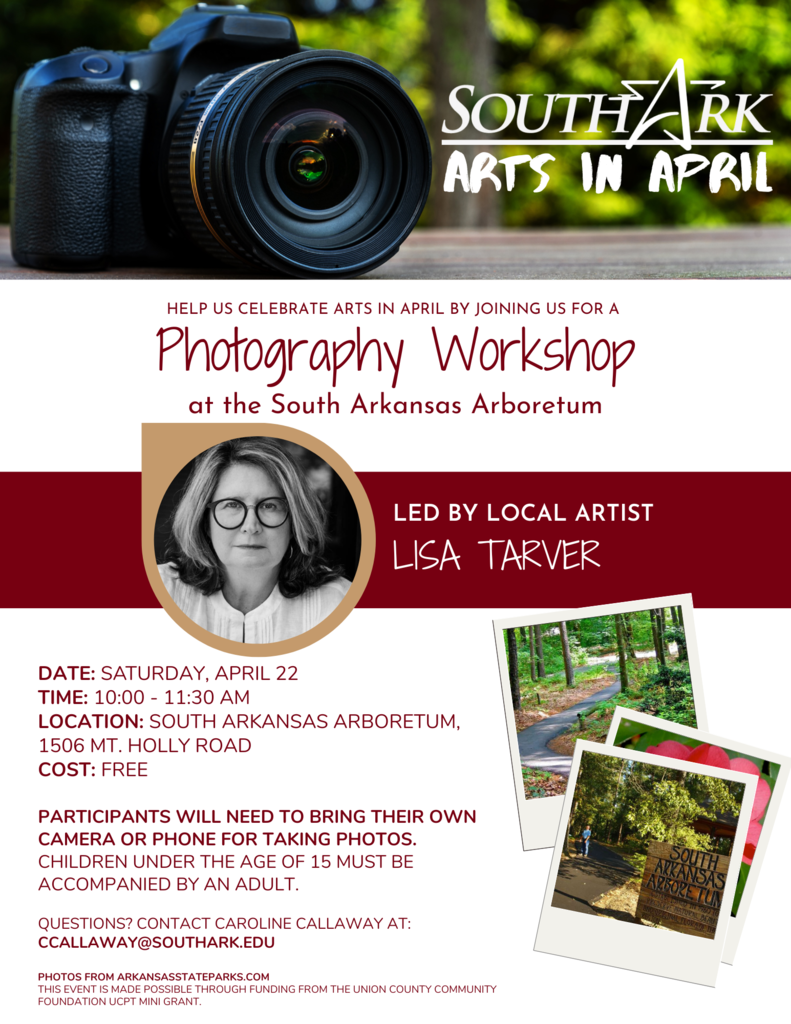 The WMS Competition Shake Team that attended the National Shake Competition in Atlanta visited with the ESD School Board at last night's monthly meeting. Sixth graders Kate Lee and Avery Warren spoke about their experience, even demonstrating the proper handshake. Thank you to Ms. Gavin for working with and encouraging these students all year long!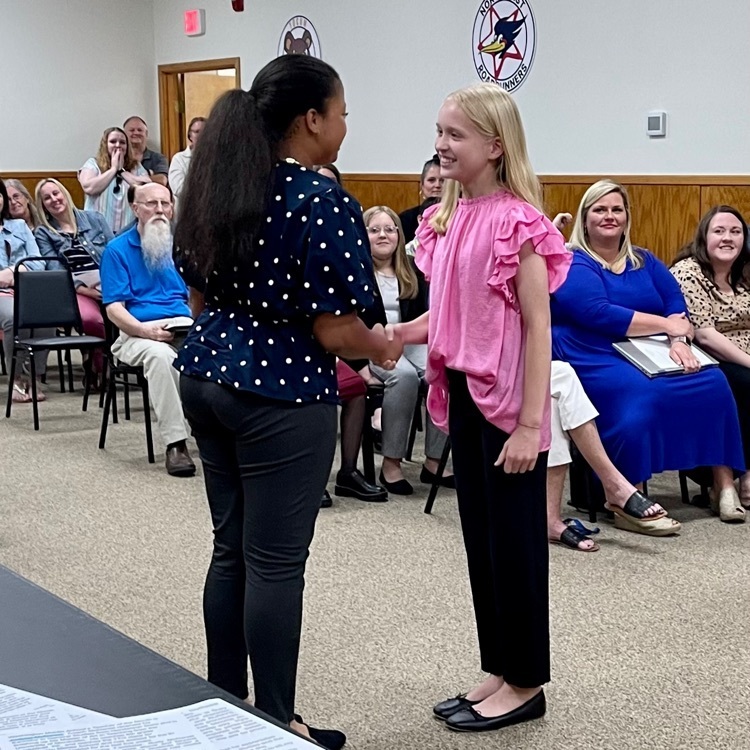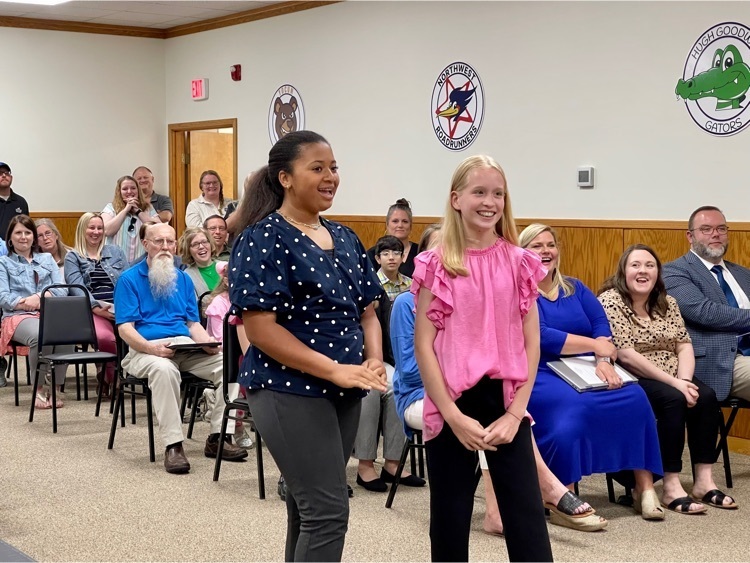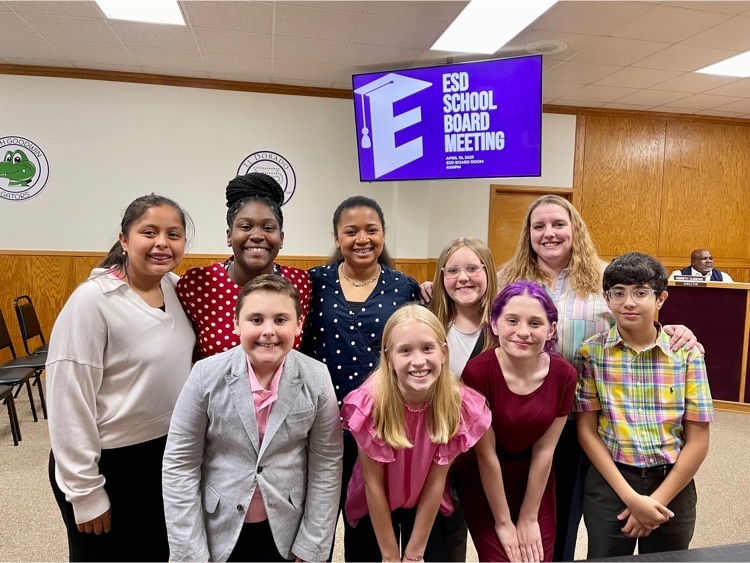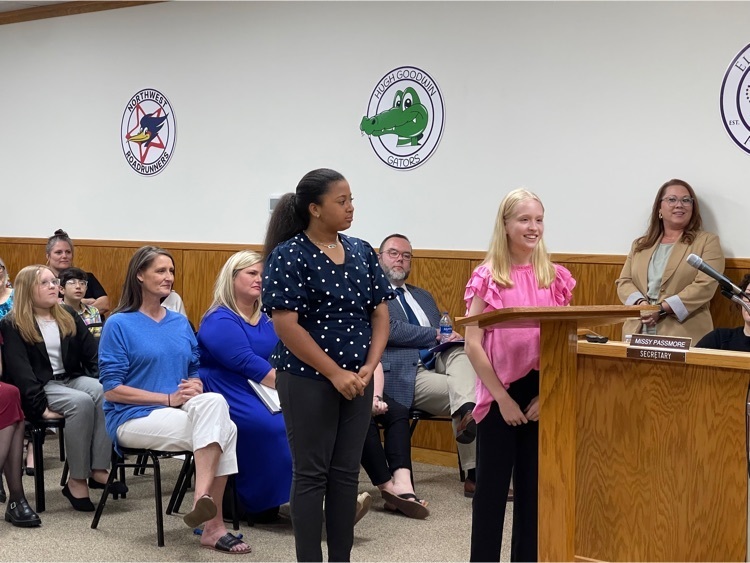 In case you missed it on the EHS page, the El Dorado School District would like to give another shout-out to the EHS Chamber Orchestra for their amazing performances during Spring Break! They didn't have to travel for a school competition, but they chose to, and their hard work paid off! The EHS Chamber Orchestra, along with Director Jennifer Michaels, traveled to Dallas to compete on a national level at the Showcase of Music held at the Meyerson Symphony Center. They earned Superior ratings for their stage performance which also earned them Best in Class 5A, as well as Outstanding Overall Orchestra for the entire competition!!! We are proud of their dedication and commitment to their art, including their Director Mrs. Jennifer Michaels! Congratulations, again, Chamber Orchestra!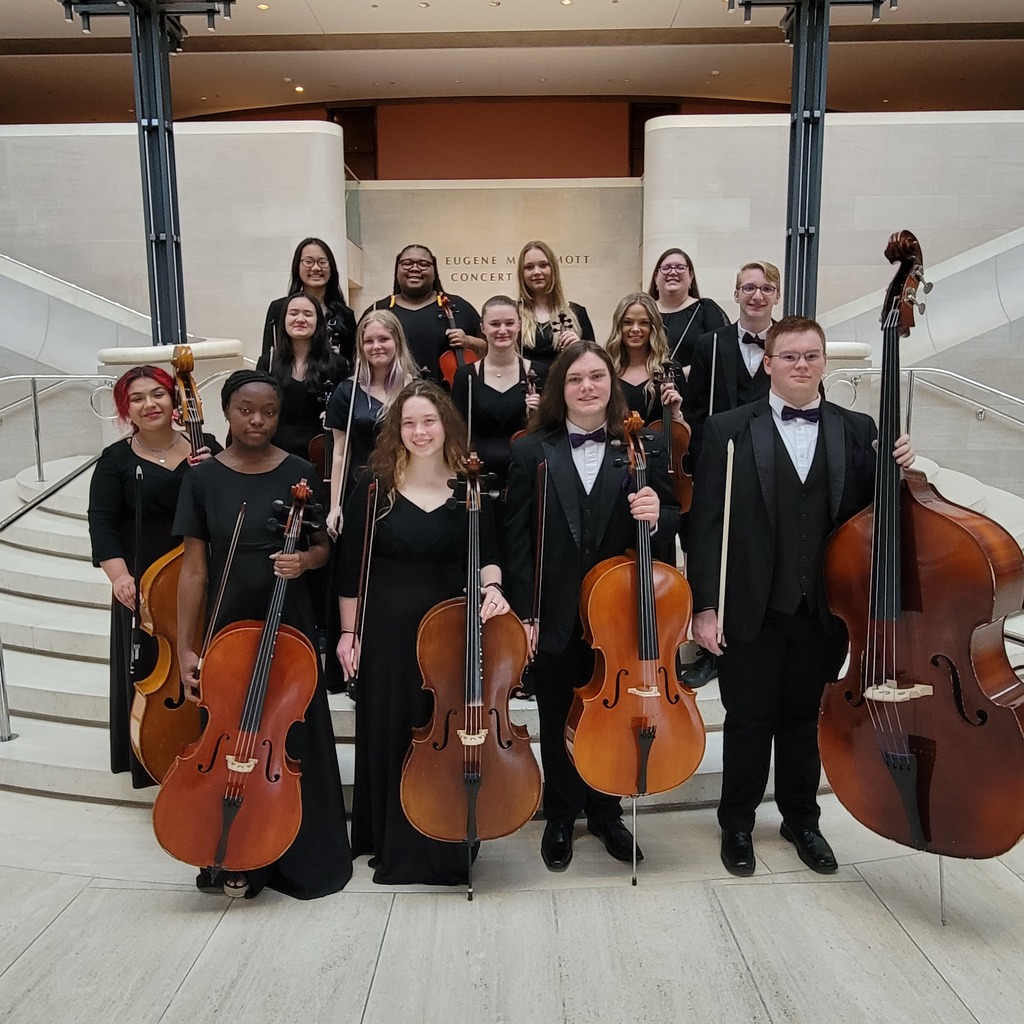 The El Dorado School District is grateful for all our students, staff, and community! We hope you are spending your Easter with your best peeps!

A final thank you to all our Assistant Principals! We know you do a lot behind the scenes, and we are truly appreciative of everything you do! #EveryStudentDeserves

From the freshmen learning their way around campus to the seniors who have been infected with senioritis, we can almost guarantee you our high school principals have seen it all. And they keep showing up! They love the Wildcats, and we love them! EHS Principal Sherry Hill said, "EHS has the best assistant principals around. They are strong in curriculum and support for students and staff, but there is one thing they are better at than all of that. They are great people. They care about our students, staff, and school and invest a lot in those areas.  I love working with all of them! " Thank you for everything you do, Mr. Smith, Mrs. Smith, Mrs. Brooks, Mrs. Odom, and Mr. Jameson! We are so grateful for you! #EveryStudentDeserves

Reminder: There will be no school tomorrow, April 7th, in honor of Good Friday.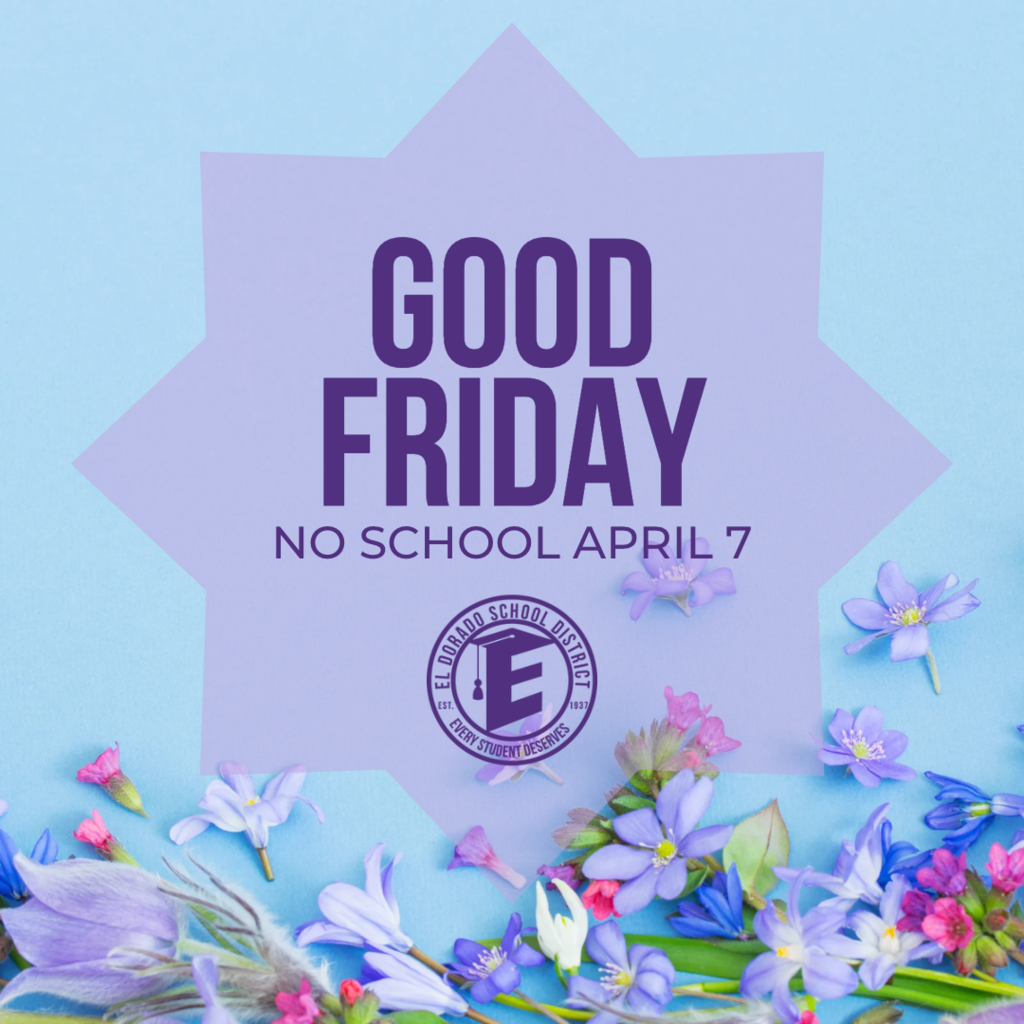 Junior High can be a tough age for everyone, and we are blessed with amazing assistant principals at Barton Junior High School to help our students through all the life adjustments! Principal Michelle Henry states, "As the principal, I could not do my job without the hard work and dedication of my assistant principals. They amaze me every day with their commitment to Barton and our students! These fabulous people are truly my right and left arms!" Thank you, Mrs. Martinez, Mr. Brooks, and Ms. Gleghorn, for the love you pour into your work! We appreciate you! *Parents and Guardians of BJHS students* Don't forget that Kittens Conferences will be held TODAY from 8am - 6pm. Students are strongly encouraged to attend their conference with their parent/guardian; however, BJHS students will not attend school in regular classes today.

Middle school is a unique time in our students' lives, and we are blessed with some of the best leaders in place to guide them! WMS Principal Bethanie Hale says this about her team: "Della Davis has been such a blessing to WMS this year. She is tremendous at connecting with students and is such a positive presence here! Mrs. Davis is great at taking an idea and making it happen. Megan Saunders is such a blessing to WMS. She goes above and beyond the call of duty each and every day. If she sees that something needs to be done, she takes initiative and gets it done without even having to be asked. John Thompson has been such a blessing to WMS this year. He is an extremely hard worker and he brings lots of great new ideas for our school. Mr. Thompson plays an active role at WMS with both staff and students. WMS wouldn't be the school it is today without all three of these wonderful administrators!!!" Thank you, WMS Assistant Principals, for everything you do for our Knights! We love you! #EveryStudentDeserves