Brooks Burson and Peyton Howard of El Dorado from El Dorado High School were nominated to represent our community and school at Arkansas Boys State 2023, an immersive leadership and civic engagement experience sponsored by the American Legion. Burson and Howard joined more than 500 young men attending the program's 82nd session at the University of Central Arkansas in Conway from May 28 to June 2. "Arkansas Boys State is a legacy program that has produced remarkable local, state, national and international leaders," said Lloyd Jackson, executive director of Arkansas Boys State. "That Brooks and Peyton were nominated to attend speaks volumes to their character, pursuit of excellence, and desire to make their community stronger." During their week at Arkansas Boys State, they were assigned a political party, city, and county. Throughout the week, they, along with their peers, administered, from the ground up, a mock government as if it were real: ran for office, drafted and passed legislation, solved municipal challenges, and engaged constituents. "We like to say that Arkansas Boys State is a week that shapes a lifetime, and our tens of thousands of alumni can attest to that," said Jackson. "We're thrilled that Brooks and Peyton joined us and were able to experience this once-in-a-lifetime opportunity." At Arkansas Boys State, the guys were guided through their experience by more than 60 volunteers who serve the program. The staff of volunteers included college students and career professionals with interests and expertise in education, finance, industry, politics and government, journalism, and more.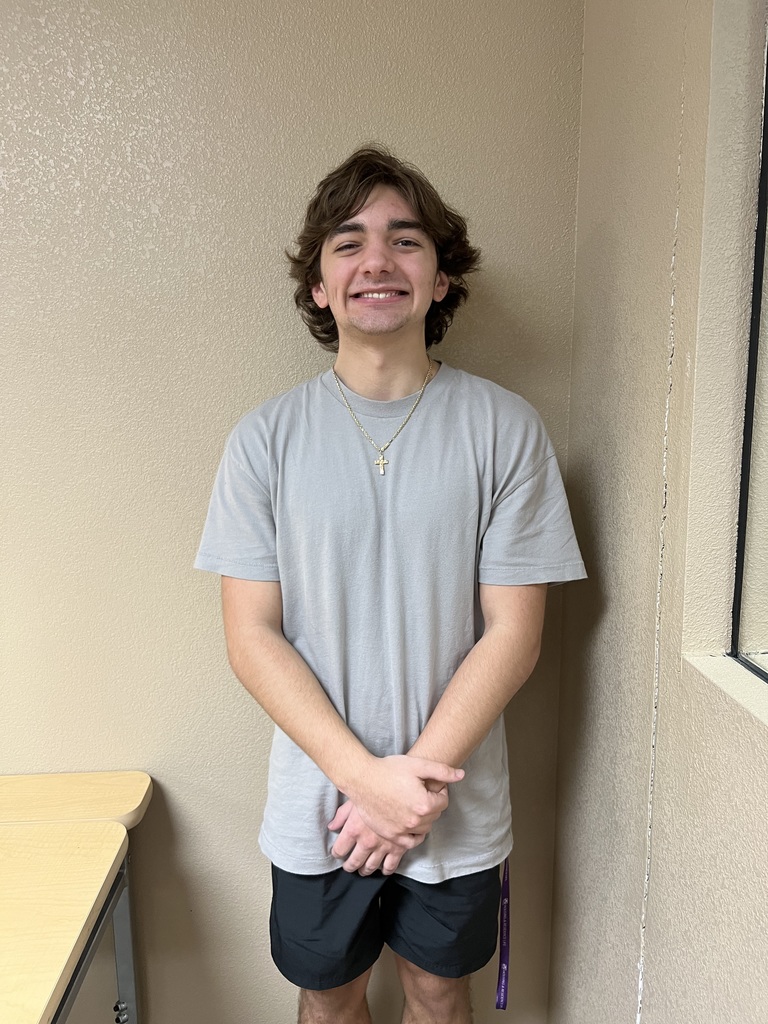 Today, WMS students prepared for "Medieval Madness," otherwise known as STEAM Day! Each class must complete at least 2 of the 3 projects ( a castle, catapult, or jousting), which involves designing and creating the item based on a rubric before entering it in the competition. A sneak peek into Mrs. Smith's classroom showed her students creating a castle with a drawbridge and turning a bicycle into a horse! We can't wait to see everyone's creations tomorrow!! #everyknighteveryday #wmsknights #EveryStudentDeserves #thepromisingchoice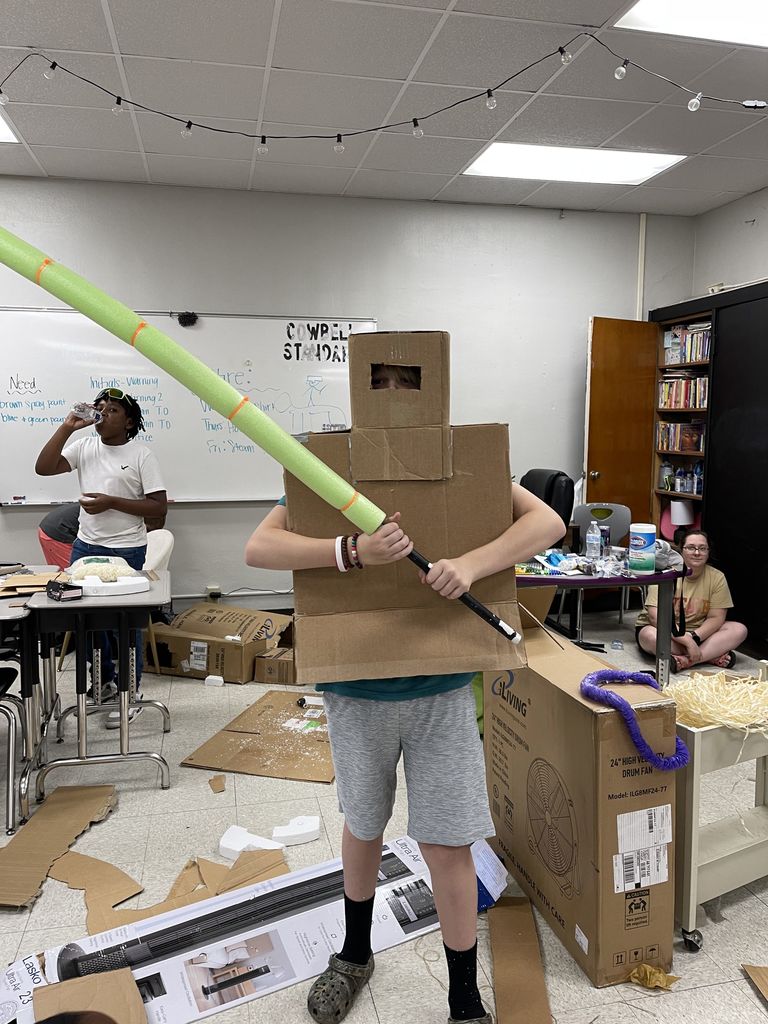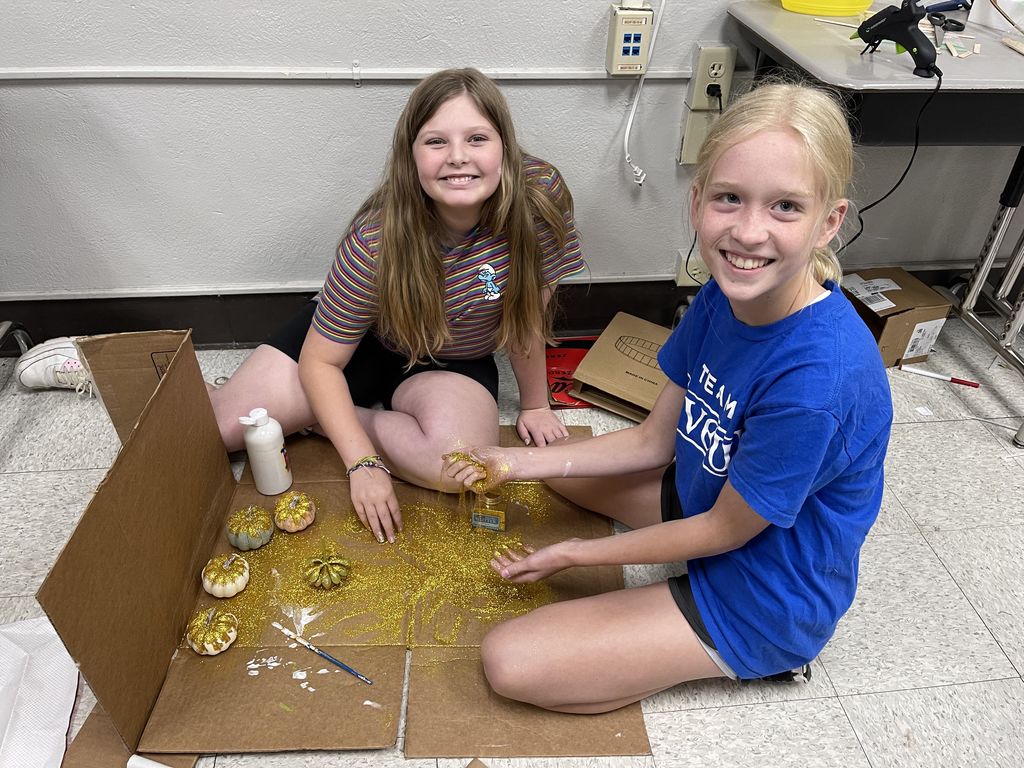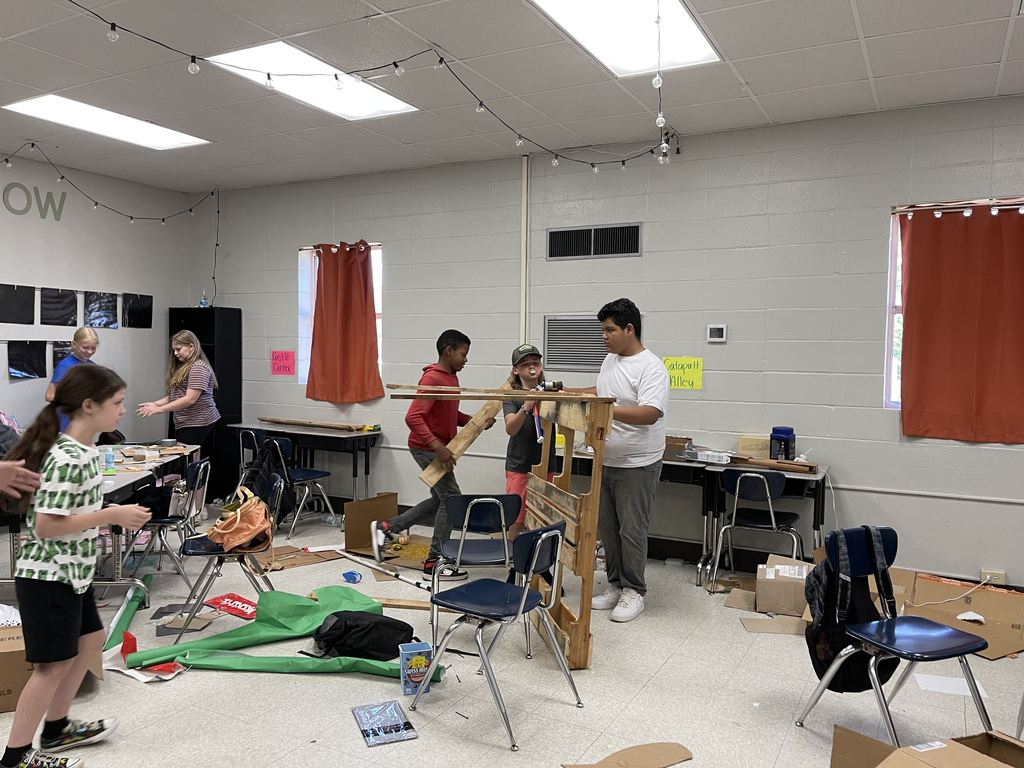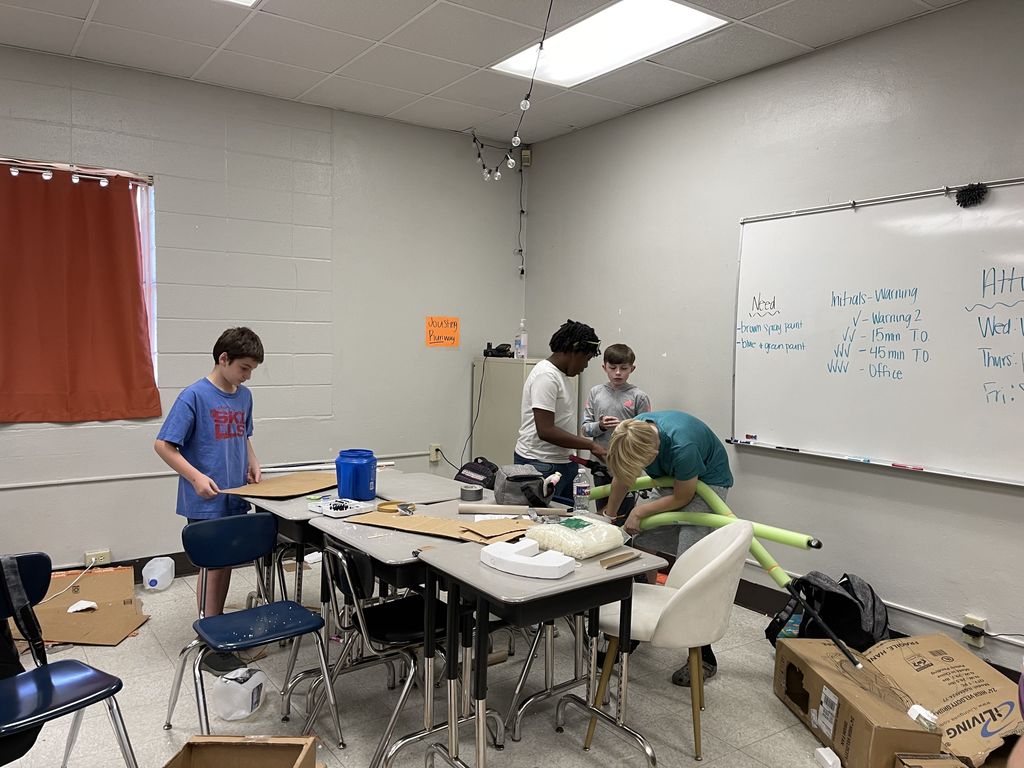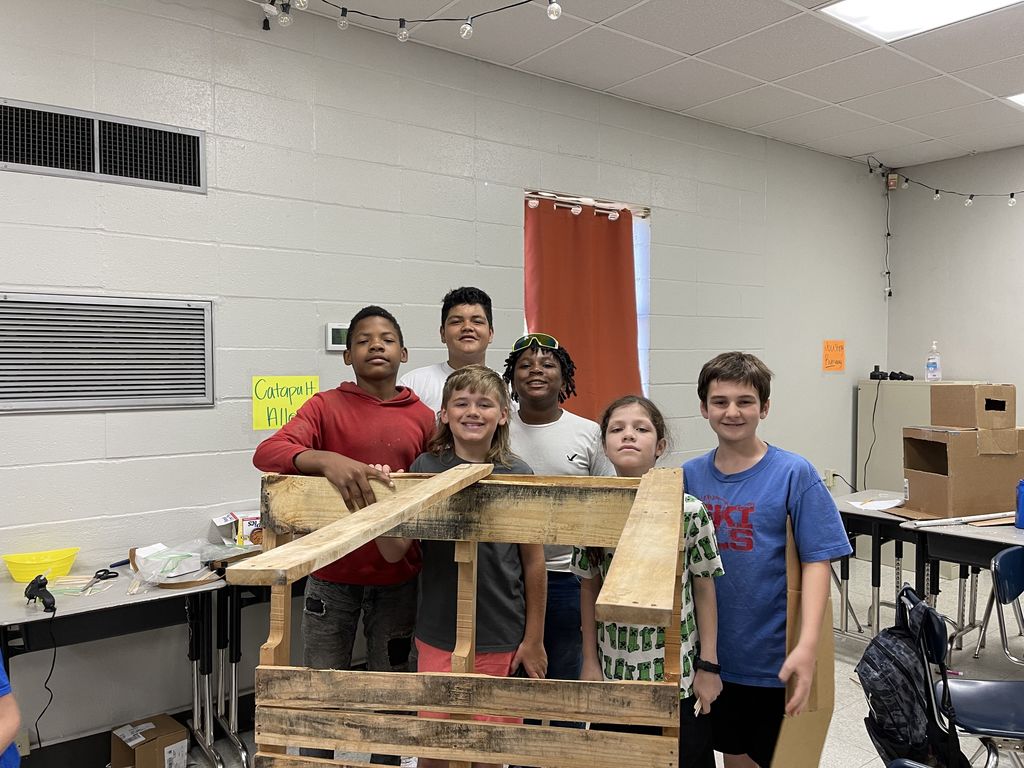 Sophomores Alex Grace Elia and Clarabeth Black will represent El Dorado High School June 1-4 at the Hugh O'Brian Youth Leadership Seminar at SAU Magnolia. HOBY was founded in 1958 and continues to take outstanding high school students and motivate them to inspire and develop our global community of youth to a life dedicated to leadership, service, and innovation.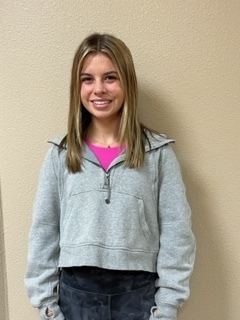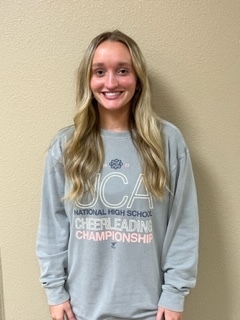 The last day of school for ESD students is Wednesday, June 7th. School will dismiss at normal Wednesday time of 1:30pm. Students in grades 7-11 will be taking semester exams this week and next. Please check your student's schedule and/or school website for more information.

We are appreciative of those who paid the ultimate price for us to celebrate today! Have a safe and happy Memorial Day, ESD families!

Last week, elementary students celebrated a successful season of standardized testing! Students at Yocum Elementary participated in a carnival complete with a dunking booth, snow cones, and popcorn! Although we will not have scores for several weeks, administration and teachers across the district are proud of how hard our students worked in and out of the classroom! #EveryStudentDeserves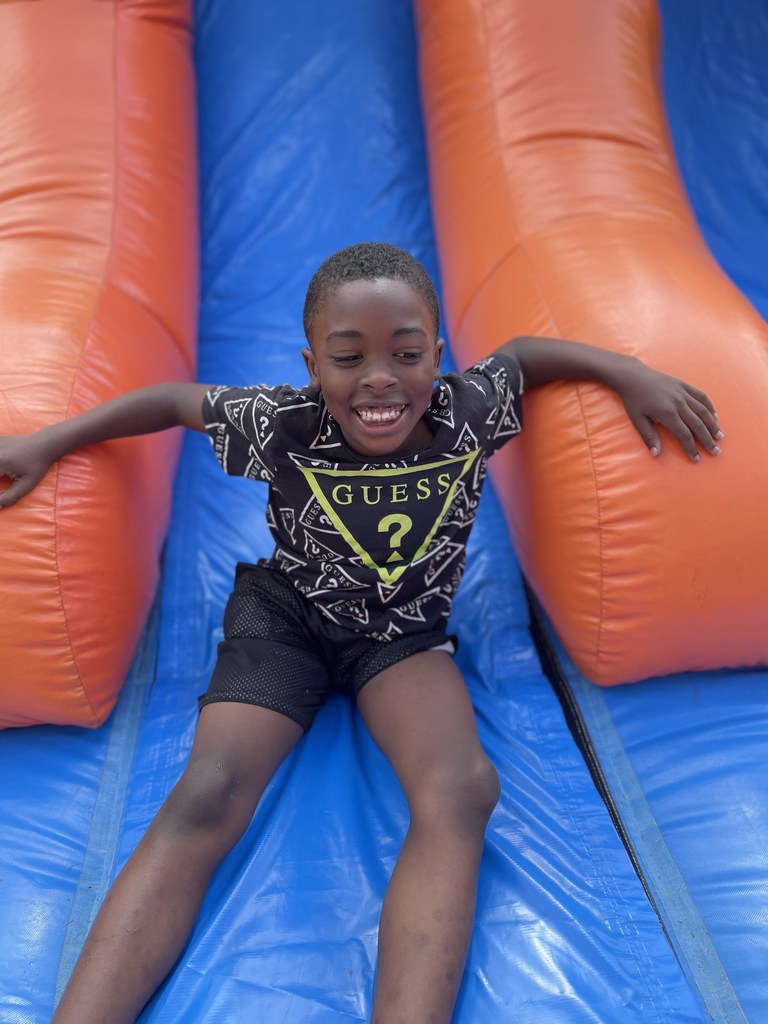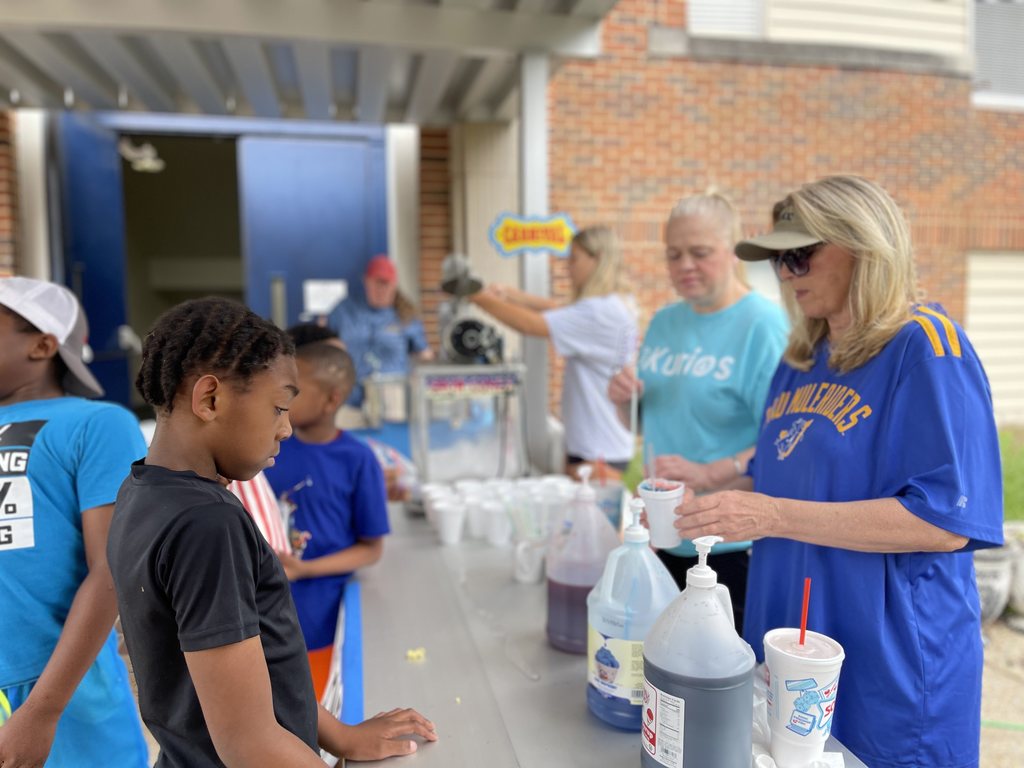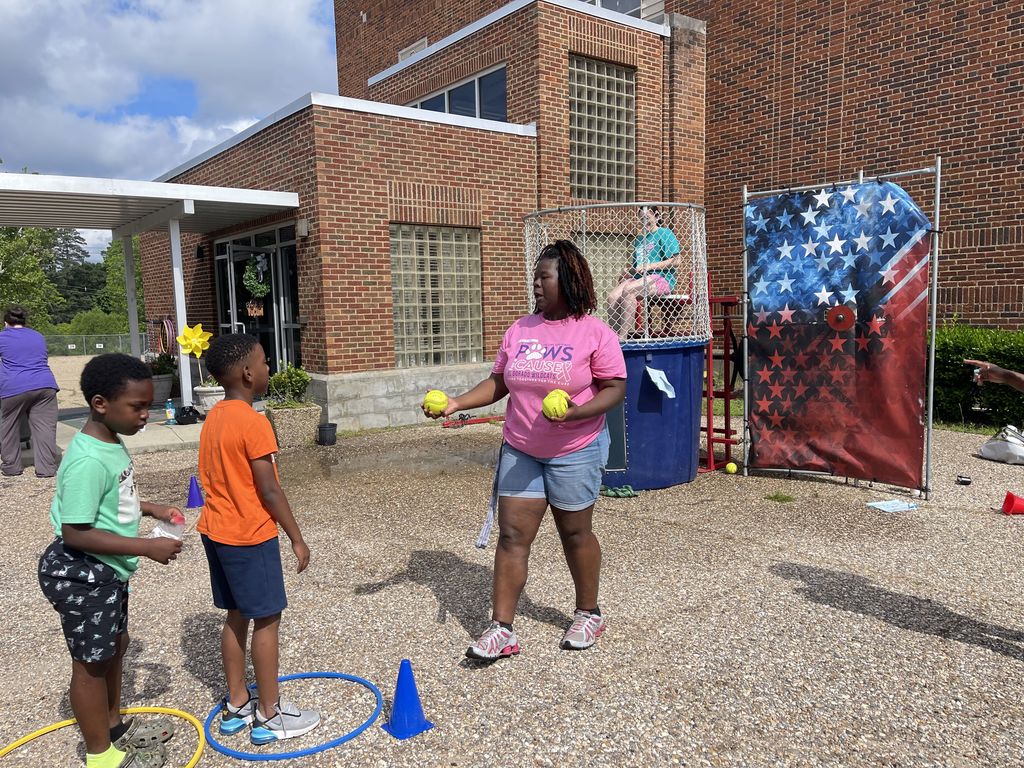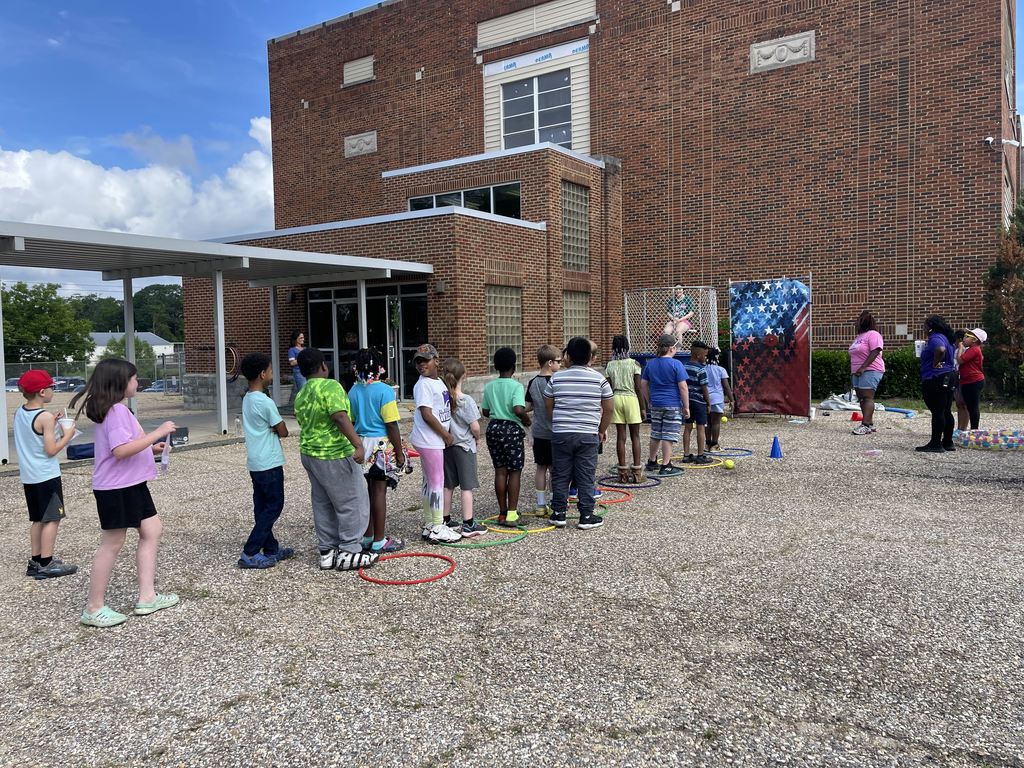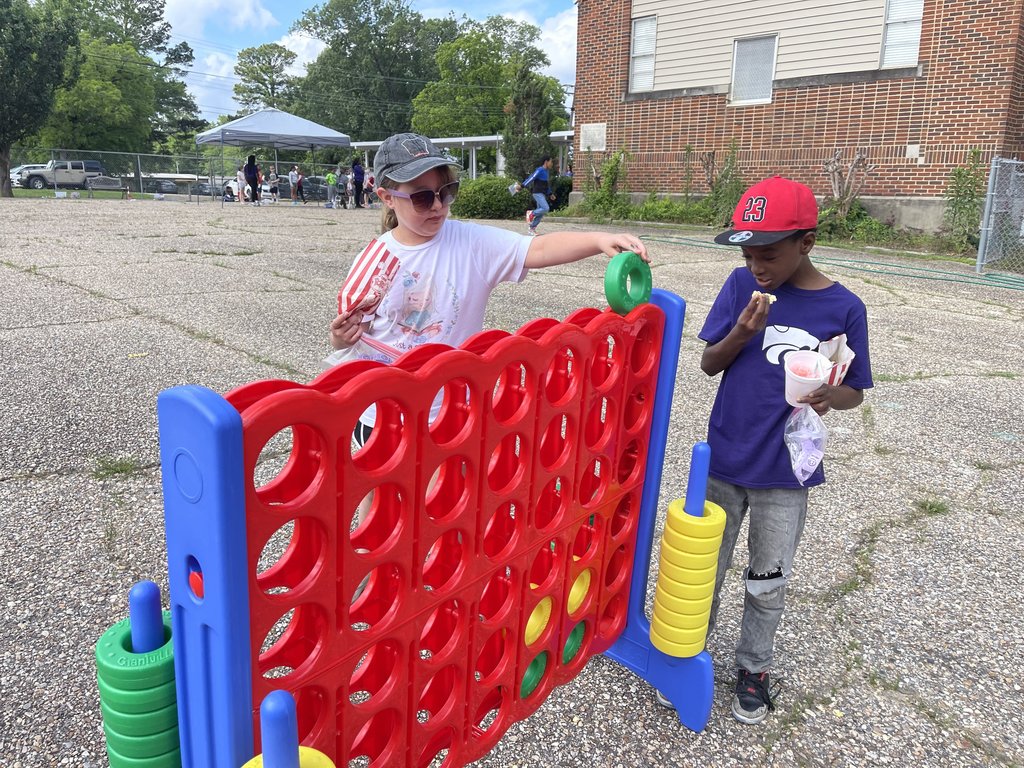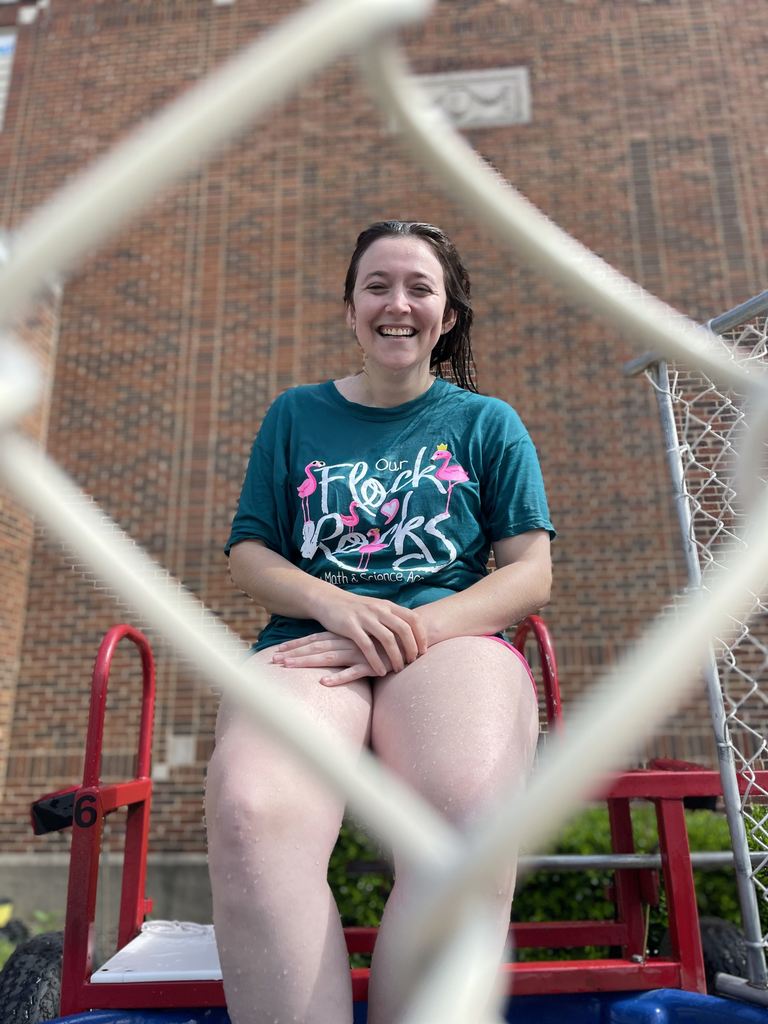 Reminder: There will be no school on Monday, May 29th in honor of Memorial Day.

As school comes to a close, LOTS of activities are happening around the district. Make sure you are checking your student's backpack/folder for information, staying in touch with teachers, and following along with your student's social media pages! End-of-year celebrations, field day, final exams...so much to do in the last week and a half of school! Remember, the last official day for ESD students is June 7th!

You have one more chance to see the WMS production of Peter Pan TONIGHT beginning at 6pm at the EHS Auditorium. Tickets are $8 for adults and $5 for students and will be sold at the door. Tuesday's performance was FABULOUS! Don't miss this wonderful show!

Congratulations to the following WMS Band students who received Superior or Excellent on their solos on April 14th! 2nd Period - 1st Division - Superior Rating Mindy Pham, Tristan Gomez, Connor Freeman, Robert Aguiluz, Autumn King, Kiyen Smith Kennedy McDuffie, Adre Harper, Haidy Reyes, Zoey Sanders, Isabella Smith, Miranda Barton, Jane Wilson Zaire Meadows, Jacob Rushing, Jeraniya Carroll, ZaKiya Thompson, Orion Caver 2nd Period - 2nd Division - Excellent Rating Eylan Mayweather, Braxton Weston 3rd Period - 1st Division - Superior Rating TJ Mitchell, Caleigh Howard, Mister Caver, Austin Rainey, Jackson Miles, Joshua Henry, Saxxon McKoy, Israel Maxwell, Adyson Tayler, Bryson Talley, Jayden Jones, Anneliese Johnson, Cynthia Romero Villeda, Anaiya Heard, Makynli Walters, Hally Horner, Alessandra Gonzalez, Miracle Seamster, Leah Jennings, Gray Singleton, John Dilworth, JaKielen Jones, Jayden Keaton, JaKylen Williams, Abigail Mullenax 3rd Period - 2nd Division - Excellent Rating Astatae Hall, Blake Barnett, Gabriella Rivas, Nicole High, India Townsel, Jamari Jones, SJ Peterson 4th Period - 1st Division - Superior Rating Bentley Sullivan, Magaby Martinez, Jaxson, Borosvskis, DeeJoe Stocker, Ramari Wofford, Ezekiel Williams, Roberto Priche, Breckan Duran, Layden Freeman, Jaxxon McKoy, Faith Lowery, Kalea Ary, Zairia Billings, ZaMorria Tubbs, Iovanna Hernandez, Clayton Thomas, Brooklyn Wilis, Emily Wetherington, Chloe Cole, Ruby Toombs, Christopher Davis, Jayce Owens, Jordan Davis, Brayden Allgood, Mychal Chatman, Kylie Ward, Aiden Lambert, Khloe Reed, Cady Williams, Daniel Sedlmayr 4th Period - 2nd Division - Excellent Rating Heidi Wiles, Sydney Rodgers, Samantha Escobar, Draylen Beene, Carston Fields, Devlan Kuhnke, Jakayla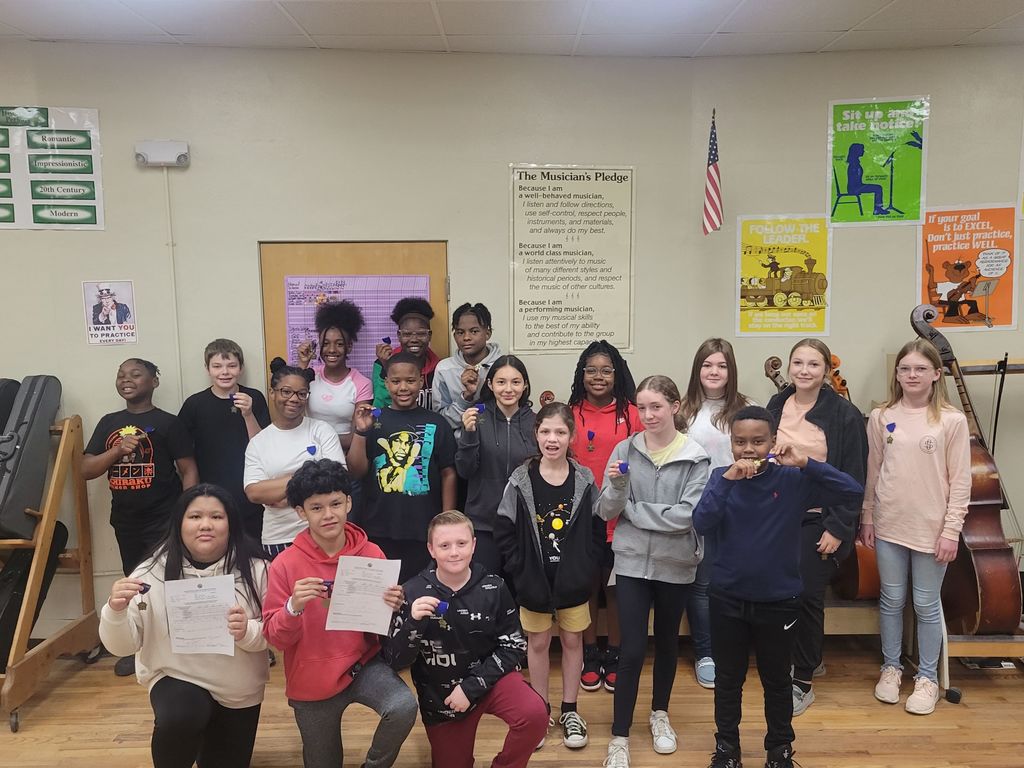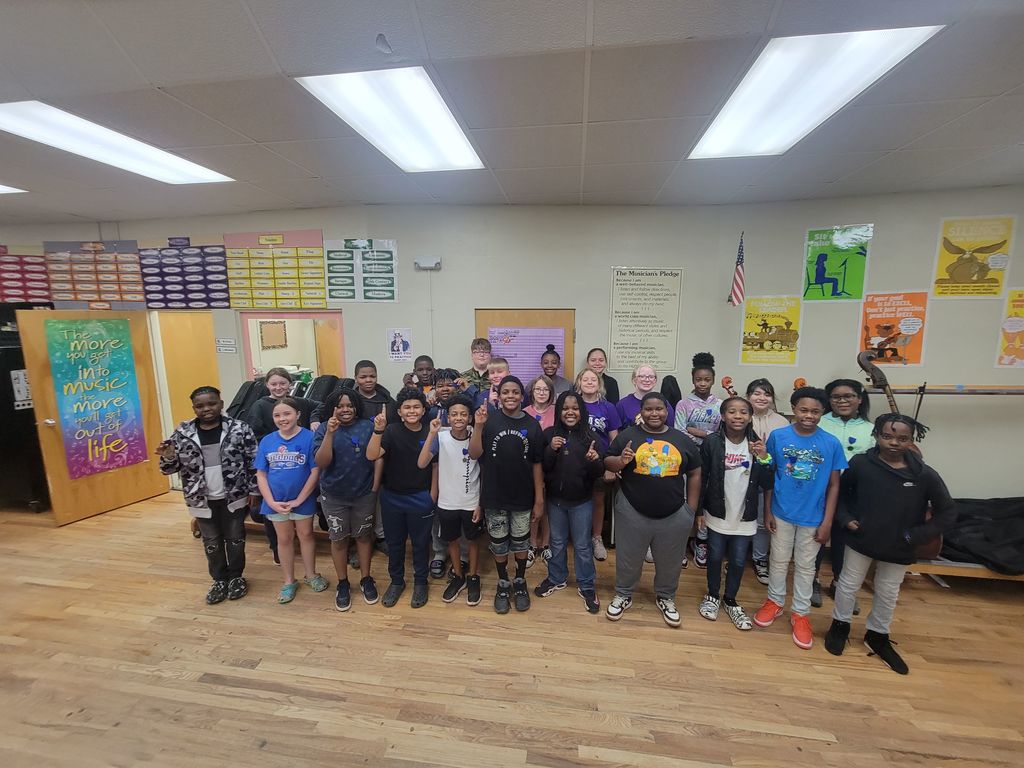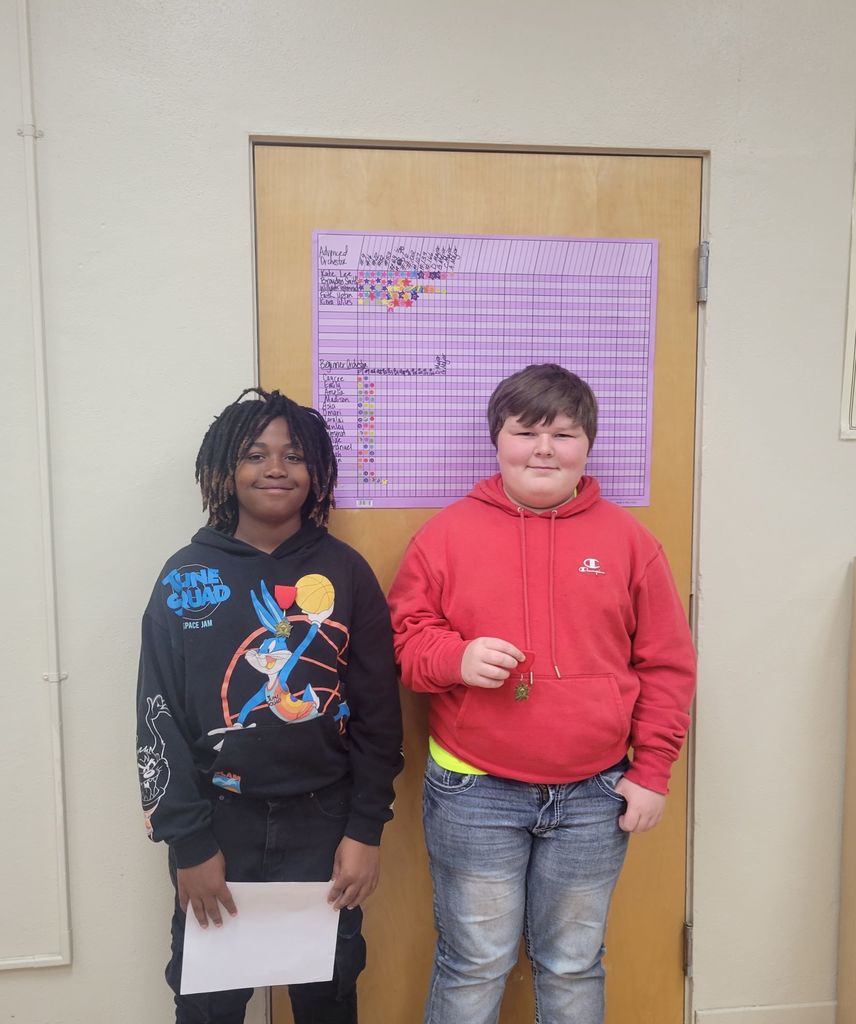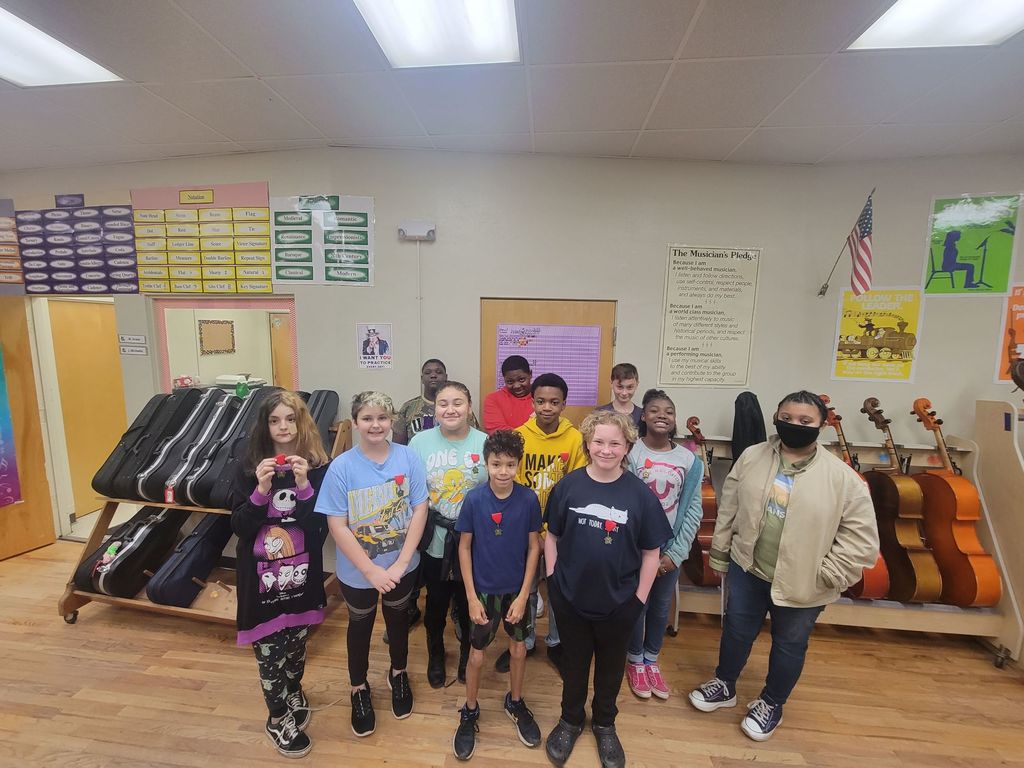 Attention Class of 2023! Your diplomas photos from graduation have been emailed to your ESD email! You have until June 10th to download your photos! Please check your email to access your photo!

Attention 2nd, 3rd and 4th grade GT families! Make plans to attend the Spring Open House on May 31st from 3:30-6pm!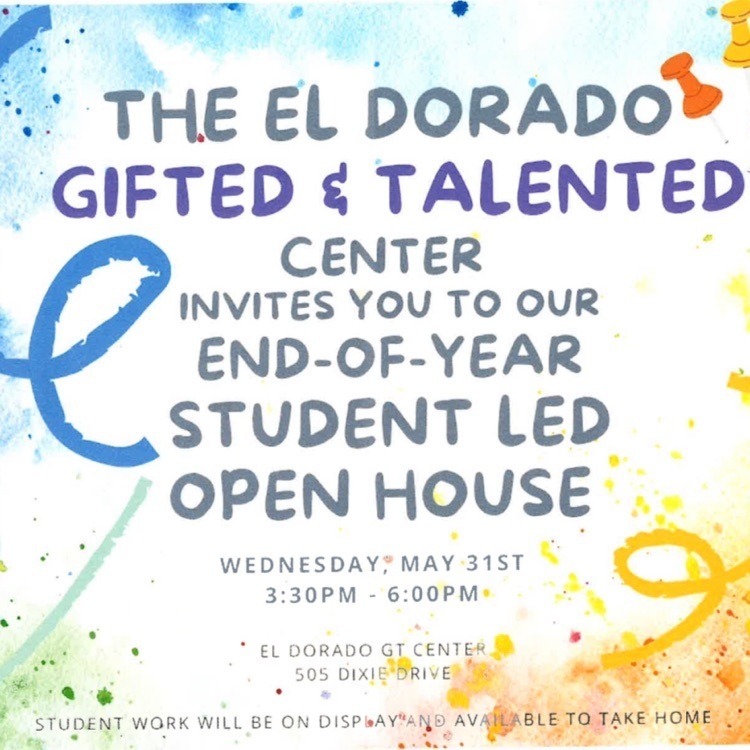 GRADUATION IS TONIGHT! • Monday, May 22, 2023 @ Memorial Stadium • Begins at 8pm; both sides will open at 7pm. Seating is first come, first serve. • All are invited to attend. No limit on how many people each senior can bring. • Like the last few years, ESD will live stream graduation on our youtube channel.
https://bit.ly/ESDgradstream23
• Clear bag policy will be followed. NO balloons, air horns, or noise-making devices are allowed. NO large banners or signs that could obstruct the view of other guests are allowed. All guests will enter via metal detectors. • In the event of inclement weather, graduation will be held at the El Dorado Municipal Auditorium. Each senior received tickets at graduation practice this morning. Tickets are ONLY to be used if graduation is moved indoors due to weather. Due to the fire code, only those with tickets will be allowed in. Again, this is only in the event graduation is moved due to inclement weather. Any updates will be posted to the ESD website and social media pages. An alert will be sent out to ESD guardians if there are any changes.

Congratulations to the Class of 2023! #SeniorSpotlight #SeniorSunday 🎓 Marilyn Graham – I plan on attending Arkansas State University and becoming a pediatrician. Wolves up!! 🎓 Courtney Gillette – I plan on attending SAU Tech to become an Ultrasound Technician 🎓 Lily Thomas – I plan on attending the University of Arkansas in Fayetteville and possibly majoring in business 🎓 Hope Walthall – I plan on attending Southeastern Oklahoma State University. I will be on the women's golf team while becoming a nurse anesthetist. 🎓 Mikhila Ford – I plan on attending Henderson State University to become a lawyer. 🎓 Raielynn Fudge – I plan on attending the University of Arkansas Rich Mountain to continue my softball career and major in business and administration. 🎓 Annalea Elliott – I plan on attending South Arkansas College. Who's got some love for these graduates?! ❤️ Like, love, and share!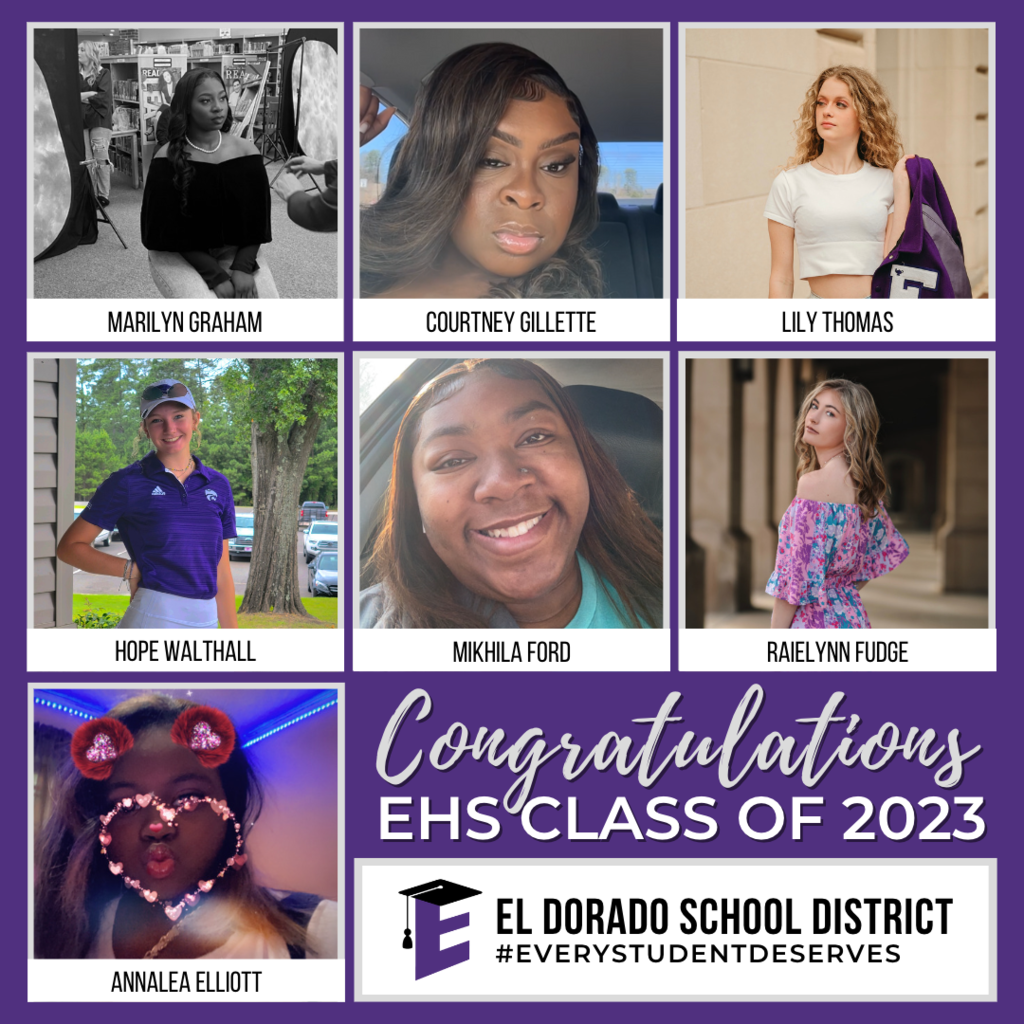 NOTIFICATION OF DESTRUCTION OF STUDENT SPECIAL EDUCATION RECORDS In accordance with the state and federal regulations implementing the Individuals with Disabilities Education Act (IDEA), this is to inform the public of El Dorado School District's intent to destroy personally identifiable information related to special education services. El Dorado School District would like to make Parents/Guardians, Former Students, and Eligible (Adult) Students aware that Special Education records of students who graduated, moved, or were dismissed from special education in the 2015-2016 school years will be disposed of on June 8, 2023. The district is required to maintain records for six (6) years from the date the child leaves the school district. Any former students (now adults) age 18+ must pick up their own records. Special Education records collected by the El Dorado School District, relates to the identification, evaluation, educational placement, or the provision of Special Education in the district. Records can be picked up between May 1, 2023 through June 1, 2023 from 8:00 – 4:00 at the El Dorado School District Special Education Office, 501 North Timberlane. If you have questions about records, contact Shawn L. Beard, Special Ed. Director at 864-5133. _____________________________________________________________________________________ NOTIFICACIÓN DE DESTRUCCIÓN DE LOS EXPEDIENTES DE EDUCACIÓN ESPECIAL DEL ESTUDIANTE De acuerdo con las regulaciones estatales y federales que implementan la Ley de Educación para Personas con Discapacidades (IDEA), esto es para informar al público de la intención del Distrito Escolar El Dorado de destruir información de identificación personal relacionada con los servicios de educación especial. El Distrito Escolar de El Dorado desea informar a los padres / tutores, exalumnos y estudiantes elegibles (adultos) que los registros de educación especial de los estudiantes que se graduaron, se mudaron o fueron despedidos de la educación especial en los años escolares 2015-2016 serán eliminados el 8 de Junio de 2023. Se requiere que el distrito mantenga registros durante seis (6) años a partir de la fecha en que el niño deja el distrito escolar. Cualquier exalumno (ahora adulto) mayor de 18 años debe recoger sus propios registros. Los registros de educación especial recopilados por el distrito escolar de El Dorado se relacionan con la identificación, evaluación, ubicación educativa o la provisión de educación especial en el distrito. Los registros se pueden recoger entre el 1 de Mayo de 2023 y el 1 de Junio de 2023 de 8:00 a 4:00 en la Oficina de Educación Especial del Distrito Escolar de El Dorado, 501 North Timberlane. Si tiene preguntas sobre los registros, comuníquese con Shawn L. Beard, Directora de Educación especial al 864-5133.

Congratulations to the Class of 2023! #SeniorSpotlight 🎓 Tatiana Hill – I am going to Paul Mitchell hair school to get my cosmetology license and pursue my dream career. 🎓 Jeremiah Crosby – I plan on attending Loan Star College and becoming a realtor. 🎓 Haley Bell – I plan on becoming a travel nurse. 🎓 Da'Neija Dismuke – I plan on attending South Arkansas College and becoming a social worker. 🎓 Paige Holmes – I plan on attending Southern Arkansas University to study agriculture science. 🎓 Braden Major – I plan on attending the University of Central Arkansas and becoming a film director. 🎓 Dagon Ewing – I plan on attending Louisiana Tech University to study Cyber Engineering. Who's got some love for these graduates?! ❤️ Like, love, and share!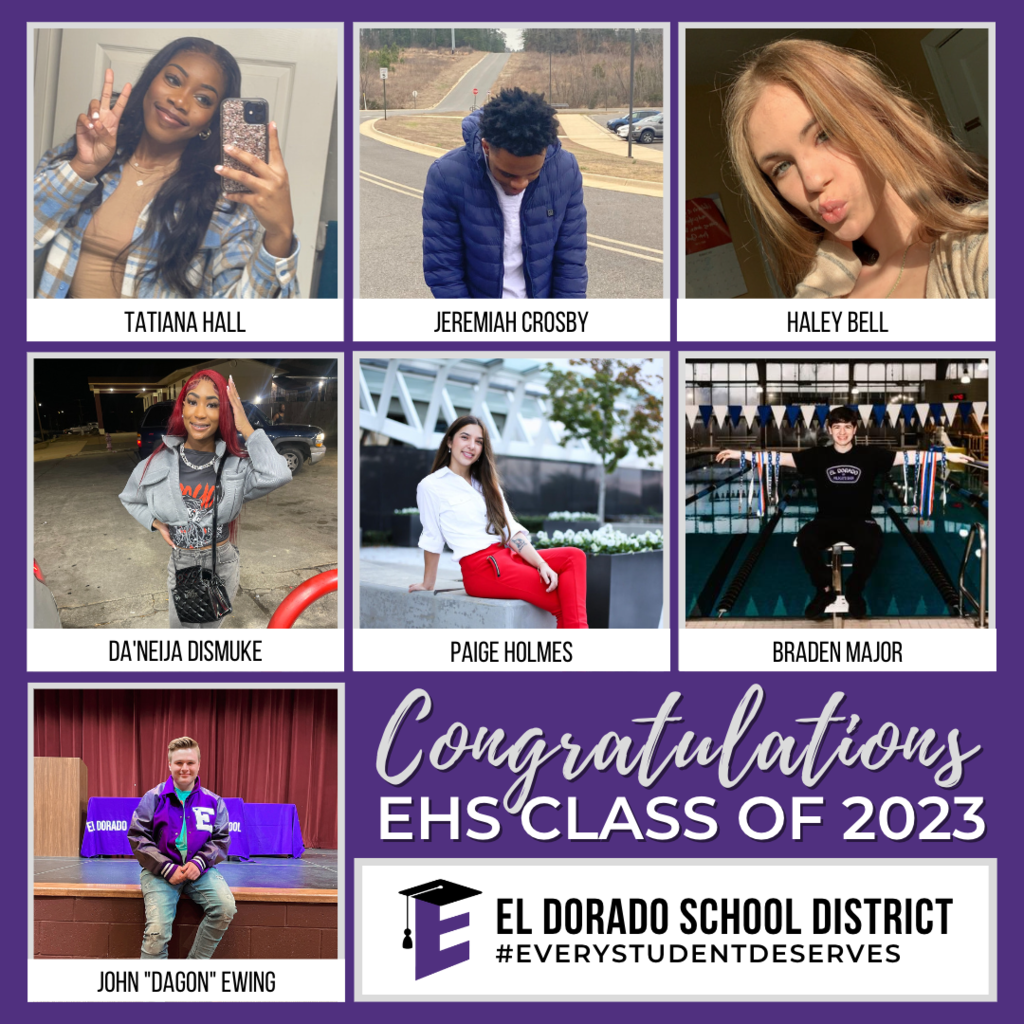 Barton Archery Team was also recognized at the ESD Board Meeting last week. Coach Perry introduced the team and told the board about their season. BAT 2023 Stats: • Regional Middle School Champs scoring 3273. • State Middle School Champs scoring 3285. • NASP Western Nationals Middle School Division: 3rd place scoring 3327. • Cora Connor finished as the #1 7th-grade girl in the Western Nationals • Sophia Clark is the #2 7th-grade girl in the Western Nationals Unfortunately, due to a variety of conflicts, the whole team won't be able to travel to Myrtle Beach for the NASP Tournament in June. However, those that qualified and can travel are going to attend and represent Barton. Congrats, again, and good luck! ESD would like to send a special THANK YOU to all the sponsors who helped our WMS and BJHS Archery Teams! We couldn't do it without our amazing community!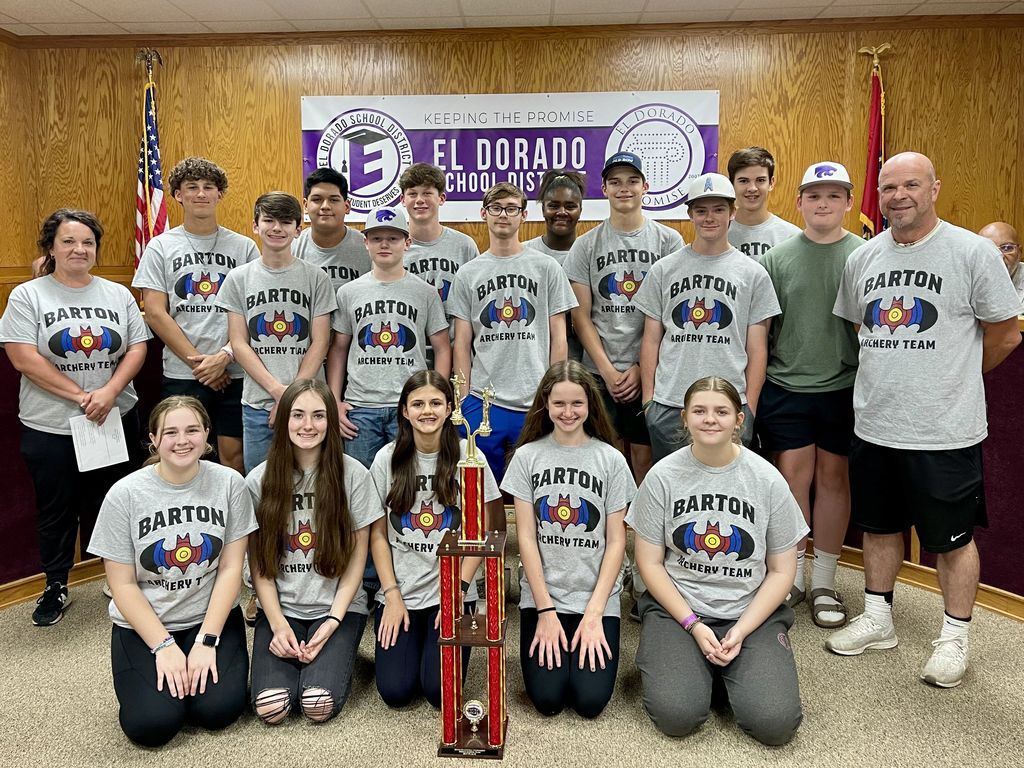 Wishing the Barton Student Council and MP3 students a safe trip to NYC! They head out tomorrow morning for three days packed full of learning opportunities, with fun sprinkled in! Follow their journey on the BJHS Facebook page!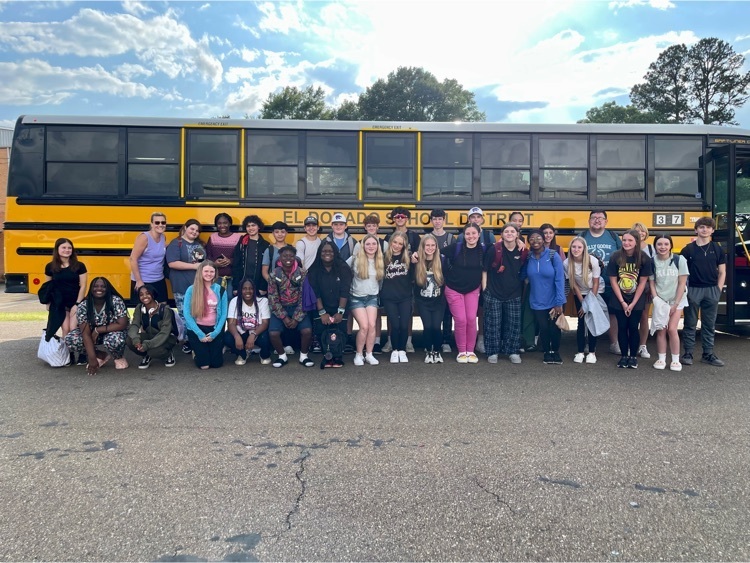 Last week, the WMS 5th Grade Archery Team was recognized at the monthly ESD School Board meeting. Coach Kelton talked to the board about the success of the team this season: • Team placed 1st overall for elementary at Regionals. • Harrison Langston - 1st overall Elementary Boys at the State Championship with a score of 276 • The team won 1st place at the state championship. • The team placed 2nd overall for Elementary in the Western National championships. • Top Scorer was Abby Knighton with a score of 275. • While in Salt Lake City, we also participated in the Centershot Western National Championships where we placed 1st overall. Next, the team plans to attend the NASP tournament in June at Myrtle Beach. Congrats, WMS Archery! ESD is proud of you!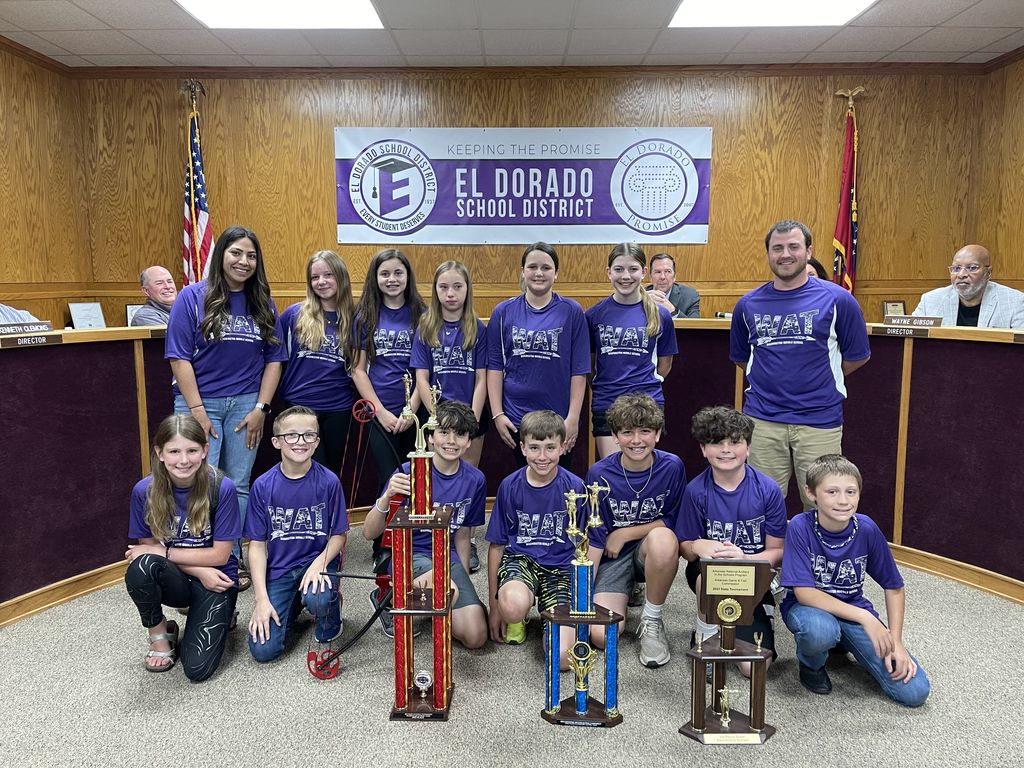 As summer approaches, our performances are winding down! Don't miss your chance to see some of the ESD Orchestra students perform their solos THIS Thursday!